In 1939, right before World War 2 transformed the movie industry and the world, Hollywood produced the most copious output of outstanding films in a single year, titles that endure to this day.
Just a partial list includes the following classics: "The Wizard of Oz," "Stagecoach," "The Women," "The Hunchback of Notre Dame," "Only Angels Have Wings," "Young Mr. Lincoln," and "Ninotchka."
But towering above all those was the industry's first true Technicolor epic, "Gone with the Wind," a sweeping Civil War romance starring newcomer Vivien Leigh and the reigning King of Hollywood, Clark Gable.
Even in such a competitive year, most predicted that GWTW would sweep all the major awards on Oscar night. But the evening included one astonishing upset when the statuette for Best Actor, which everyone assumed would go to Gable, went instead to a British player who few in Hollywood actually knew.
His name was Robert Donat, and sadly, he is all but forgotten today.
He'd starred in that year's moving adaptation of James Hilton's book, "Goodbye, Mr. Chips," playing a beloved boarding school teacher in England, who over the course of the film ages from a man in his twenties to an octogenarian.
About his signature role he said: "As soon as I put the moustache on, I felt the part, even if I did look like a great Airedale (who'd) come out of a puddle."
Beyond featuring Donat's affecting performance, the film also introduced the American public to a fresh-faced, red haired beauty named Greer Garson, who'd go on to become one of MGM's most popular contract players. (She plays Chips's adored wife, Katherine).
The Manchester-born Donat had actually been a star in England for several years by then, but had formed an early, visceral aversion to Hollywood, so it was an unwritten rule that he wouldn't work there. If the American studios really wanted him, they'd have to come to him. Thus, "Chips" was filmed in England.
Donat's film career had been launched by Alexander Korda, a Hungarian refugee who became one of the top film directors and producers in England during the 1930s. It was he who first spotted Donat, then a young, clearly gifted member of Sir Frank Benson's prestigious Shakespearian troupe. In 1932, Korda signed him to a three picture contract.
The very next year, both Korda and Donat hit pay dirt with "The Private Life of Henry VIII", in which the actor co-starred with Charles Laughton. An international success, this was the first British film to receive an Oscar nomination (for Best Picture), and a win (for Laughton, who's superb as the monarch).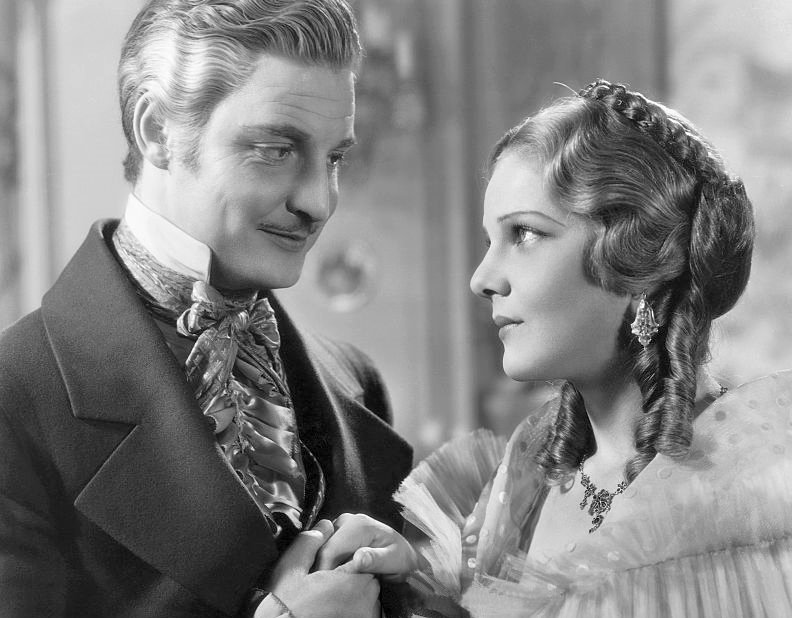 Both Laughton and Donat would then venture to Hollywood to cement their respective careers. Laughton would score in MGM releases like "The Barretts of Wimpole Street" (1934) and most famously, "Mutiny on the Bounty" (1935), while Donat would complete just one film, "The Count of Monte Cristo" (1934), before beating a hasty retreat back to England, never to return.
At this point, Alfred Hitchcock was still several years away from crossing the pond to make movies in America. He'd just come off his first international success with "The Man Who Knew Too Much." The brilliant director, then just 35, thought Donat would be perfect for the lead in his next thriller, "The 39 Steps" (1935). He persuaded Korda to loan him out.
Donat plays Richard Hannay, a Canadian who by pure chance gets caught up in a treacherous spy ring. Hitchcock would often return to the theme of innocents being ensnared in nefarious doings, either via random fate ("The Wrong Man") or mistaken identity ("North by Northwest").
"Steps" remains, along with 1938's "The Lady Vanishes," the finest work Hitchcock did in Britain. Donat's performance, enhanced by his chemistry with co-star Madeleine Carroll, anchors this riveting film. Not surprisingly, it was a huge hit, both critically and commercially.
Suddenly, Donat found himself much in demand, both in England and stateside. Warner Brothers offered him the starring role in their upcoming pirate picture, "Captain Blood" (1935), but Donat turned it down due to illness (and undoubtedly, his determination not to work in Hollywood again). The part went instead to an unknown player named Errol Flynn, who became an overnight star.
Donat could credibly plead illness, as he'd been afflicted with acute, chronic asthma his whole life. The actor would often beg off projects when it flared up. Though the condition was undoubtedly real, those closest to Donat felt he sometimes used it as a convenient excuse when he developed concerns or anxiety about a particular role. He was a sensitive man who doubted himself and his abilities more than people knew. He was also highly conflicted about being a star, once admitting: "I never had any real security in my life until I found the false security of stardom."
After "Chips," he'd only make ten more films in the twenty years left to him. Though some were very good — most notably, 1948's "The Winslow Boy," none quite matched his best work from the thirties.
When well enough to perform, he focused primarily on his first love, the stage. He worked frequently with his second wife, actress Renee Asherson, whom he married in 1953. (He'd divorced Ella Voysey, with whom he had three children, in 1946). But clearly his health was declining: by the mid-fifties, his asthma had become so debilitating that an oxygen tank was always kept just off-stage.
In 1958, after a four year hiatus from films, Donat was hired for Mark Robson's "The Inn of the Sixth Happiness." He'd play (in full make-up) a Chinese mandarin opposite Ingrid Bergman and Curt Jurgens. He appears noticeably frail in this, his last screen appearance, but that distinctive, soothing voice remains unchanged.
In fact, Donat was now gravely ill, having just been diagnosed with a brain tumor. He died shortly after production wrapped at the age of 53.
His last on-screen lines — "We shall not meet again, I think" — carry a special poignancy. Because Robert Donat was just the kind of man you'd have wanted to meet — on-screen, or off.