For a truly memorable holiday movie night, it's hard to beat 1947's "The Bishop's Wife," starring Cary Grant, Loretta Young and and David Niven.
It's a striking coincidence that our top three classic Christmas pictures- this film, "Miracle on 34th Street," and most famously "It's A Wonderful Life," were all made and released within a year of each other. In addition, they all received Best Picture nominations at the Oscars, though none won the prize.
Perhaps it came down to pent-up demand. After all, when the war was on Christmas movies might have seemed frivolous, what with our whole civilization at stake and so many American sons overseas and in danger. Back in 1942, it was enough to release "Holiday Inn," a film celebrating all holidays, where Bing Crosby first introduced an Irving Berlin song called "White Christmas" that made countless GIs stuck in freezing trenches long for hearth and home. It became the best-selling single (45 rpm record) in history.
Today, "The Bishop's Wife" is the least well-known and celebrated of these three Christmas classics made just after the war, but that's no reason to avoid it. Of the three, it is the lightest confection, which is no criticism. Both "Life" and (to a lesser extent) "Miracle" expose some dark corners in the human soul, while "Wife" plays more like romantic comedy, floating on a fanciful Christmas story about a suave, handsome angel (Grant) sent to earth to help a young Bishop (Niven) regain a sense of what's most important in life.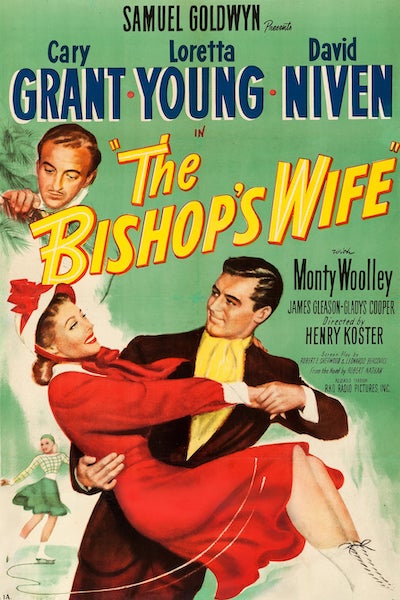 Bishop Henry Brougham, Niven's character, is obsessed with building a huge cathedral, which involves kowtowing to the bitter elderly widow underwriting the project, beautifully played by English actress Gladys Cooper. Since the angel (named Dudley) comes in the pleasing form of Cary Grant, it's only natural that he engages with the Bishop's neglected wife Julia to help her harried, pre-occupied husband finally see the light. That may sound somewhat profane, but the affection that builds between Dudley and Julia never feels tawdry. We know that he is, after all, an angel.
The film's backstory is rich: first, independent producer Sam Goldwyn hit a rough patch at the beginning of shooting. Originally he had assigned director William Seiter to the project, and cast Grant as the Bishop and Niven as the angel. Fresh off her triumph in the prior year's smash "The Best Years of Our Lives," Teresa Wright was on hand in the role of Julia.
Several weeks in, Goldwyn was looking at the initial footage and realizing the film was not gelling. Something was fundamentally off. He finally made the difficult decision to cut his losses and start over. He replaced Seiter with Henry Koster, who, in consultation with Goldwyn, finally resolved that Grant and Niven should switch parts.
Cary in particular hesitated before agreeing to this change. He was the biggest star in the cast, and felt he should play what is technically the title role. Eventually, he was persuaded that Dudley the angel was in fact the key part, and that he was best suited for it. Meanwhile, Teresa Wright had discovered she was pregnant, and had to drop out. Goldwyn promptly borrowed Loretta Young from RKO.
The film holds up today thanks both to Pulitzer Prize-winner Robert E. Sherwood's clever, literate script and the strength of the cast. First and foremost, here is Cary Grant, at 43 in his absolute prime. As Dudley, he subtly transforms his dazzling countenance into something divine, and we are all in awe of someone (or something) not of this earth. If you want to see real star power, watch him in this.
Opposite him, a luminous Loretta Young projects the warmth and purity of a Bishop's wife, not a stretch as she was herself a highly devout Catholic, collecting quarters from cast and crew members who swore on the set. David Niven nails a part that forced this immensely charming actor to play a bit of prig for most of the film. Still, the actor's warm, expressive eyes convince us that underneath it all, he's a good man who has temporarily lost his way.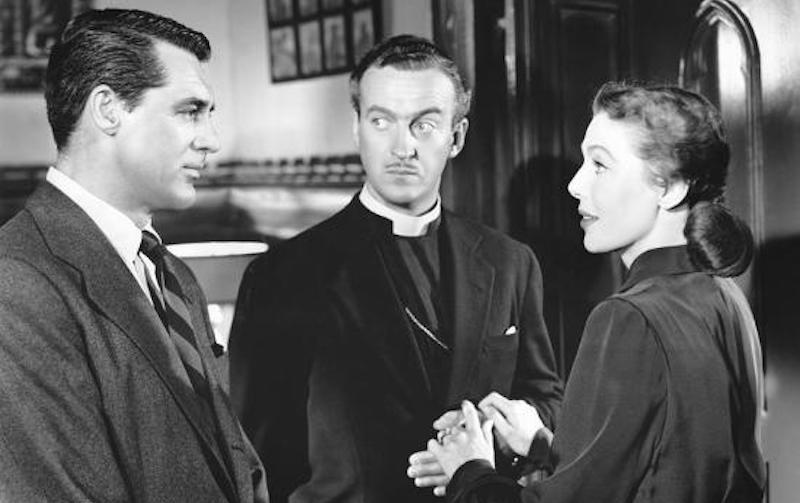 The supporting cast is equally stellar: beyond the aforementioned Dame Gladys as rigid dowager Mrs. Hamilton, Monty Woolley injects a note of pathos as Professor Wutheridge, the Bishop's forgotten old friend who may never finish the history of ancient Rome he's labored over for decades. (Today, Woolley is best remembered for originating the role of radio personality Sheridan Whiteside in "The Man Who Came to Dinner", on both stage and screen). Next, we have character actor James Gleason as a goodhearted cabbie named Sylvester, and the "Bride of Frankenstein," Elsa Lanchester, in a sunnier turn as Matilda, the Bishop's housemaid.
Finally, another coincidence: child actor Karolyn Grimes, best remembered as George Bailey's adorable daughter Zuzu in "Wonderful Life," was back just months later to portray the Bishop's equally adorable daughter, Debby. Another juvenile player, Robert J. Anderson, who was the young George Bailey in the earlier film, also appears again here.
On its release, "The Bishop's Wife" received respectful reviews, but did not score immediately with the public. The film's title may have been partially responsible, as reportedly many fans assumed it was a "religious picture." Sam Goldwyn lost money on the film, largely as a result of having to start production twice.
Still he was always proud of the finished product, and it's easy to see why. Younger viewers may be more familiar with the 1996 remake "The Preacher's Wife," starring Denzel Washington and Whitney Houston. That film has its moments, but as with so many remakes, it never fully recaptures the magic of the original.
Now we've all seen "It's a Wonderful Life," and doubtless we will see it again. It is indeed "wonderful," as advertised, and it's hard not to love Clarence, the angel in that film, immortalized by the cuddly Henry Travers.
But this holiday season, I submit it's high time you met another angel. His name is Dudley.
More:
How "It's a Wonderful Life" Went From Box-Office Flop to Christmas Classic
8 Top Christmas Movies from Around the World