If the late Sir Sean Connery could have read all the tributes pouring in after his death, doubtless he'd have shook his head in frustration, if not surprise. Rather than mourn the passing of one of our finest screen actors, the media announced in unison that we'd just lost "the original James Bond."
Even after moving on from the iconic role that brought him mega-fame, he could never fully escape it. But to his enduring credit — and our everlasting benefit — he certainly tried.
With each Bond outing, Connery grew increasingly weary of playing the same character, romancing beautiful women (both good and evil) amidst a succession of colorful stunts, gun battles and fistfights. It was taxing work, though everyone seemed to envy him. He also grew disillusioned as the films became more cartoonish, relying on over-the-top scenarios and gadgets to keep audiences entertained.
At the same time, having survived an impoverished, hardscrabble childhood in Scotland, he could not ignore the hefty paycheck. And of course, Bond made him bankable for other films.
Though not well-educated, Connery was shrewd, highly perceptive and a quick learner. He understood that his Bond success gave him the leverage to choose and the luxury to grow. What he wanted above all was to prove himself as a solid film actor, above and beyond James Bond.
He seized the opportunity to work with Alfred Hitchcock on "Marnie" (1964) after his first two Bond entries, but asked to review the script first to make sure he was not playing another spy. And going forward, he was never afraid to portray rough, unsympathetic characters very much at odds with his smooth and tailored Bond portrayals.
Was Connery our best Bond in the end? There is no doubt in my mind, but again the bigger point is that the late Sean Connery succeeded in proving that as an actor, he was so much more. Here are five indelible titles that prove the point.
Connery scores playing unlucky British soldier Joe Roberts, demoted and sent to a military prison during World War 2 for striking an officer. Once there, he runs afoul of Staff Sergeant Williams (Ian Hendry), a sadistic character who enjoys working his charges in the blazing heat to the point of exhaustion. But Williams may be going too far. Tense drama from director Sidney Lumet, buoyed by a top-flight British cast, still packs a wallop.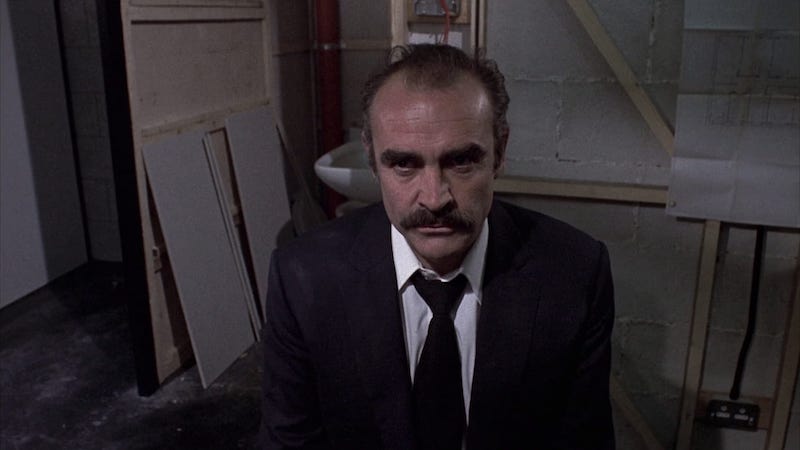 Officer Johnson (Connery) is a seasoned cop who has seen too much blood and tragedy over his years on the force. When he interrogates a suspected child molester (Ian Bannen), he loses his temper and becomes violent. It's up to Cartwright (Trevor Howard), another veteran inspector, to figure out what happened. This raw, intense thriller, featuring a truly frightening Connery, is a nerve jangling experience you won't soon forget.
Daniel Dravot (Connery) and Peachy Carnehan (Michael Caine) are two ex-soldiers who served in India under British colonial rule in the late nineteenth century. They come up with an audacious plan to travel to remote Kafiristan and set themselves up as rulers. Based on a Rudyard Kipling tale, John Huston's film delivers grand adventure, with the two stars (close pals in real life) sharing wonderful chemistry.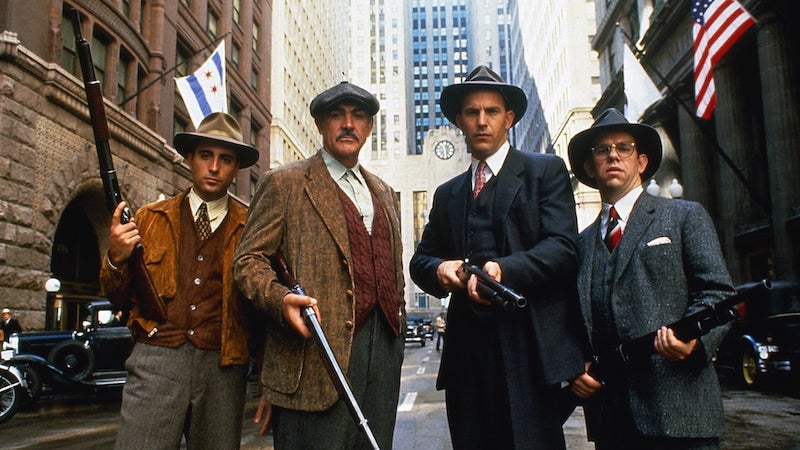 Brian De Palma's wildly entertaining crime film takes us back to Prohibition-era Chicago, when gangster Al Capone (Robert De Niro) ruled the city. When federal agent Eliot Ness (Kevin Costner) arrives to take him down, he gets a lot more than he bargained for. Fortuitously, Ness ends up tapping honest, no nonsense Irish cop Jim Malone (Connery) to join his squad. Sir Sean steals the film in the role that netted him an Oscar.
In this breathless suspense outing based on Tom Clancy's novel, Marko Ramius (Connery) is a Russian captain who decides to steer his country's newest, most advanced submarine towards the United States. Is he aiming to start a nuclear war, or defecting to the other side? CIA analyst Jack Ryan (Alec Baldwin) must clarify his intent and somehow avert Armageddon. Young Alec is excellent, but a cool, dignified Connery carries it.