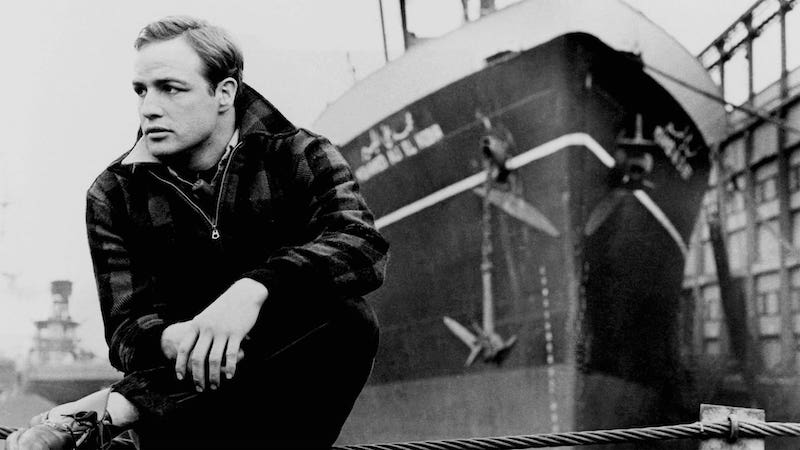 How long since you've seen "On the Waterfront"?
I just had the privilege of screening it again on the big screen at The Bedford Playhouse, and after nearly seven decades this brilliant film holds up extraordinarily well. It is, in fact, a masterpiece — a term I rarely invoke.
Though at the time its gritty subject matter had some wondering whether it would be a hit, it ended up recouping its budget 10 times over on initial release. Its stature has only grown with the years.
The idea for the film began with a series of articles about corruption on Hoboken's Waterfront, written by reporter Malcolm Johnson. Director Elia Kazan started developing the script with his friend, the playwright Arthur Miller, in 1951. Together they sent Miller's initial draft to Harry Cohn, then head of Columbia Studios.
Cohn was amenable to doing it, but wanted the corrupt union to be populated by communists instead of the Mafia. The Red Scare was already rampant in Hollywood and elsewhere, so Cohn thought this would make the film more timely. However, Miller refused his request, and the project was put on hold.
By the time Kazan resuscitated it two years later, he and Miller were barely on speaking terms since by that time Kazan had named names in front of the House Un-American Activities Committee (HUAC). So the director tapped Budd Schulberg to rewrite the script.
Schulberg immersed himself in the project, going down to the waterfront to meet and talk to actual longshoremen. There was considerable risk involved, since the longshoremen's union was still mob infiltrated, and inevitably this film would shed a spotlight on that.
Both Kazan and Schulberg wanted a documentary-style realism and immediacy; they shot on location in Hoboken and used many dockworkers as extras. Some of the weathered, battered faces in "Waterfront" will stay with you for weeks.
In addition, the characters of Terry Malloy, Johnny Friendly, and Father Barry were based at least in part on real people. Over successive versions of the script, the role of Terry morphed from an older, divorced investigative reporter to an ex-prizefighter.
It was a part that Kazan had originally intended for John Garfield, but in 1952, the actor had died suddenly of a heart attack, yet another victim of the Hollywood Blacklist. He was not yet forty.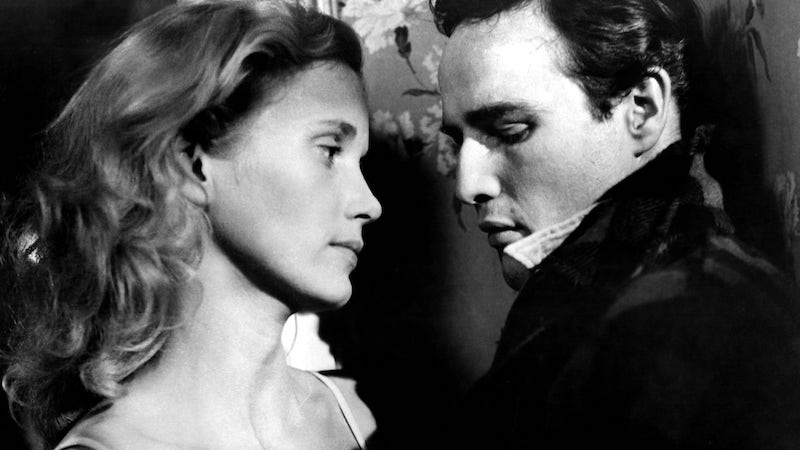 Kazan then thought of Brando. The two had collaborated before, on both the play and film versions of "A Streetcar Named Desire," as well as 1952's "Viva Zapata."
Kazan was, in fact, widely credited with making Brando a star, and likely felt he had the leverage to bring the moody young actor around to doing it. But like Arthur Miller, Brando was furious that his mentor had been a friendly witness in front of HUAC, and turned him down flat.
Kazan next considered giving the part to Frank Sinatra, an actual Hoboken native who had suddenly become hot again after winning an Oscar for "From Here to Eternity." Sinatra was hungry for it, and actually believed he had the part on a handshake deal.
Still the director was hesitant to give up on Brando, as having him attached would guarantee a bigger budget. Kazan managed to convince producer Sam Spiegel to hold out for him by having Karl Malden film a scene from the film with a then unknown, Brando-type actor.
That unknown actor was Paul Newman.
Eventually, Brando's agent persuaded him to take the part. Brando may well have viewed the scene with young Newman, which would have aroused his competitive streak.
Still, he would always have mixed feelings about this film, due to his belief that Kazan was using this story to justify his HUAC collaboration. As Brando expressed it in his autobiography, Songs My Mother Taught Me, "They made the film to justify finking on their friends. Evidently, as Terry Malloy, I represented the spirit of the brave, courageous man who defied evil."
For the key role of Edie, the innocent young woman whose love converts Terry to the cause of justice, Kazan had to choose between Elizabeth Montgomery and Eva Marie Saint, who had yet to appear in a feature film. Thinking Montgomery too well bred for the part, he chose Saint, who'd go on to win an Oscar for this in the Supporting Actress category.
Rod Steiger was then tapped for Terry's brother Charley, Karl Malden would be the priest, and Lee J. Cobb would play head mobster Johnny Friendly.
It was a reunion of sorts: Malden had worked with Kazan and Brando on "Streetcar," winning an Oscar, while Cobb and Malden had appeared in Kazan's thriller "Boomerang" from 1947. All three actors – Steiger, Malden and Cobb – would be Oscar nominated for "Waterfront."
So would Leonard Bernstein for his original score. This was the only non-musical feature film Bernstein ever worked on.
For the famous cab scene, Steiger was annoyed that his close-ups were shot without Brando, since the star always left at 4PM to see his therapist. Producer Spiegel had also forgotten to pay for rear projection, so the back window of the cab had to have blinds.
Though Brando once claimed the scene was improvised, it wasn't, simply because Kazan knew just how crucial it was and wanted it played just as Schulberg had written it. He was right to insist. Like the movie itself, that indelible scene comes tantalizingly close to cinematic perfection.
At the Oscars, "On the Waterfront" won Best Picture and after four successive nominations, Brando finally took away his first Oscar for Best Actor. He must have been surprised, as he had walked out dejectedly after first screening the finished film, believing both he and the picture had failed.
His director felt differently, calling Brando's work "the finest thing ever done by an American film actor." Right again, Mr. Kazan.
More: On the Set of "Rebel Without a Cause" with Nicholas Ray and James Dean