Though the western has always been a durable (and distinctly American) genre, only six western titles appear on the American Film Institute's list of top 100 films. One of them is a personal favorite, 1953's "Shane."
What makes it special? First, in the hands of master director George Stevens, this emotionally layered film is perhaps the most moving Western ever made.
The story of Shane, a former gunslinger who tries to help the Starrett family fight a cattle baron intent on driving them off their land, the action is largely seen through the eyes of young Joey Starrett, a nine-year-old boy who come to worship this quiet, mysterious stranger. Ultimately the film examines the ideals and illusions surrounding heroism in the old West.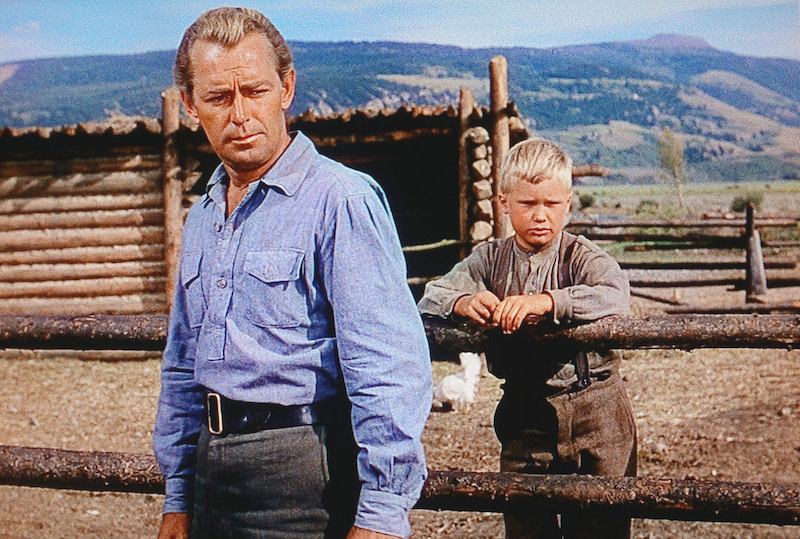 Without giving it all away, it is hard not to shed tears at the end of this picture, not only for the boy who's begging his new friend not to leave ("Come back, Shane!") but for the man himself, who doesn't really want to go and feels anything but heroic.
"Shane" is also, along with John Ford's "The Searchers," one of our most visually stunning Westerns. Shot in Technicolor mostly on location in Wyoming, the meticulous Stevens took 75 days to shoot the film, when the original schedule called for 28 days. It was also one of the first films shown in widescreen, a format that would become standard within several years.
After shooting wrapped in 1951, Stevens spent so long in the editing room that the film wasn't ready for release till the fall of 1953. The studio brass got so nervous they tried to sell the movie to producer Howard Hughes. Later, they'd be grateful that the deal never went through.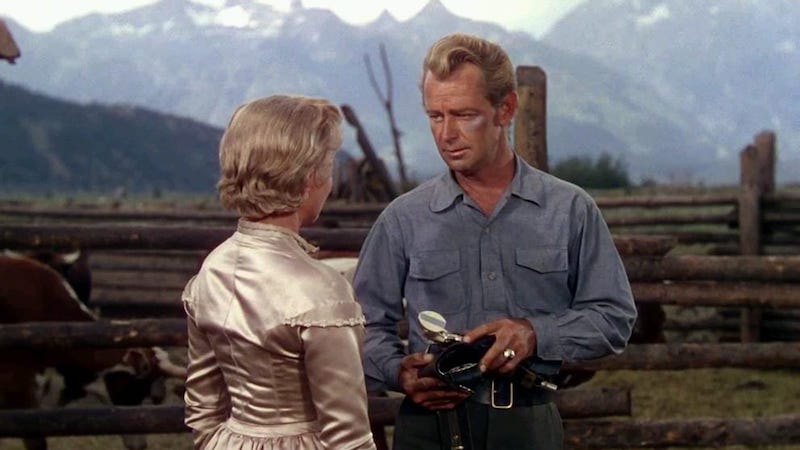 Stevens drove the studio bean counters crazy, but his track record of success helped him get away with it. With credits like "Gunga Din" (1939), "Woman of the Year" (1942) and "A Place in the Sun" (1951), for which he'd just won an Oscar for Best Director, he was given a pretty wide berth to make his movies his way.
"Shane" started as a bestselling novel but Jack Schaefer, published in 1949. Paramount had swiftly purchased the movie rights. Stevens's own son had read the book and urged his father to turn it into a movie. The elder man looked over at him and said, "Tell me the story."
Obviously he liked what he heard. "Shane" would be Stevens's first Western since 1935's "Annie Oakley."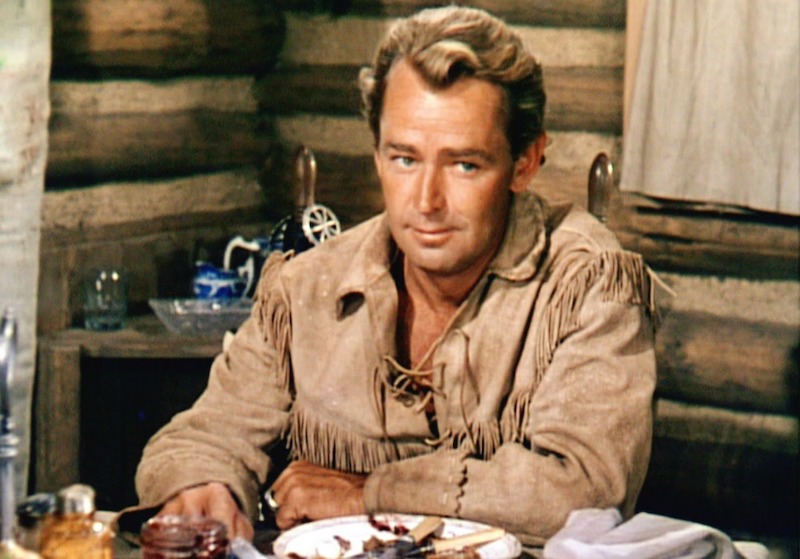 At his colleague Howard Hawks's suggestion, Stevens hired novelist A.B. Guthrie, who'd just won a Pulitzer for his western novel "The Big Sky", to adapt Schaefer's book to the big screen. This would be Guthrie's first screenplay.
Having just worked with Montgomery Clift on "A Place In the Sun," the director wanted him for the title character, but Clift passed. Stevens had also hoped to get William Holden to play the father, Joe Starrett, but Holden was otherwise engaged.
Given a list of available players by the Paramount brass, within minutes he chose Alan Ladd for Shane and Van Heflin for Joe. He then persuaded semi-retired actress Jean Arthur to take the role of Joe's wife, Marion. (The two had worked together before, most recently on 1943's "The More, The Merrier"). She had not appeared on screen in three years. This would be her last film, and her only film in color.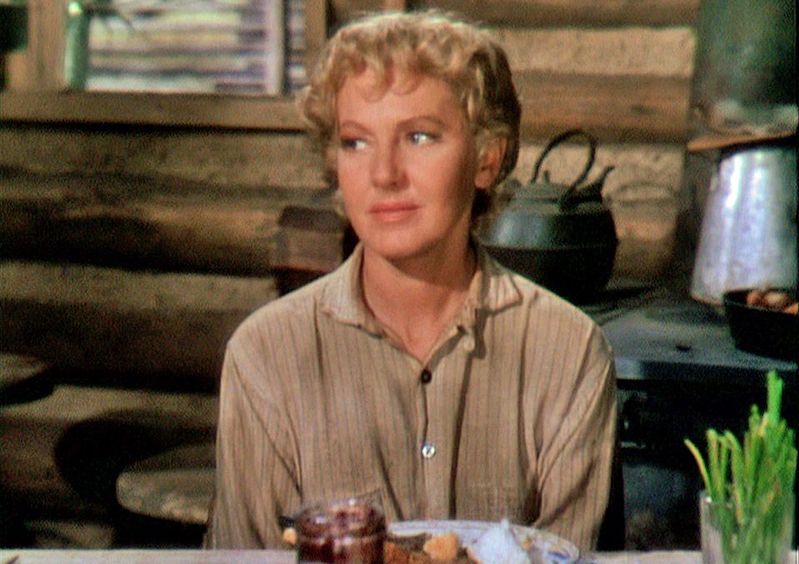 For the key role of son Joey, Stevens cast nine-year-old Brandon de Wilde, who'd go on to practically steal the film. (Though this was technically his screen debut, he'd quickly follow up with "The Member of the Wedding," which became his first released film).
Stevens insisted on complete authenticity for this production. At the outset, he and his assistant Joe De Yong did painstaking research to ensure everything was accurate to the period: from buildings, to wardrobe, to props.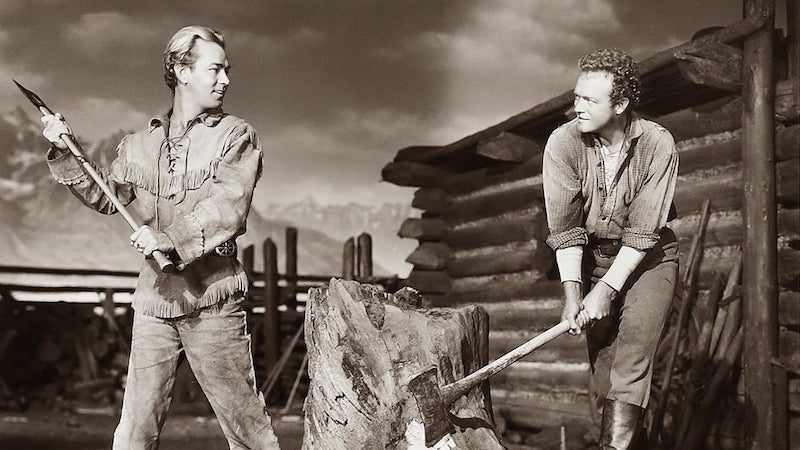 That authenticity even extended to the violence. Five years earlier, Stevens had come back from filming on the front lines of World War Two a changed man. He had seen death at first-hand.
He wanted the gunfire in "Shane" to be truly startling, so he magnified the sound by recording a gun being shot into a garbage can. He also tied harnesses on actors being shot to simulate how a body would react; you can see how the victims fly back on impact.
This was the first time such a technique was used, and Western director Sam Peckinpah later claimed this started the trend toward more realistic, graphic violence on-screen, in Westerns and elsewhere.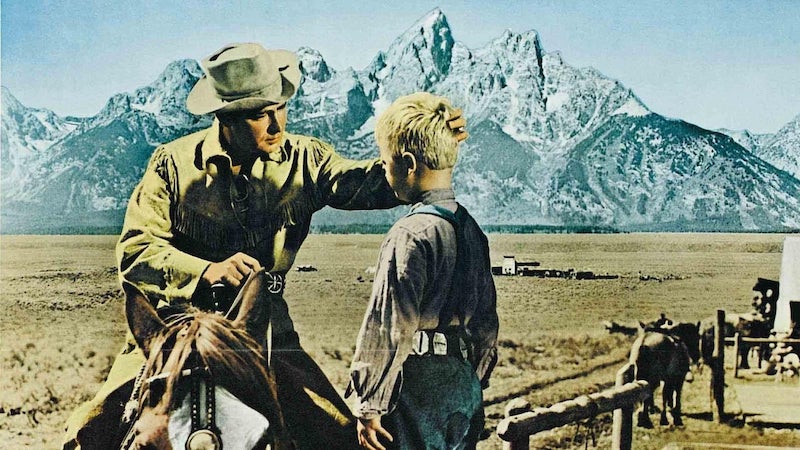 The production itself had its share of challenges. Alan Ladd was actually uncomfortable with guns; the scene where he practices shooting with Joey required over one hundred takes. Ladd also had a few problems with the young de Wilde.
Reportedly, in the emotional final scene where Shane explains to Joey why he must move on, de Wilde, too young to appreciate the significance of the moment, kept making silly faces and sticking his tongue out. Finally an exasperated Ladd told de Wilde's father: "Make that kid stop or I'll hit him over the head with a brick." The father promptly intervened.
At fifty, Jean Arthur was by far the oldest cast member, a dozen years' Ladd's senior and eight years older than Heflin. She had to be made up and shot in such a way as to make this age difference unnoticeable. It had to be credible that Shane would be drawn to Marion physically as well as emotionally, though of course he never acts on it.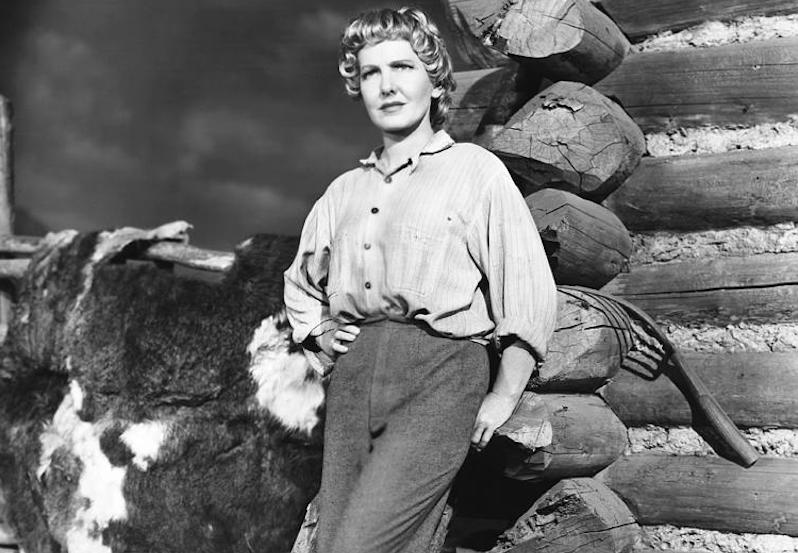 Arthur had also come to dislike making movies as she had intense, chronic anxiety in advance of shooting. Once the cameras were rolling, however, she was fine. Thankfully, she loved and trusted Stevens, which helped.
Jack Palance, unforgettable as ruthless killer Jack Wilson, was a New York-trained theater actor who was extremely uncomfortable around horses and had no clue how to ride one. It took take after take to get one smooth dismount from his horse. Stevens had to use that same take in reverse to show Wilson mounting the horse.
This also accounts for why, when we first meet Wilson, he is on his horse, coming in to town at a slow walk. This unusual but necessary approach actually works, making him appear more sinister.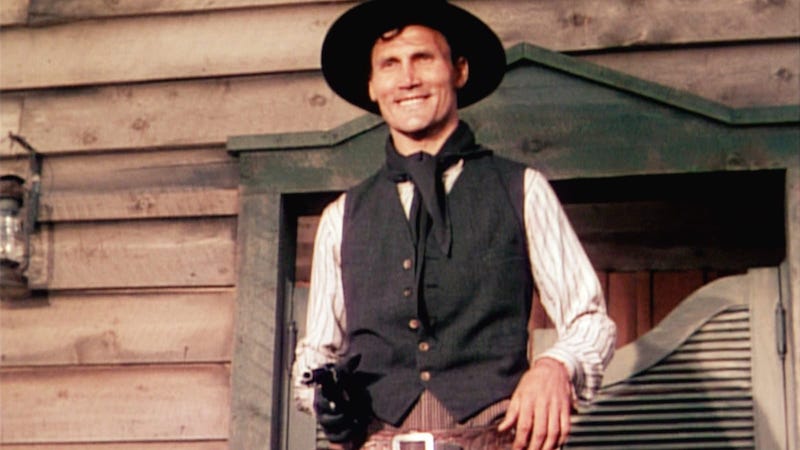 Finally, Ladd's diminutive stature had to be dealt with. At only 5' 6" ½, he was half a foot shorter than Heflin and nearly ten inches shorter than Palance. In many shots, it appears that Shane is nearly the same height as Joe Starrett. This required careful shooting, and it's more than likely that in certain scenes, Ladd had to stand on a box or platform out of camera range.
Still, Stevens was always an actor's director, and so created a pleasant set. In particular, Ladd and Heflin became the closest of friends. Only a few years apart in age, they soon discovered that in childhood both had lived near each other in Oklahoma City, but had never met.
"Shane" was a massive hit on release in 1953, earning stellar reviews and six Oscar nominations, including Best Picture, Director and Supporting Actor nods for both Palance and de Wilde. Loyal Griggs took home the statuette for his stunning cinematography.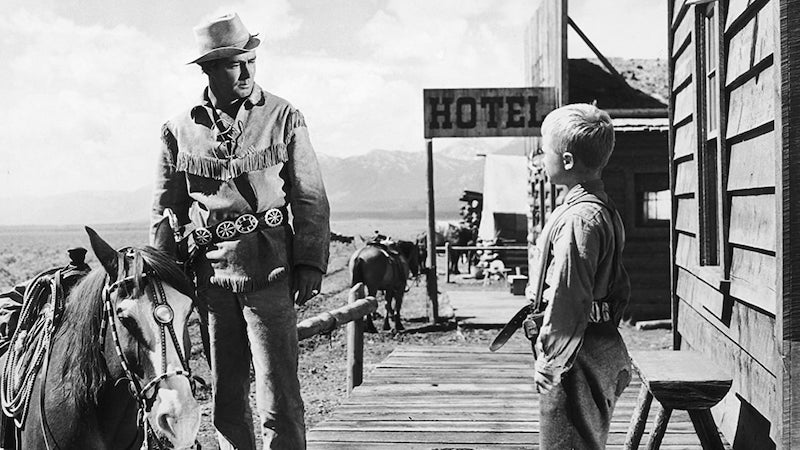 Though Alan Ladd was never formally recognized for his performance, the innate sadness and complexity he brings to the title role is key to the film's success. He subtly embodies the plight of a lonely man who cannot escape his past, however hard he tries.
This melancholy was an essential part of Ladd. Once, when asked by a reporter what he'd change about his life, he replied tersely, "Everything." He would be gone a decade later, the victim of a drug overdose.
But thanks to George Stevens and his team, Ladd's most famous film will never die. We will always come back to "Shane."