Every couple of years, right around Independence Day, I revisit this beloved 1942 musical biopic, and it's always the same joyful, rousing experience.
For those younger readers unfamiliar with it, "Yankee Doodle Dandy" is an idealized tribute to song-and-dance man George M. Cohan, one of the greatest showmen of the early twentieth century. Cohan's work captured a time of unparalleled optimism and prosperity as we entered what historians now call "the American Century."
Born in 1878, he first became famous as part of a song-and-dance vaudeville team called "The Four Cohans," also including his parents and sister. Later he became a prolific producer and songwriter; among his best remembered tunes are "You're a Grand Old Flag," "Give My Regards to Broadway," and "Over There." In 1917, this last song became an anthem for Americans going overseas to fight in World War One.
Later in his career, Cohan was known as "the man who owned Broadway." Though few remember his name today, in 1941 he was a living legend and the time was ripe to make a movie of his life.
The great man himself wanted Fred Astaire to play him, but he declined, feeling Cohan's particular style of dancing was too different from his own. Then someone at Warner Brothers came up with an unlikely choice: James Cagney.
The idea wasn't as crazy as it sounded. Though he was known for playing gangsters, Cagney had started his career on the stage as a dancer. He'd even had the opportunity to show his stuff in 1933's "Footlight Parade." In addition, like Cohan he was Irish, a big star unto himself, and the studio knew Cagney could put over almost anything by sheer force of personality.
Better still, Cagney really wanted the part. He was craving a change of pace, a chance to score in a film where he didn't have to play the heavy.
He also needed to change the perception that he might have Communist sympathies. Unlike the real Cohan, Cagney was a left-leaning Democrat who believed in unions, and as a young hoofer, had resented Cohan for siding with the producers during a 1919 Actors' Equity strike.
Cagney's bother Bill, who served as his brother's Associate Producer on many films, felt a flag-waving exercise was definitely in order, and a Cohan biopic fit the bill.
The film would be called "Yankee Doodle Dandy," picking up on a lyric from a 1904 Cohan song titled "The Yankee Doodle Boy":
I'm a Yankee Doodle Dandy
A Yankee Doodle, do or die
A real live nephew of my Uncle Sam
Born on the Fourth of July
I've got a Yankee Doodle sweetheart
She's my Yankee Doodle joy
Yankee Doodle came to London
Just to ride the ponies
I am the Yankee Doodle Boy."



Though many assume the film was intended as propaganda marking our entrance into World War Two, production had actually started before the attack on Pearl Harbor.
This most American of films was directed by a native of Austria-Hungary, Michael Curtiz, whose very next assignment for Warner Brothers would be a little picture called "Casablanca." 1942 would be a very good year for Curtiz.
He and Warner head of production Hall Wallis assembled a sterling cast to support Cagney, including Walter Huston as Cohan's father Jerry, Rosemary de Camp as his mother Nellie, and his real-life sibling Jeanne Cagney as sister Josie. Seventeen-year-old actress Joan Leslie, who'd broken out the prior year opposite Gary Cooper in "Sergeant York," would play Cohan's wife Mary.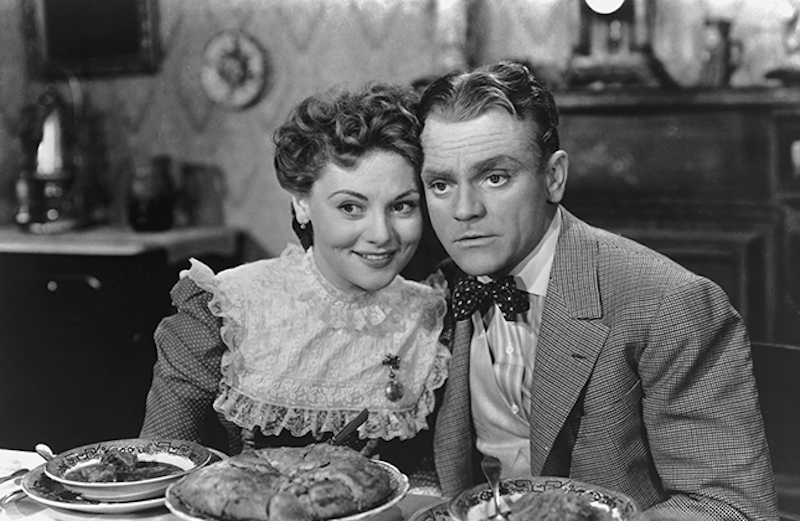 Still, the movie is all Cagney. As always, he worked tirelessly to get his portrayal just right. He knew that some older viewers would remember seeing Cohan perform, so he hired Cohan's own choreographer to teach him how he danced. Cagney was no crooner, but found a way to half-sing and half-talk through the musical numbers. His charm, energy and exuberance carry the day.
"Yankee Doodle Dandy" is comprised of one long flashback reviewing Cohan's colorful, eventful life, bookended by an aging Cohan going to the White House to accept the Congressional Medal of Honor from FDR. (Reportedly, this marked the first time a sitting President had been portrayed on-screen).
In fact, Cohan had received the Congressional Gold Medal, the first entertainer to do so. The script plays fast and loose with a few other key facts, including the order in which Cohan's immediate family passed away. It also glosses over the shocking revelation that Cohan actually divorced and remarried. In fact, so many liberties were taken with his life story that after seeing the film Cohan himself quipped: "That was a good picture. Who was it about?"
One charming moment I'll always cherish was completely improvised. At the end of the film, as Cagney is coming down the White House stairs after his meeting with Roosevelt, he does a little tap dance that seems totally spontaneous. It was. Cagney wanted to add a few "bits of business" along the way, and this was one of them. Fortunately, Curtiz was wise enough not to cut it.
The original plan was to release the film on July 4, 1942, but Cohan's health was declining rapidly so the premiere was moved up a month. On release, "Yankee Doodle Dandy" was a hit, critically and commercially. And the great George M. Cohan knew it well before he died in November of that same year.
At the Academy Awards, the film received eight nominations, including Best Picture and Director, and won three, for Best Actor, Music and Sound. Over a long and distinguished career, it would be James Cagney's only Oscar win, and, I'd guess, the picture he'd have wanted to win it for.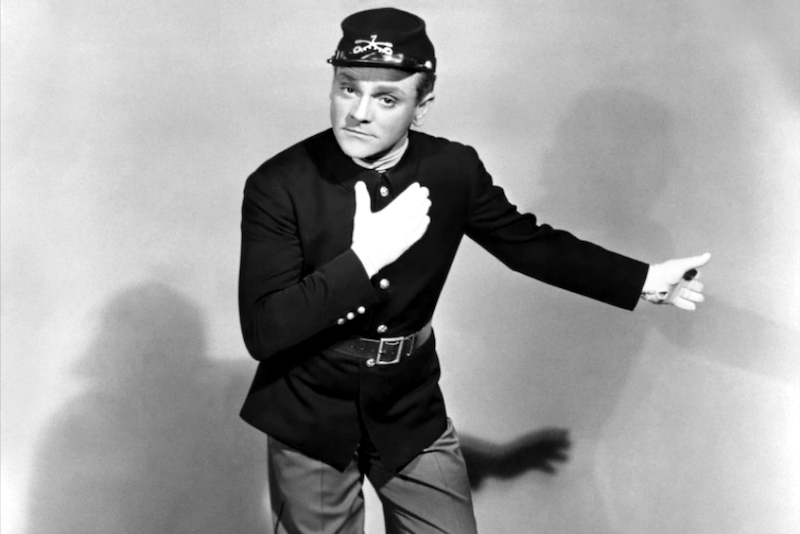 So as you celebrate the Fourth this year, cozy up to "Yankee Doodle Dandy." Yes, its unabashed patriotism may seem quaint in these cynical times, but its charm and sentiment still exert a powerful hold. And that's largely thanks to James Cagney — a larger-than-life performer who found a role he was meant to play, and made the most of it.
More: Dancing Like a Man — The Masculine Moves of Gene Kelly