Two gunslingers stand toe-to-toe in a dusty crossroads… on the left, a powerfully built man donning a cowboy hat and wearing a leather vest and bandanna; on the right, a tall, cool customer in a serape, with a rope burn 'round his throat.
You duck down inside an old barrel and hold your breath… a tumbleweed rolls by… and the church bells chime…. bong… bong…bong... (Cue the "Waah Waah Waah Waah Waah" of Ennio Morricone's signature soundtrack theme).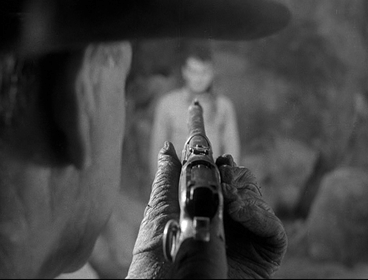 As far as I'm concerned, the only man thick-skinned enough to stand up in a town square to the cool, rattler squint of Clinton "Clint" Eastwood, would be the Duke himself (better known as John Wayne). But on which would you stake your claim when facing a hail of bullets?
Interestingly, both were born to battle over this final week of May, twenty-three years and six days apart – Wayne on May 26th, 1907 (Happy 107th Birthday to the Duke) and Clint on May 31, 1930 (could Clint really be turning 84?). Each stands or stood an imposing 6'4", and each represented a peculiarly American brand of machismo. Two sides of the same buffalo nickel, these Cowboy Gemini each cultivated a unique star-caliber image that embraced rugged individuality and an indomitable stoicism – harkening back to a time when our nation was full of pioneers drawn to the open range.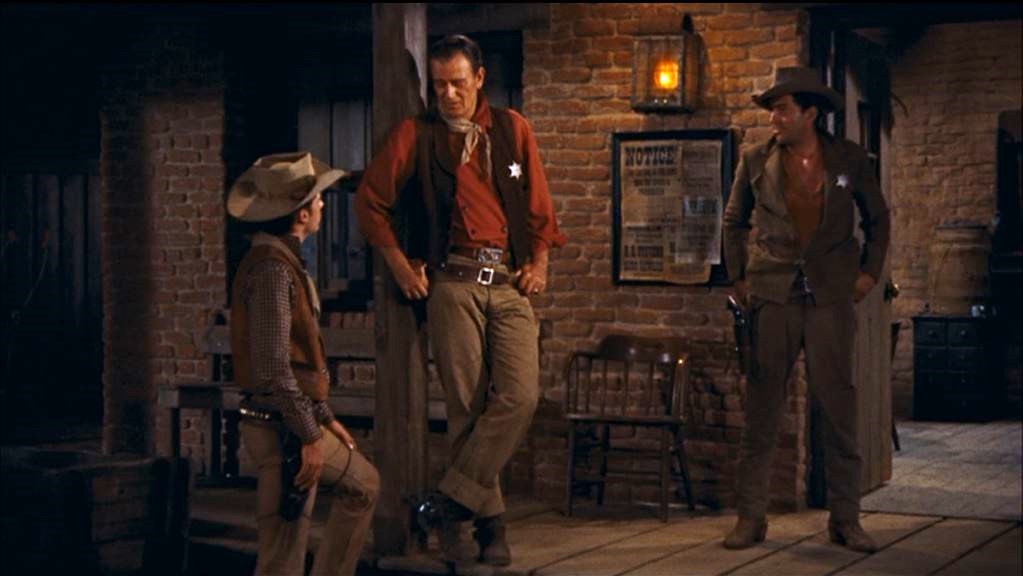 Each reflected the times in which they lived. Wayne's idealized, stolid, quick-drawing hero, always on the side of the righteous, was a welcome, reassuring character for the trying years just before, during and after World War II. By contrast, Eastwood brought an anti-hero darkness and pragmatism to his characters that fit with the more conflicted, ambiguous social climate of the '60s and '70s.
Though their careers overlapped for over a decade, they were not fated to work together, mainly due to Wayne's discomfort with the type of Western Eastwood was making. There may have been some professional jealousy at play too: for instance, we know the Duke was kicking himself for turning down 1971's "Dirty Harry", which was a monster hit for Eastwood, spawning several sequels (more on this later).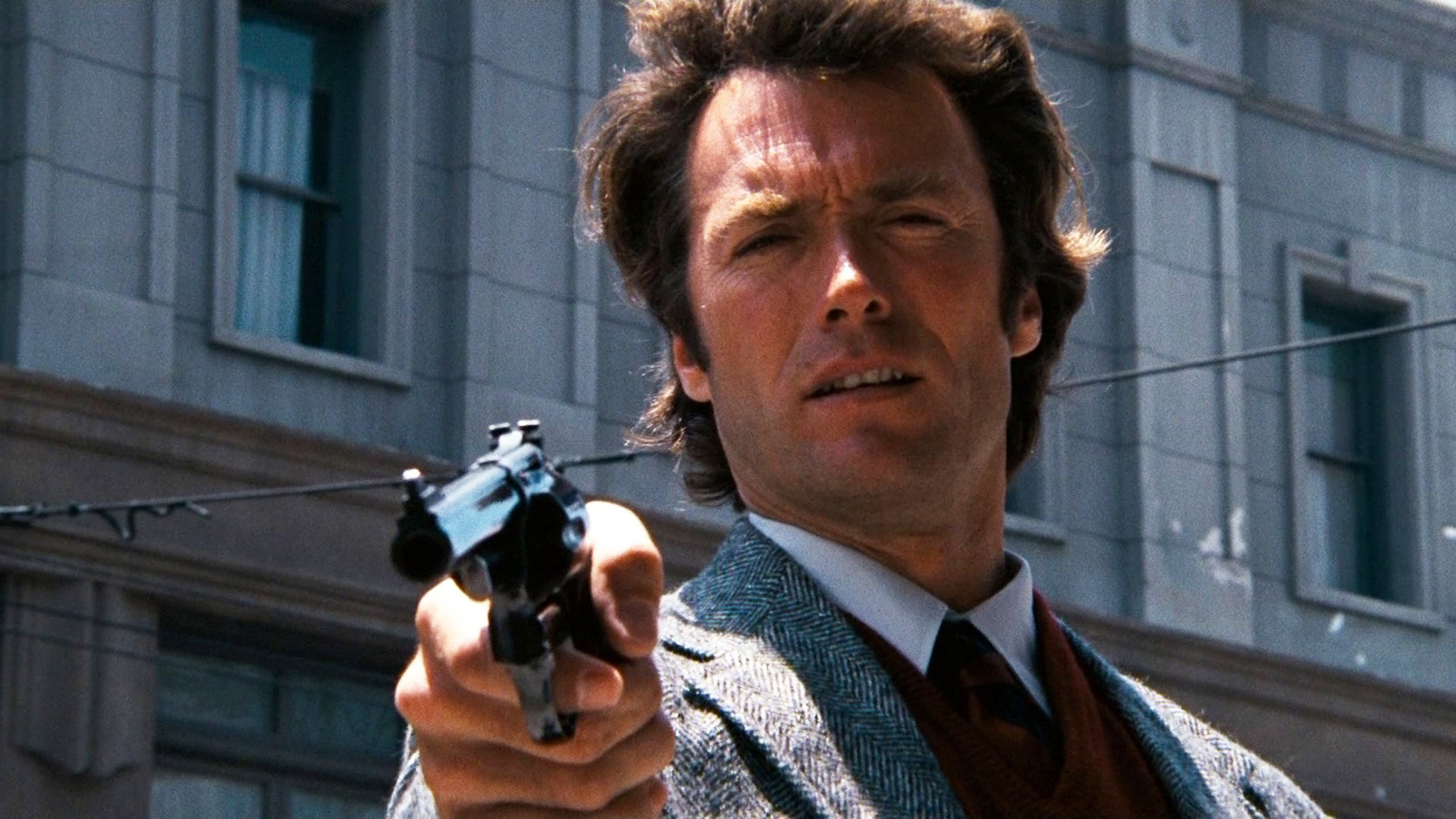 In an interview with James Lipton on "Inside the Actor's Studio," Eastwood shared an anecdote he was told by "Dirty Harry" director Don Siegel about working with Wayne on "The Shootist". There was a sequence in the script where Wayne was to shoot an enemy in the back. When Wayne refused, saying "I don't shoot people in the back", Siegel made the egregious error of saying "Clint Eastwood would have shot him in the back". According to Eastwood's account of Siegel's tale, "Wayne turned blue and said 'I don't care what that kid would have done, I don't shoot people in the back!'"
1973 marked a low point for Wayne after the controversial reception to his film "The Cowboys," which was considered by some to be a right-wing pro-Vietnam War allegory. Meanwhile Clint was riding high, having just released the successful "High Plains Drifter," which he starred in and directed. At this point, Eastwood reportedly reached out to Wayne to suggest they work together, and Wayne's rejection came in the form of a letter that outlined his take on "Drifter." The most telling excerpt: "That isn't what the West was all about. That isn't the American people who settled this country."
The Westerns: How does a man with a rifle beat a man with a pistol?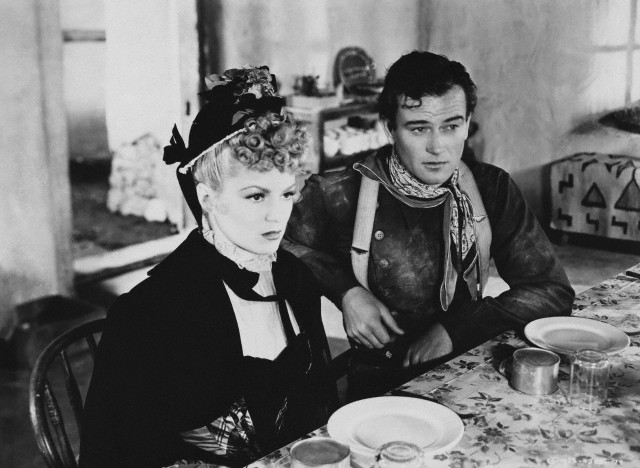 Certainly the Western genre launched both men's careers.
After a decade of appearing in "B" Westerns, Wayne's big break was being cast as "The Ringo Kid" in John Ford's "Stagecoach" (1939), and later continuing in classics like "Fort Apache" (1948), "Hondo" (1953) and "The Man Who Shot Liberty Valance" (1962).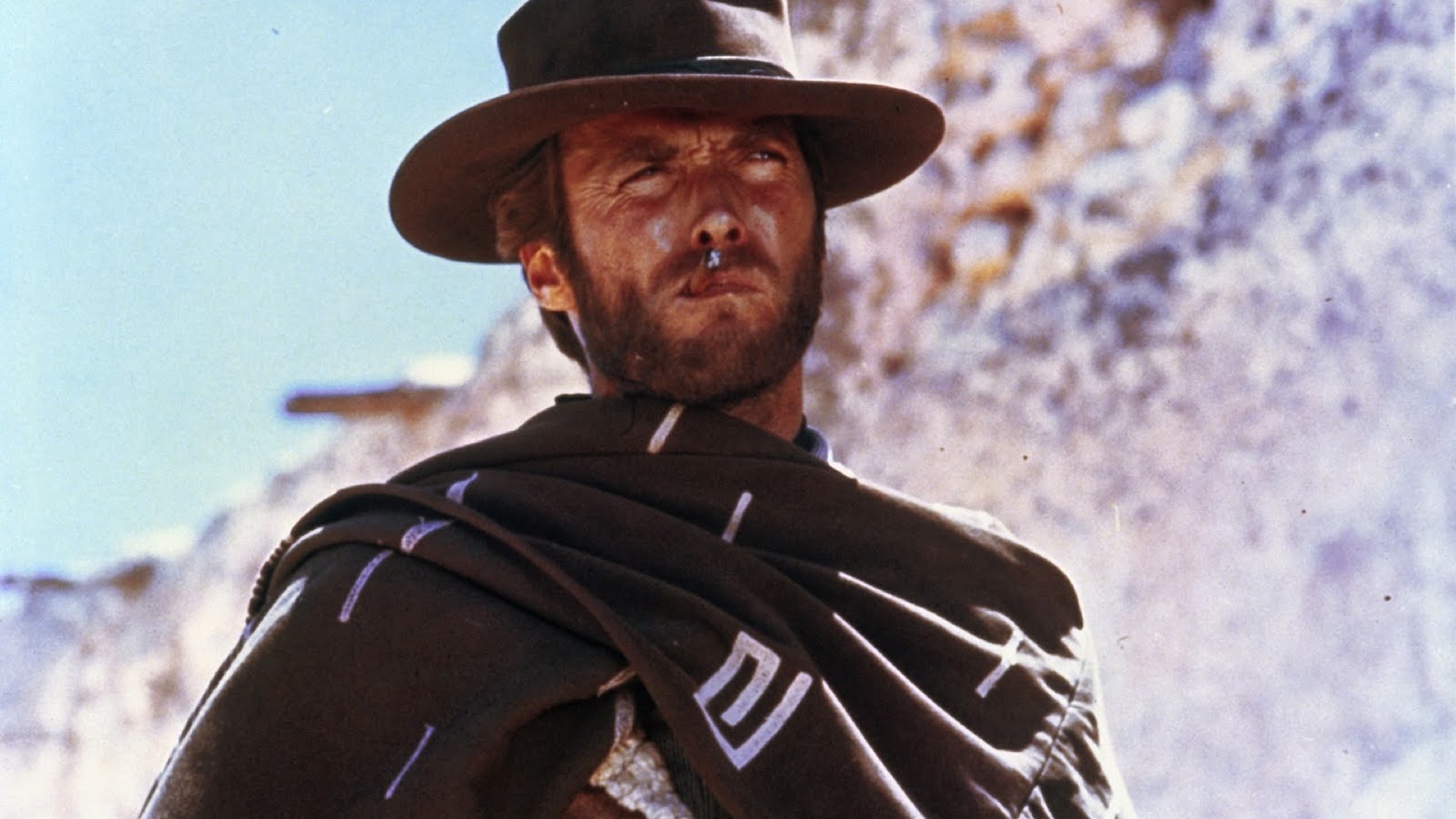 Eastwood's own breakthrough came in 1958 when he became a TV icon in the long-running Western series, "Rawhide". Immediately afterward, he made an unexpected international hit in Sergio Leone's "Spaghetti Western" trilogy: "A Fistful of Dollars" (1964), "For A Few Dollars More" (1965), and "The Good, The Bad, and The Ugly" (1966). Later, he both directed and starred in "High Plains Drifter" (1973), "The Outlaw Josey Wales"(1976), and later, "Unforgiven" (1992).
Winner: I love them both, but on Western terrain, The Duke wins…but just by a nose. "Stagecoach" (1939), "Red River" (1948) and "The Searchers" (1956) are unbeatable, thanks to directors John Ford and Howard Hawks.
The War Pictures: Veteran Green Beret Meets Machine-Gun Wielding Lieutenant
During World War II, Wayne made military movies to maintain morale at the home, including "Flying Tigers" (1942), "The Flying Seabees" (1943), "Back to Bataan" (1945), and most notably, "They Were Expendable" (1945). Years later, he headed an all-star cast in Darryl Zanuck's ambitious recreation of D-Day, "The Longest Day" (1962), a must-see film this June 6th, the 70th anniversary of this watershed event.
Eastwood's shining example of World War II derring-do was "Where Eagles Dare" (1968), about a crack group of Allied spies on a secret mission behind the German lines. Other than this picture, Clint did not play many soldiers on-screen. Years later though, he'd direct a superb war film, "Letters from Iwo Jima" (2006), which received Oscar nods for both Best Picture and Direction.
Winner: This one's an unfair fight, but we have to give it to Wayne, since Clint spent most of his on-screen time out of uniform. (And though it was a crowd-pleaser, I don't think 1970's "Kelly Heroes" was necessarily Clint's finest hour.)
The Cop Drama: Do you feel Lucky, Pilgrim?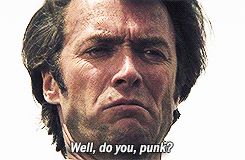 As mentioned earlier, Wayne rejected "Dirty Harry," bristling after he heard the part had initially been offered to Frank Sinatra ("Go ahead, make 'My Way'"). Here I should note that originally, the Harry Callahan character was meant to be in his mid-50s, not Eastwood's tender age of 41. Wayne's other reservation had to do with the nature of the character — initially he saw Harry Callahan as "a rogue cop", which conflicted with his image. Wayne is quoted as ruing the decision: "Put that down to narrow-mindedness," he said, "because when I saw the picture, I realized that Harry was the kind of part I'd played often enough, a guy who lives within the law but breaks the rules when he really has to…"
Wayne went on to make pallid "Harry" knock-offs like "McQ" (1974) and "Brannigan" (1975). None of these caught fire, and frankly, Wayne looked too old by then to be playing active-duty cops.
Winner: Eastwood is the clear winner here with his genre-forging character of Harry Callahan. Not even John Wayne can stand up to that iconic .45 magnum.
The Bad, The Worse, and The Truly Ugly: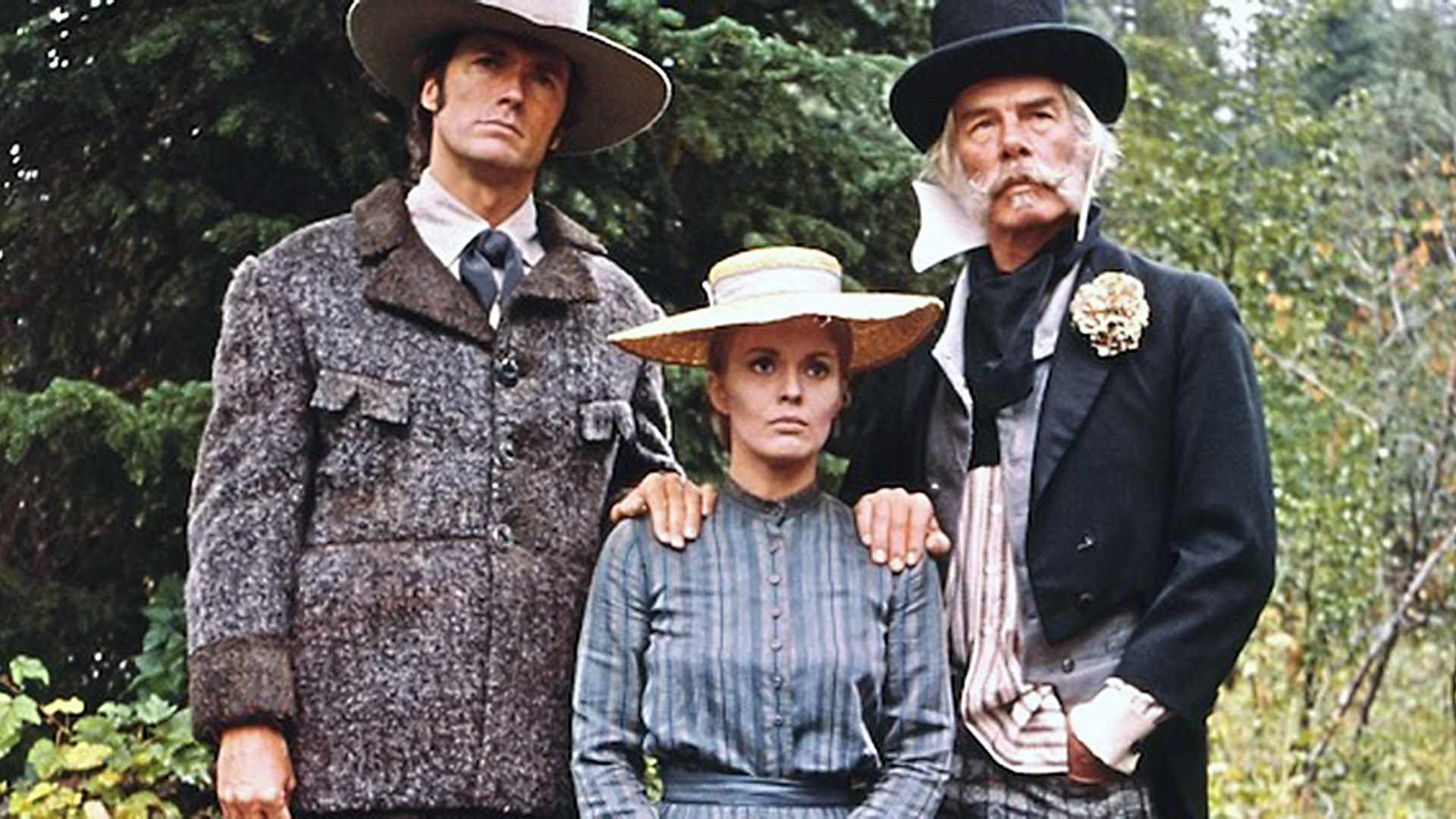 Eastwood's "Paint Your Wagon" (1969) is a madcap wagon-painting story like no other. It's also likely Clint's most embarrassing outing. This risible, cheese-ball musical has a song called "Hand Me Down That Can of Beans" — need I say more? It also stars Lee Marvin! If that wasn't enough, Clint does his own singing, and as one brutal critic noted, "…he sounds like a moose." … '69 was a strange time indeed.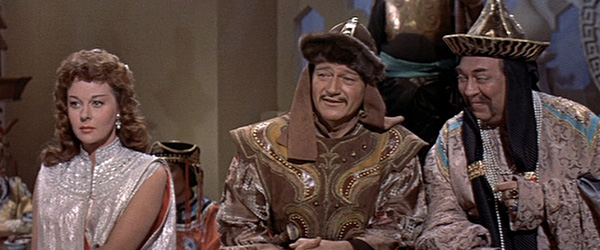 "The Conqueror" (1956) starred Wayne as Genghis Kahn, and that's really all you need to know about this howler. Tragically, Wayne and his crew may have been exposed to radioactive fallout from filming locations that were downwind of nuclear testing sites in Utah. Besides himself, several of his colleagues on this film would die of cancer, including producer Dick Powell and co-stars Susan Hayward, Pedro Armendariz ("From Russia With Love") and Agnes Moorehead (TV's "Bewitched).
Winner: To his everlasting credit, Wayne never did a musical or starred opposite an orangutan (as Eastwood did in 1978's "Every Which Way But Loose"), so in all, I think Wayne comes out looking slightly better.
So... that means, uh oh. IT'S PRETTY MUCH A TIE.
It's up to you to decide!
Who do you think should win the decorative "toughest man" bandoleer? We know it's a close call. Why not watch a few of these Wayne and Eastwood classics and decide for yourself - then go to our Facebook page to cast your vote. Didn't find what you're looking for? Keep browsing for the right movie to watch tonight on our curated database. Using our search filters, you'll never spend too much time deciding on a movie again. The best movies to stream are just a click away!
Previously: On His Birthday, Why John Wayne Endures