Life is full of weird coincidences: The first time Brad Pitt's star power really hit me was in a film directed by...Robert Redford.
The movie, of course, was Brad's big breakthrough, 1992's "A River Runs Through It", in which Brad plays the more rebellious of two brothers growing up in 1920's Montana. Watching it over twenty years ago, I vividly remember thinking that Redford was directing a younger version of himself.
Think about it: they look alike, they talk alike, and a generation apart, each would be considered for the same kind of roles. Each in their younger days had the fair, clean-cut quality commonly referred to as "All-American".
That said, both men have proved themselves as savvy as they are stunning, working hard to transcend the heartthrob images that first rocketed them to fame.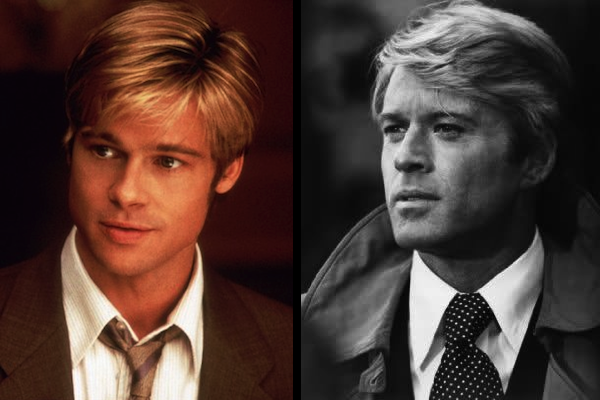 So — who ranks as the bigger star, and who would you want to have coffee — or dinner — with?
Let's look at their respective stats:
Bright college days
Brad:
Attending the University of Missouri as a journalism major, Pitt dropped out just two credits shy of graduation. Telling his strictly religious family he was headed to California to enroll in a new school, he impulsively followed his dream of acting. Before finding success, he supported himself driving strippers in limos, moving refrigerators, and dressing as a giant chicken for a restaurant called "El Pollo Loco"— definitely short-term gigs. Within seven months of his arrival, Pitt had an agent and started working on TV soaps. His breakout would be a pivotal role in "Thelma & Louise" (1991), as a coarse cowboy who gets what's coming to him.
Bob:
A bit of a rebel in high school, Redford got arrested for stealing hubcaps, but still managed to receive a baseball scholarship to the University of Colorado. He was there a year and a half before dropping out. Redford then moved to Europe to be part of the Bohemian art scene. On his return to the States, he switched his focus from art to acting and enrolled in the American Academy of Dramatic Arts. He started getting TV roles (most famously playing Death coming to get Gladys Cooper in "The Twilight Zone"). In 1963, he was tapped to co-star in Neil Simon's "Barefoot in the Park" on Broadway. Four years later he'd star in the film version (opposite Jane Fonda), and screen stardom seemed (and was) assured.
Winner: Redford — running off to France to wear a beret, eat cheese, and paint the Eiffel Tower trumps a stifling chicken suit any day.
Partners in Crime
Brad: George Clooney
Clooney is a fine actor and certainly cuts a dashing figure — I even compared him a few months ago to Cary Grant. Clooney's smoothness perfectly complements Pitt's more terse, rough around the edges style. He doesn't even seem to mind when Pitt eats through nearly every scene in "Ocean's 11" (2001).
Bob: Paul Newman
The blue-eyed Newman was all sly charm combined with an irresistible, puckish energy. You got the idea that Newman might get a shyer, more down-to-earth type like Redford in all kinds of trouble — as of course he did robbing trains in "Butch Cassidy and the Sundance Kid" (1969) and running the long con in "The Sting" (1973).
The Winner: Redford. Clooney is great and all, but there was only one Paul Newman. Besides, the movies the pair starred in are classics.
Our pal Oscar
Brad:
To date, Pitt has garnered two Oscar nominations for best actor, playing Oakland A's manager Billy Beane in "Moneyball" (2011), and a man living his life in reverse in "The Curious Case of Benjamin Button" (2008). He also chalked up a Best Supporting Actor nod playing a mental patient in "12 Monkeys" (1995). Pitt has racked up awards as a producer too, with Best Picture nominations for both "Moneyball" and "The Tree Of Life" in 2011. Most recently, he produced and was featured in the Oscar-winning "12 Years a Slave" (2013), a true story about a free black man sold into slavery.
Bob:
Redford has only one Best Actor nomination, for his role as con-man Johnny Hooker in "The Sting," though it seems to me some of his other performances deserved more recognition: "The Candidate" (1972), "Three Days Of The Condor" (1975), and certainly last year's "All Is Lost." Still, Redford triumphed in his first outing behind the camera: 1980's "Ordinary People" is a searing drama about a family coping with the untimely death of a favored son. He then scored another directorial nod for "Quiz Show" (1994), the fact-based tale of a crooked game show in the '50s. In 2002, the Academy gave Redford a Lifetime Achievement Award for his contributions to film.
Winner: For acting alone, I think Pitt takes it by a nose, for his versatility. But Redford not only acts, he directs- likely the hardest job in Hollywood to bring off successfully. And Bob has two Oscars shining up on his mantle, while Pitt just has the one. Still, Brad's got plenty of time to catch up!
How They Help Out
Brad:
Pitt and wife Angelina Jolie work with numerous charitable organizations, particularly in Africa. And they don't just donate money, but volunteer their time too. In the past decade, the pair have visited HIV affected orphans, traveled to Syria after an earthquake, and ventured to Haiti when it was ravaged by a hurricane. Clearly they're not afraid to roll up their sleeves.
Bob:
Redford is a serious environmental advocate and conservationist. But arguably his largest contribution has been to the nurturing and propagation of great film. He helped establish the Sundance Institute and Film Festival, created to support independent filmmakers. Time Magazine declared him "The Godfather of Indie Film."
Winner: Too close to call.
On Staying Grounded
Brad:
It's all about family...
"The other day, my grandfather said to me, 'We saw your movie.' 'Which one?' I said. And he shouted, 'Betty, what was the name of that movie I didn't like?' ... if that doesn't keep your feet on the ground, what would?"
Bob:
Redford likes to get out of Dodge for a while.
"Some people have analysis. I have Utah."
Winner: Redford... In 1960, he purchased two acres of land in Utah with his last $500. Over time, he kept buying, amassing thousands of acres, which became home to his Sundance Institute.


Now it's time to open the envelope to see who gets the big prize.
…..
The Winner: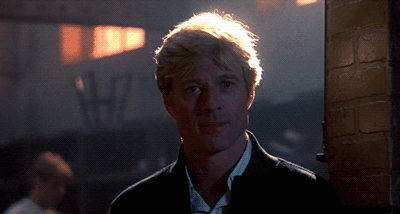 Sure, Brad's amazing, but how can you compete with Redford? It also strikes me that Pitt has drawn certain elements of his own persona from the older star — though he's also cited Steve McQueen as an inspiration. Don't worry, Brad — it's nothing to be ashamed of. And how can you begrudge giving the trophy to the man who directed you in your first major movie role?
So, that's my view on the matter, but you may feel differently. It's a close call for sure. Let me know what you think on Facebook.