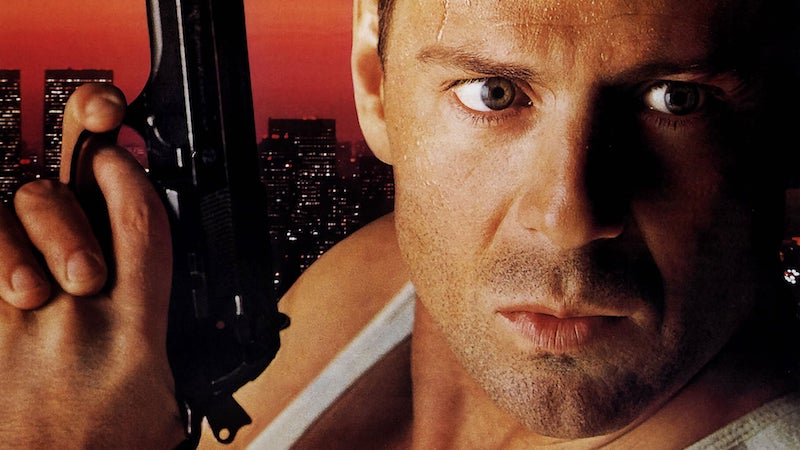 I remember my first sighting of Bruce Willis in a TV series called "Moonlighting" back in 1985. I liked him right away, and I knew a lot of other people did too.
Part of what creates a star is the degree to which an audience identifies with his or her essential character. Watching Willis (with hair!) play the wisecracking private eye David Addison, I had a moment of recognition. I actually felt I'd met this guy. I even saw a bit of myself in him.
Reportedly, Willis brought a lot of himself to Addison, as he would to several screen characters that lay in his future, most notably John McClane in the "Die Hard" films. He could play the class clown, and had a somewhat cynical view of the world, which he wouldn't hesitate to share. Sometimes he might speak before thinking. It was part of his charm.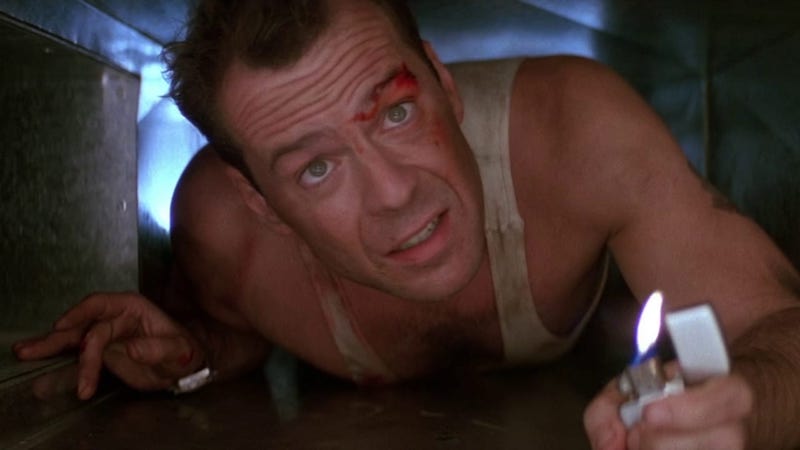 He'd grown up proudly working class in New Jersey, the eldest son of a welder and a bank employee. His father David was American, his mother Marlene was German. The two had met while David was stationed overseas.
In high school, Bruce developed a stutter, but eventually discovered that it didn't occur when he was reciting lines he'd memorized. This drew him to performing. Once he started, he found he was good at it.
After graduating, he took a variety of jobs to support himself, including (ironically) a stint as a private detective. Then he enrolled at Montclair State College to study drama, but only stayed two years. He was in a hurry to get somewhere.
Moving to New York City in the late seventies, his salad days as an actor began. In between auditions, he became a waiter, but was so hapless he switched to bartending instead.
Like so many driven hopefuls before him, Willis finally set out for Hollywood. He won a couple of guest roles in TV series before auditioning for the part of David Addison, along with 3,000 other hopefuls. Miraculously, he got the nod.
"Moonlighting" was a hit, running five seasons and earning Bruce an Emmy and a Golden Globe. The big screen soon beckoned.
"Die Hard" would be Willis's second film in a credited role. The part of John McClane, a New York City detective who foils a large scale robbery in a Los Angeles high rise during a Christmas party, had been turned down by Robert De Niro. Many other established stars, including Sylvester Stallone, Arnold Schwarzenegger, and Don Johnson, were considered for the part.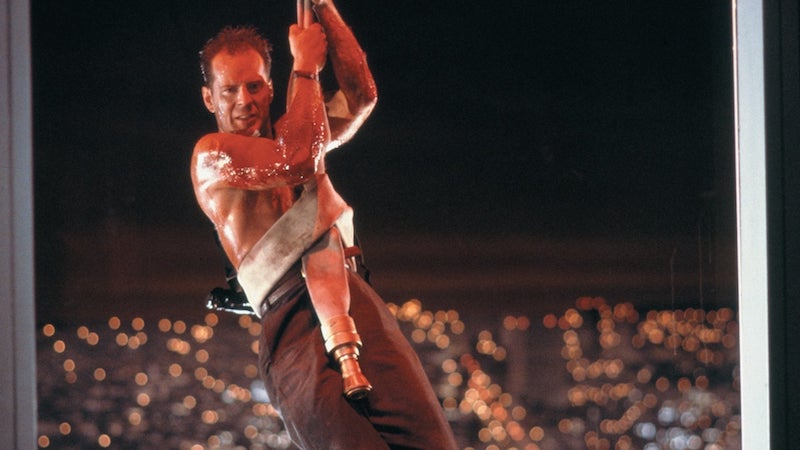 Director John McTiernan had actually worked with Schwarzenegger the prior year on "Predator," and this time out, had someone different in mind for his protagonist. John McClane would not be a beefy superhuman like Sly or Arnold; instead he'd be an average cop facing a mid-life crisis who's put in an impossible situation and must try to thwart the bad guys and survive.
McTiernan saw Willis as fitting the bill: he was tough enough to be credible as a police detective, but vulnerable enough to seem anything but super-human. More important, the director picked up on Willis's wry sense of humor which he felt would give the character dimension and elicit sympathy from the audience.
Thus Bruce was given license to improvise throughout what was, by all accounts, a highly demanding shoot. Making matters worse, he was still committed to "Moonlighting" during the day, so he had to shoot his scenes at night. The hefty $5 million pay package he received for "Die Hard" must have helped motivate him.
Over the course of the shoot, Willis also found time to wed his first wife, actress Demi Moore. Their marriage would last a dozen years and produce three daughters, who have all become actresses.
"Die Hard" was a massive hit, and remains fresh and fun thirty years later. It stands today as a suspenseful, wildly entertaining action movie that boasts a fast and funny script, and an irresistible hero.
Among the memorable exchanges McClane has with villain Hans Gruber, beautifully played by the late, great Alan Rickman, this one always stays with me:
Hans Gruber: That's very kind of you. I assume you are our mysterious party crasher. You are most troublesome, for a security guard.
John McClane: Eeeh! Sorry Hans, wrong guess. Would you like to go for Double Jeopardy where the scores can really change?
John McClane [speaking to dead man about cigarettes]: Whoa, these are very bad for you.
Hans Gruber: Who are you then?
John McClane: Just a fly in the ointment, Hans. The monkey in the wrench. The pain in the ass.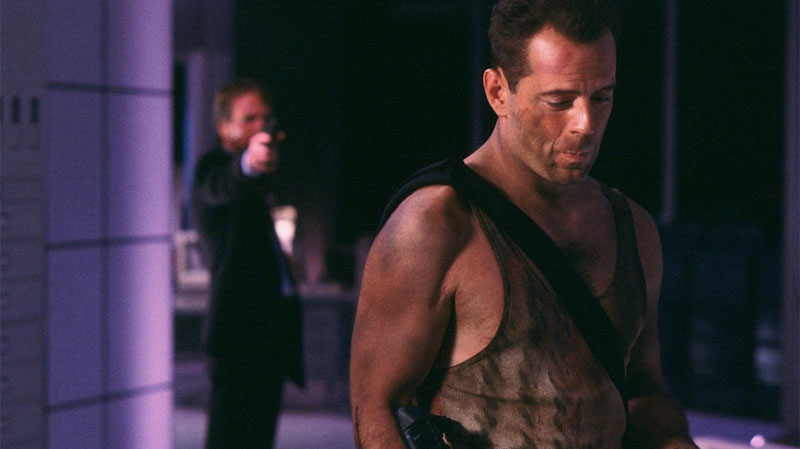 Over his thirty year career, Willis would return to the McClane role four times, with diminishing returns critically but not commercially. Taken together, the "Die Hard" franchise has grossed close to a billion dollars worldwide.
Tellingly, Bruce has always viewed himself as a leading man whose function is to entertain an audience, rather than a serious actor making serious films. In his words: "I have zero interest in performing in films to try to convey any kind of message. My job is to be entertaining. There's a very different point of view about messages in films in Europe than there is in the States. Audiences rebel because they feel that they are being preached to."
Admittedly, over the years Willis has made more than a few substandard movies, some noble misfires like "Bonfire of the Vanities" (1990), others just formulaic dreck like "Catch .44" (2011).
Yet he has also scored in some fabulous films that demonstrate his skill and finesse as an actor: most notably, "Pulp Fiction" (1994) where he plays Butch, a boxer on a big adventure, and "The Sixth Sense" (1999), as child psychologist Malcolm Crowe. He broke out of his action hero image and excelled once more in Wes Anderson's delightful "Moonrise Kingdom" (2012).
Willis has tapped his comedic gifts along the way, winning an Emmy for best guest performance on "Friends" (2000). He has also made a series of highly entertaining appearances on "The Late Show with David Letterman," even co-hosting the show once when Letterman fell ill.
He has hosted "Saturday Night Live," and in 2015, made his starring debut on Broadway in an adaptation of Stephen King's "Misery," co-starring Laurie Metcalf. He is also a musician with three solo albums to his credit. In 1998, he became the first name actor to lend his voice to a video game.
Bruce has stirred up considerable controversy with his political views and statements over the years. In a left leaning industry, he has hewed closer to the Republican line, advocating for smaller government and a strong military.
He was an early supporter of the Iraq War, and even considered enlisting, but was deemed too old. He did visit Iraq to show his support for the soldiers on the front lines.
He also singled out Colombia publicly as the main culprit in the war against drugs, prompting a minor flap with their government. To his credit, he has been willing to moderate or correct his remarks when necessary.
And he's been much quieter over the past decade. This may due to the wisdom that comes with age, and also a more stable home life.
After divorcing Moore in 2000, he was involved with several women but finally settled down in 2009, marrying model and producer Emma Heming. They've had two daughters since, Mabel and Evelyn. The Willis family lives quietly just north of New York City.
Now well into his sixties, Willis's John McClane roles are mostly behind him. What lies ahead is anyone's guess, but let's hope that Hollywood comes up with some interesting roles for him. If Bruce Willis's career proves anything, it's that when given strong material, he always delivers.
I look forward to the next great Willis vehicle. And while we wait, there will always be "Die Hard"!