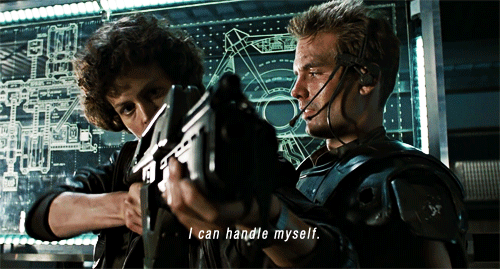 It boggles the mind that only a couple of generations back, women were sometimes referred to as "the weaker sex." That's not only sexist, but misleading.
Plenty of tough, cunning, even deadly female characters have graced the screen over the past six decades that prove this idiotic saying wrong.
Here are an even dozen.
Peggy Cummins as Annie Laurie Starr in "Gun Crazy" (1950)
"Brilliance on a budget" would be an apt characterization for this made-on-the-cheap, in-your-face crime saga. Cummins is Annie, the sharp-shooting expert at a carnival who goes on a crime spree with similarly weapons-obsessed Bart (John Dall), a former juvenile delinquent and ex-soldier. The result is one of the best noirs nobody's ever heard of. We're not certain any similarities between Annie and Faye Dunaway's Bonnie Parker in 1967's "Bonnie & Clyde" are strictly coincidental.
Tough Girl Talk:
Annie Starr: "Bart, I've been kicked around all my life, and from now on, I'm gonna start kicking back."
Joan Crawford as Vienna in "Johnny Guitar" (1954)
Crawford made a career out of portraying no-nonsense women who took no bunk from men, but in Nicholas Ray's delirious Freudian sagebrush saga, she has to deal with a nefarious woman as well. Here, Crawford plays Vienna, the proprietor of an Arizona saloon, awaiting the arrival of a new train route that's sure to boost business. Still, it seems shrill, jealous local rancher Emma (Mercedes McCambridge) only wants to undermine her. Sterling Hayden plays Vienna's new bodyguard, who prefers strumming his instrument to shooting his pistols. Sexual symbolism and McCarthy-era metaphors run amok in fascinating ways.
Tough Girl Talk:
Vienna: "Down there I sell Whiskey and cards. All you can buy up these stairs is a bullet in your head."
Angela Lansbury as Mrs. Eleanor Shaw Iselin in "The Manchurian Candidate" (1962)
John Frankenheimer's brilliant Cold War thriller posits Lansbury as one of the screen's worst mothers. She's the power-hungry wife of a senator who manipulates her brainwashed, war hero son (Laurence Harvey) to advance her nefarious plans, which would bring the country to its knees. Meanwhile, Harvey's former commanding officer (Frank Sinatra) investigates this murky situation. TV's warm-hearted Jessica Fletcher as a momma from hell? You better believe it!
Tough Girl Talk:
Mrs. Eleanor Shaw Iselin: "I know you will never entirely comprehend this, Raymond, but you must believe I did not know it would be you. I served them. I fought for them. I'm on the point of winning for them the greatest foothold they would ever have in this country. And they paid me back by taking your soul away from you. I told them to build me an assassin. I wanted a killer from a world filled with killers and they chose you because they thought it would bind me closer to them."
Faye Dunaway as Bonnie Parker in "Bonnie and Clyde" (1967)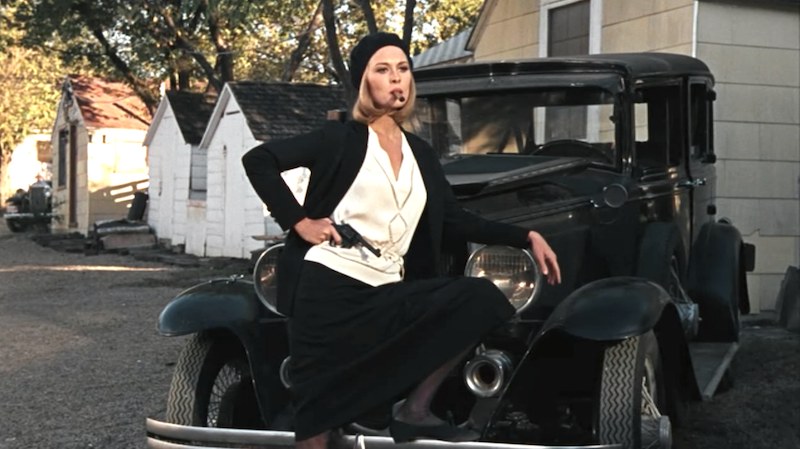 "They're young, they're in love … and they love to kill people," boasted the posters. That pretty much sums up the plot of Arthur Penn's quick-paced, violence-strewn, true-life gangster tale. During the Depression, Clyde Barrow (Warren Beatty), Bonnie Parker (Dunaway) and their gang become America's most notorious criminals via a series of bold bank robberies throughout Texas and the South. Always dressed stylishly in sharp period threads, Dunaway's sexy, thrill-seeking criminal launched the actress's career, as well as a huge retro fashion movement. This was a prime example of "heaven with a gun" — armed and extremely dangerous.
Tough Girl Talk:
Bonnie Parker: "We rob banks!"

Sissy Spacek as Carrie White in "Carrie" (1976)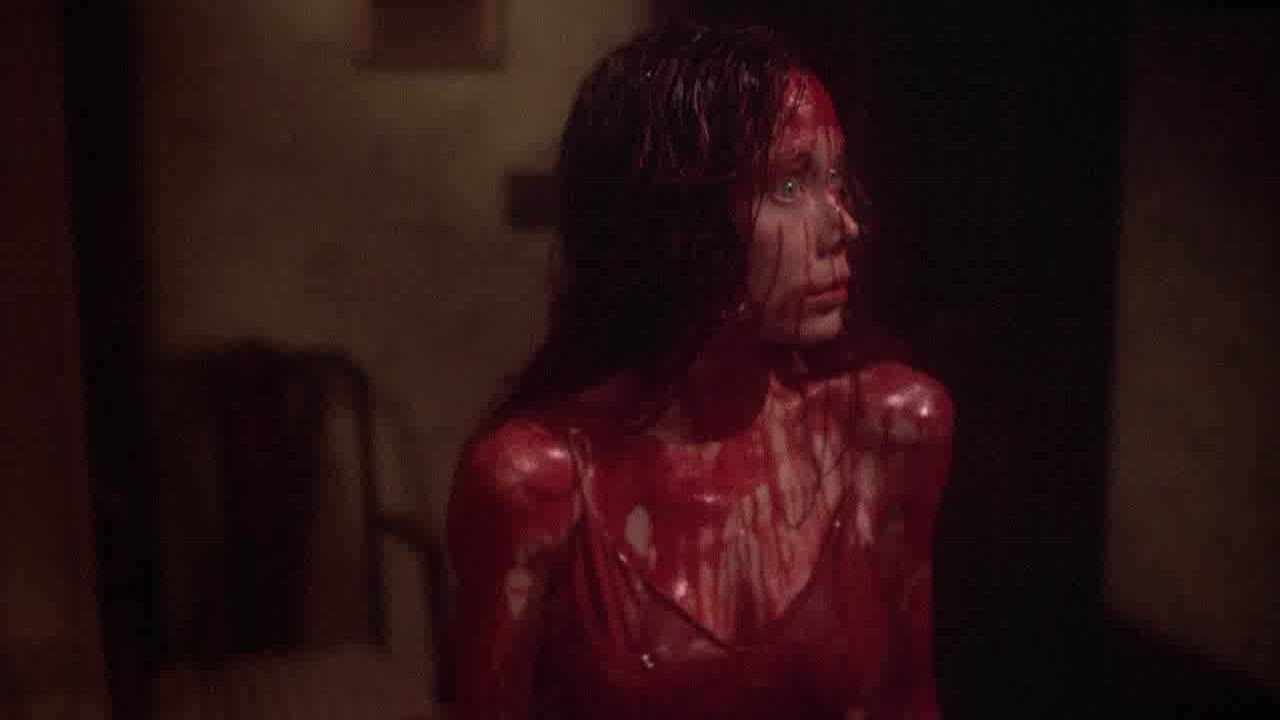 In Brian De Palma's stylish teen shocker based on Stephen King's novel, Spacek snagged a career jolt and an Oscar nomination as Carrie White, a put-upon teen who uses her special telekinetic gift to get even with the school bullies who've ridiculed her. Piper Laurie scores as her unstable, religiously obsessed mother, and John Travolta, Nancy Allen and Amy Irving play high school students who feel the brunt of Carrie's rage as she heats up the prom.
Tough Girl Talk:
Carrie White: "It has nothing to do with Satan, Mama. It's me. Me. If I concentrate hard enough, I can move things."
Linda Hamilton as Sarah Connor in "The Terminator" (1984)
Sarah Connor (Hamilton) begins James Cameron's original "Terminator" as a somewhat mousy college student and part-time waitress. She's soon stuck in a whirlwind of inexplicable circumstances involving futuristic soldiers and an android killing machine, played by Arnold Schwarzenegger. Her transformation from weak sister to fearless mother-to-be (of mankind's future savior) provides a smooth segue to her lean and mean kickass presence in 1991's "Terminator 2: Judgment Day", also directed by Hamilton's future husband Cameron.
Tough Girl Talk:
Sarah Connor: "You're terminated, f----r!"
Sigourney Weaver as Ellen Ripley in "Aliens" (1986)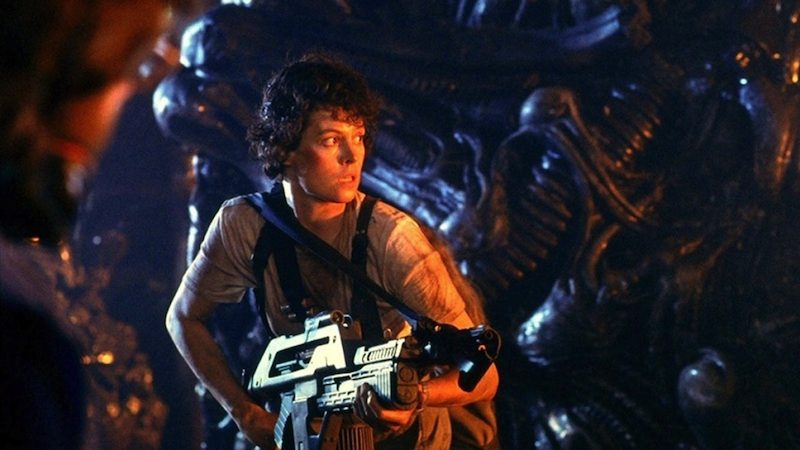 Weaver's Ripley proved she was bad to the bone in Ridley Scott's 1979 original "Alien," surviving the onslaught of a drooling, jagged-toothed creature during an outer space expedition on the spaceship Nostromo. So, it should come as no surprise that the well-toned astronaut is a force of nature — especially when her maternal instincts kick in — leading a group of space commandos and tackling an army of interstellar creatures head-on in James Cameron's adrenaline-fueled follow-up. (Could it be Mr. Cameron has a thing for strong women?)
Tough Girl Talk:
Ellen Ripley: "Get away from her, you bitch!"
Anne Parillaud as Nikita in "La Femme Nikita" (1990)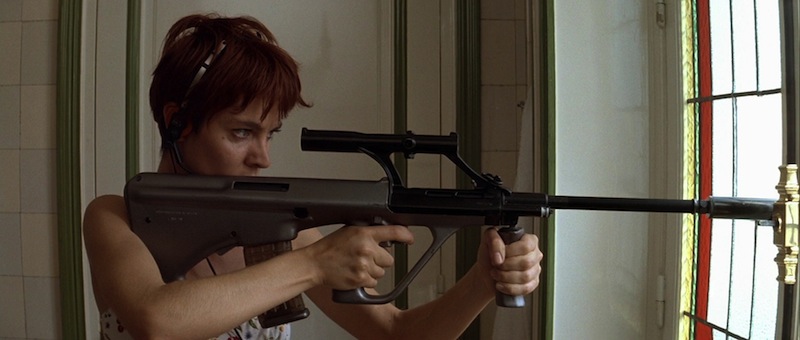 Parillaud's Nikita is a junkie in deep legal trouble who gets one last shot at redemption: kick the habit, and after a period of rigorous training, become a deadly covert assassin for French intelligence. Firmly but gradually, her handler Bob (Tcheky Karyo) transforms the former drug addict into a precise and dispassionate killing machine. But how long will Nikita survive in her new role? Both Besson and Parillaud won Cesars (French Oscars) for this, and the film was Golden Globe-nominated for Best Foreign Film.
Tough Girl Talk:
[After Nikita obliterates her target with a large automatic pistol]

Shooting instructor: "You've used one of these before?"
Nikita: "Not on paper."
Jodie Foster as Clarice Starling in "Silence of the Lambs" (1991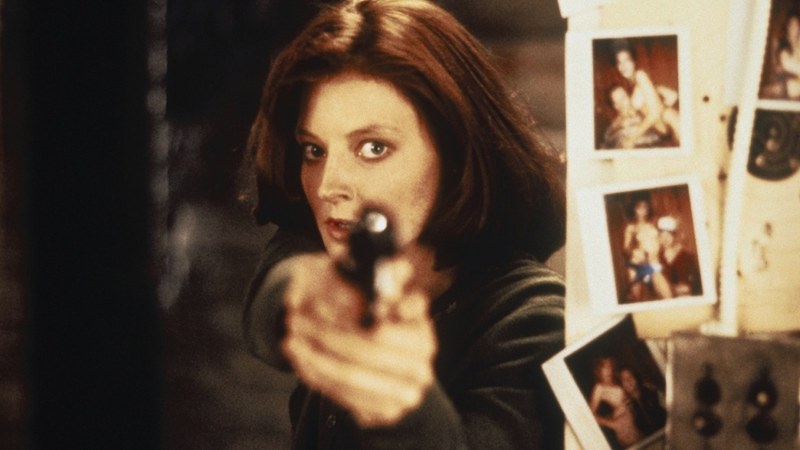 Foster deservedly won her second Best Actress Oscar in Jonathan Demme's bone-chilling adaptation of Thomas Harris's best-seller. She essays the role of Clarice Starling, a young FBI recruit with incredible resolve and nerves of steel, who's called on to track a serial killer named "Buffalo Bill." In order to find her man, Clarice gets help from the infamous Dr. Hannibal Lecter (the Oscar-winning Anthony Hopkins), an imprisoned murderer whose deranged brilliance both frightens and fascinates Clarice —and the audience.
Tough Girl Talk:
Clarice: "You see a lot, Doctor. But are you strong enough to point that high-powered perception at yourself? What about it? Why don't you — why don't you look at yourself and write down what you see? Or maybe you're afraid to."
Gina Gershon as Corky and Jennifer Tilly as Violet in "Bound" (1996)
Before they entered the "The Matrix" universe, Andy and Lana Wachowski surprised audiences with this witty, sexy mobster yarn. It boasts Gershon as Corky and Tilly as Violet, recently paired lovers who scheme to swindle $2 million in laundered Mafia loot from Violet's crooked boyfriend Caesar (Joe Pantoliano). A modern noir with added heat provided by a steamy lesbian love affair, this film remains as enjoyably brash as the leather-clad Gershon herself.
Tough Girl Talk:
Violet: "That's a great tattoo. Beautiful labrys. Are you surprised I know what it is?"
Corky: "Maybe."
Violet: "I have a tattoo. Would you like to see it?"
Superior acting, gorgeous locations and dazzling swordplay — both on the ground and in the air — propelled Ang Lee's Mandarin-language adventure to an Academy Award for Best Foreign Film. At the core of its success is the magnetic presence of Zhang Ziyi as Jen Yu, a young martial arts master who has swiped the sacred sword of warrior Li Mu Bai (Chow Yun-Fat) in 18th century China. Yu Shu Lien (Michelle Yeoh) joins forces with the warrior to get it back, and gravity-defying showdowns against Jen ensue.
Tough Girl Talk:
Jen: "You want to know who I am? I am ... the Invincible Sword Goddess, armed with the Green Destiny that knows no equal! Be you Li or Southern Crane, bow your head and ask for mercy! I am the dragon from the desert who comes from nowhere and leaves no trace! Today I fly over Eu-Mei. Tomorrow... I topple Mount Wudan!"
Meryl Streep as Sister Aloysius in "Doubt" (2008)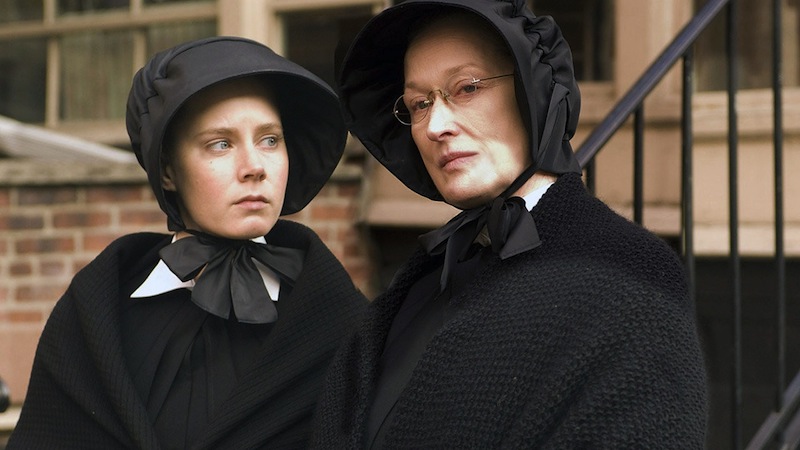 Strict, stern Sister Aloysius (Streep) suspects priest Brendan Flynn (Philip Seymour Hoffman) of molesting an adolescent in the Church's care, and will stop at nothing to uncover the truth. Talk about the wrath of God. Priest or pagan, you would not want to go up against this lady. Streep won her 15th Oscar nod for this, and no wonder. The late Hoffman (who was also Oscar nominated for his part) matches her every step of the way in John Patrick Shanley's superb drama.
Tough Girl Talk:
Father Flynn: "I can fight you."
Sister Aloysius: "You will lose."

For More: 10 Powerful Female Roles in Classic Film