I am a professional plot hole detective. It can be a tedious job, but I guess I was born for it.
Movies, after all, are all about suspension of disbelief. The stories they tell in sight, sound, and motion are like delicate threads that can be cut anytime something happens that's not credible or even explainable. Then the spell is broken, and you're no longer transported by the narrative. Instead, you're looking at a movie with a stupid plot and wondering what the offending studio was thinking when they released it.
Sometimes, plot holes even happen in top-notch movies, but they are usually minor and easily overlooked or forgiven. They never break the spell, and most can be explained with a close re-watching of the film. So don't let a supposed gap in logic taint your enjoyment of an otherwise classic movie. Below, I take some of the most well-known plot holes and lovingly fill them in for you.
Caveat: I've avoided plot holes in children's films because, though they are sometimes charming for adults, they are meant for kids, so they can be less concrete, more fanciful. It'd be like picking on "Sesame Street" because the address numbers are out of order. In addition, I've stayed away from time travel movies because (great Scott!) once you go down that rabbit hole, you need Stephen Hawking to get you out.
Do you have any famous last words?
Citizen Kane (1941)
Rumored Plot Hole: At his death, having alienated everyone in his life, Charles Foster Kane (Orson Welles) is all alone. His last word, "Rosebud," lets loose a riddle, wrapped in an enigma - but if there is no one around when he rattles out his final statement and smashes his precious snow globe, then who heard him say it?
Explanation: In the world of Charles Foster Kane, somebody is always listening. At the end of the film, Raymond (Paul Stewart), Kane's butler, informs Thompson that he was in the room at the time of Kane's death and heard his dying words (standing conveniently off camera). Servants should be neither seen, nor heard, nor caught on film.
Should Old Acquaintance be Forgot?
It's a Wonderful Life (1946)
Rumored Plot Hole: Uncle Billy (Thomas Mitchell) puts his nephew George (James Stewart) in a pickle barrel when he misplaces $8,000 of other people's money (it's in the newspaper you left on Mr. Potter's chair, Uncle Billy! You left it on Mr. Potter's CHAIR! ... Ugh – he never listens). But when a man has friends like George Bailey's, they come up with the cash to cover him. Still, doesn't that leave $8,000 unaccounted for? And they can't lie and say they found the lost money because the bank examiner is right there. So how does George avoid the hoosegow?
Explanation: It's the magic of Christmas — I guess the examiner doesn't really care where the cash comes from as long as it's green.
AND - a quick extra one that's always bothered me:
Rumored Plot Hole: Mary (Donna Reed) suddenly wears glasses, just because George has never been born.
Explanation: Parallel dimensions are just rough on the eyes.
Time to Call in Sherlock, Mr. Marlowe?
The Big Sleep (1946)
Rumored Plot Hole: There is a cavalcade of double-crosses and murderous mayhem in Howard Hawks' film noir classic. But one question remains: who killed chauffeur Owen Taylor? Joe Brody (Louis Jean Heydt) says to Marlowe (Humphrey Bogart) that he 'sapped' Taylor to get the photos of Carmen, but claims to have left the unlucky fellah in his car conked out by the side of the road. Neither the movie nor the book tells us who killed the man and dumped his car in the water.
Explanation: It's Chinatown … or similar. Apparently, it doesn't really matter, at least not to the filmmakers, and even to the author of the book. During filming, director Howard Hawks reportedly contacted author Raymond Chandler on this question and he replied, "Damned if I know." Best guess … Brody is lying and was rougher with Taylor than he claimed to be. Anyhow, in this case, it's fun to be confused.
How About Luke Smith-Jones?
Star Wars: The Empire Strikes Back (1980)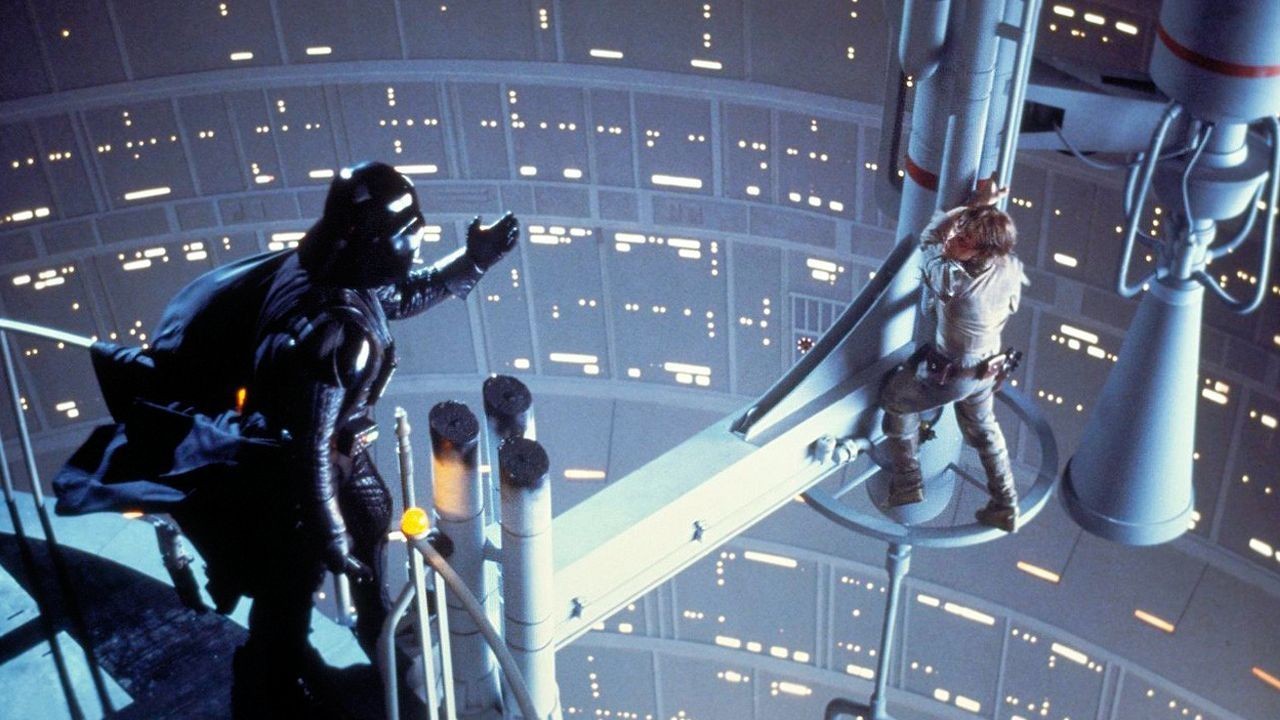 Plot Hole: If the existence of Luke (Mark Hamill) and Princess Leia (Carrie Fisher) was supposed to be kept secret from their "going-over-to-the-dark-side" Daddy, then why did Luke end up living with his aunt and uncle and retain the surname Skywalker?
Explanation: Hmm … it's very cold … in space. One answer may be, why should Darth Vader (voiced by James Earl Jones) be out looking for children he had no idea were born? Still – they could have come up with a better cover story. As far as witness protection is concerned, the galaxy far far away has a long long way to go.
The Question of the Goat and the T-Rex
Jurassic Park (1993)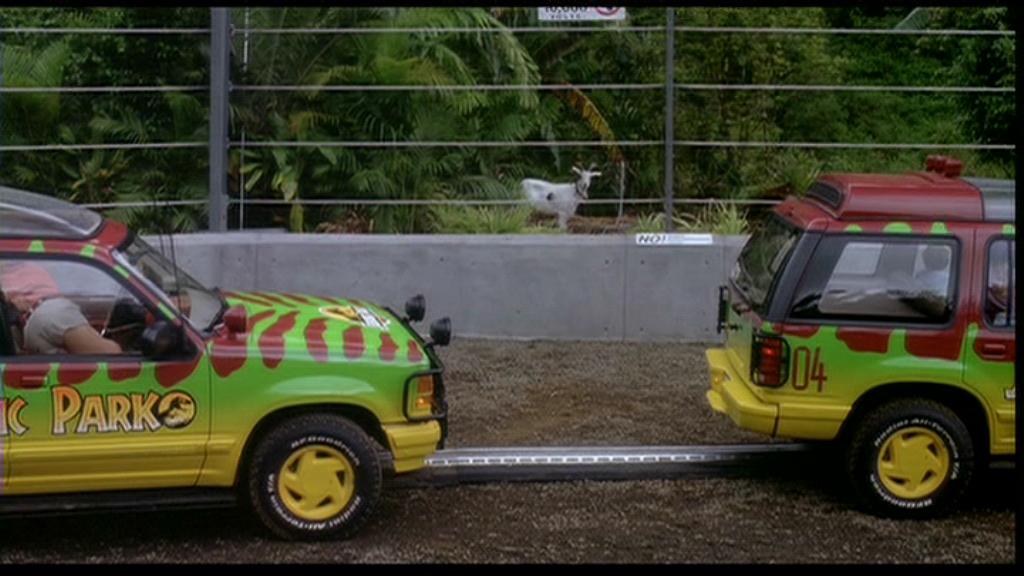 Rumored Plot Hole: To coax a T-rex into view at the dinosaur zoo owned by John Hammond (Richard Attenborough), the staff produces a scrumptious tethered goat right up out of the ground inside the dino's cage — which appears to be on the same level as the park visitors. But later, when the power goes out and things get hairy, the T-rex appears and shoves a loaded SUV down a huge crevasse that didn't seem to be there before. What explains this topographical shift? And, as a bonus, how does the T-rex get inside the visitor's center at the end?
Explanation: The goat is on a small ridge inside the cage. If you look closer, you see that behind it are the tops of trees. When the poor animal gets consumed, only the T-rex's head appears, with its massive body obscured by the long drop. In answer to the second question, clearly Rex uses a huge doggie door - with the visitor's center still under construction, there's a dino sized hole in the back behind the tarp. (I'm still thinking about that goat.)
Sweating Bullets
Reservoir Dogs (1993)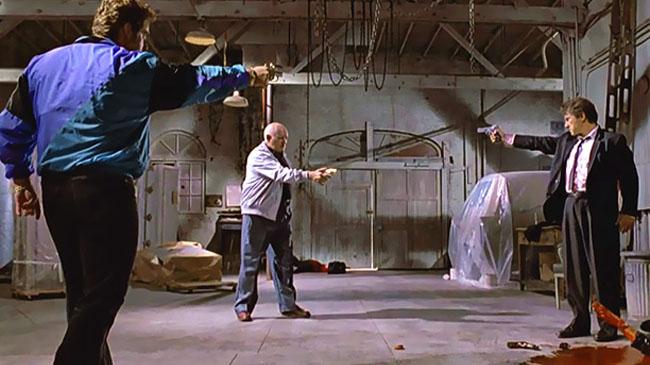 Rumored Plot Hole: At the climax of the film, the chromatically monikered bandits are in a Mexican stand-off. Bullets fly and everybody gets plugged. But which gunslinger kills Nice Guy Eddie (Chris Penn)? The scene happens so quickly that it's difficult to tell. It's even said that Tarantino claimed that he realized there was a mistake, but left it in the film to give people something to talk about.
Explanation: Actually, there a clear answer to who shot who. Watch closely, or in slow motion: Mr. White (Harvey Keitel) shoots twice, taking down both Joe (Lawrence Tierney) and Nice Guy Eddie. It's tough to catch because the second shot is obscured by Nice Guy Eddie's gun going off at the same time, but it's no mystery — and therefore no conversation piece for Tarantino — who needs little prompting to gab about himself.
What's That Behind Raquel Welch?
The Shawshank Redemption (1994)
Rumored Plot Hole: Andy Dufresne (Tim Robbins), convicted of a crime he didn't commit, takes the long way to tunnel out of prison. But one question has some fans baffled: how was the poster of Raquel Welch in her furry bikini from "One Million Years B.C." (1966) put neatly back in place on the wall after Andy escaped behind it?
Explanation: He was clever enough to break out of prison with a tiny rock hammer … so maybe he had some ingenious Rube Goldberg-ian lever and pulley system set up. Or it could have been simpler: maybe he just tacked the top, rolled the poster up, and let it fall back down behind him with some stick-em on the bottom. Regardless, what an act of kindness to leave that poster intact for the next inmate.
I really hope these explanations help you sleep better at night. Let us know what plot holes keep you awake, mumbling to yourself. Put one on Facebook and maybe, just maybe, we can clear it up for you.
Truth is stranger than fiction, they say. Watch one of these great documentaries to see why — and if you think there are no leaps of logic to be made in reality, think again.