It's been four decades since "Blazing Saddles" and "Young Frankenstein" debuted in 1974. These titles have become embedded in the popular culture, and still have huge followings; I'd guess from their huge success that most people enjoyed both. Yet — if you had to choose, which of these two back-to-back classics would travel with you to that imaginary desert island?
The two outings have surface similarities: both skewer movies or movie genres, and share stars in the glorious forms of Gene Wilder and Madeline Kahn. Yet they also have marked differences, with "Saddles" the bawdier and more outrageous of the two, "Frankenstein" a slightly subtler exercise overall. (That's a relative term, remember. "Subtle" was hardly an adjective most critics used to describe the Brooks canon.)
Before addressing which film better stands the test of time, let's take a closer look at their creator, Mel Brooks — the Dr. Frankenstein of comedy — who once claimed: "My movies rise below vulgarity!"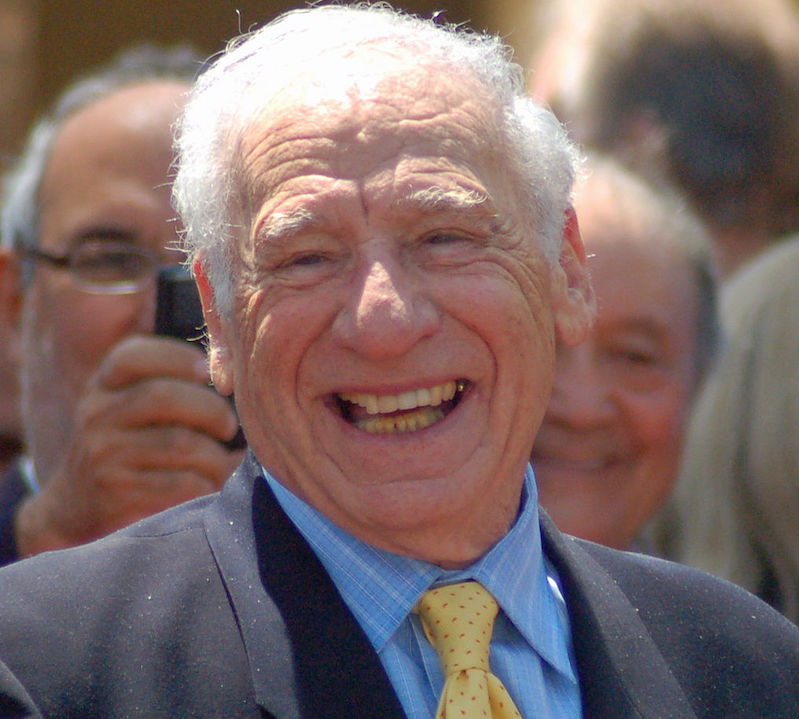 Picture by Angela George
I think I was seven or eight when I started seeing his name during the end credits of my then-favorite TV program, "Get Smart." He was listed as one of the show's creators. I liked the sound of "Mel Brooks"— it seemed strong yet approachable. I also remember thinking this must be one talented fellow (I was quite the prescient, little eight year old).
This would have been a year or two before he'd direct his first movie, "The Producers" (1967), for which — out of the gate! — he'd win an Oscar for best screenplay.
Mel Brooks was actually born Melvin James Kaminsky to Russian-Jewish immigrant parents in Brooklyn, New York. (On entering show business after World War 2, he'd come up with "Brooks" by shortening his mother's maiden name, Brookman).
Mel's father died early on in his childhood. This loss, combined with his small stature, left Mel vulnerable, but he learned to use his sharp wit and gregarious nature to get along on the hardscrabble streets of Brooklyn.
After a brief stint as a Catskills drummer after the war, Mel seized the chance to get paid for what came naturally, writing for immortal comic Sid Caesar on his two live television series, "Your Show of Shows" (1950) and "Caesar's Hour" (1954). Here Brooks toiled side-by-side with talents like Neil Simon, Larry Gelbart, and Woody Allen. After his collaboration with Caesar ended in the late '50s, he'd continue working in television, before leaping to the big screen with "The Producers".
Brooks married Oscar-winning actress Anne Bancroft in 1964, bringing along his three children from a previous marriage. On the surface, the newlyweds seemed an odd match — Mel was Jewish and clownish, Anne was Catholic and a dramatic actress, but they complemented each other perfectly, remaining together until her death in 2005.
Reportedly, after Brooks had done a run of lesser films, it was muse and partner Bancroft who encouraged him to musicalize his first big movie success for Broadway. It was a long shot that paid off: "The Producers" was an enormous hit when it opened in 2001. The show nearly swept the Tonys, and even spawned a movie of the musical version (stick with the original, folks). Brooks's next project was a similar treatment for "Young Frankenstein," a show that opened in 2007 but failed to catch fire as its predecessor had.
Still, what a run. Mel is one of the select few to attain membership in the EGOT Club — people who've won an Emmy, a Grammy, an Oscar and a Tony. He was awarded a Kennedy Center Honors in 2009 and an AFI lifetime achievement award in 2013. It just goes to show, you can't keep a Brooklyn kid down.
Looking back, with the possible exception of 2001, 1974 must have been Mel's sweetest year. To come out with two indelible comedies in ten months was a truly impressive achievement. (Though too often the Oscars neglect funny movies, most industry pros will tell you they're the hardest type of film to pull off successfully.)
So, back to the earlier question — four decades later, which of Mel's two 1974 releases holds up better? If you ask the American Film Institute, they'd climb aboard "Saddles", which is ranked #6 on their list of funniest movies. "Young Frankenstein" does not even make the top ten, coming in at #13.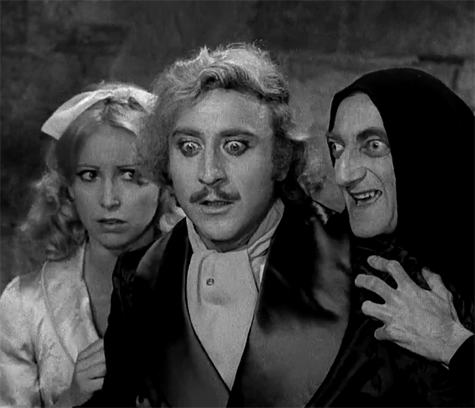 You was robbed, Frankie! Watching both features today, I'm forced to disagree with the AFI. "Blazing Saddles" will always be entertaining, and does contain some unforgettable sequences, but all the gross-out gags and irreverent, slapstick silliness — which felt so fresh and outrageous back then — come off as slightly strained now. By comparison, the more measured, cerebral wit of "Young Frankenstein" has aged like a fine Bordeaux.
So — that's my vote... where do you stand on this burning issue?
More: Positively the 15 Funniest Movies of the Past Half Century