Donald Sutherland has landed a pretty nice gig in the "Hunger Games" franchise. As the ruthless President Snow, with his lion's mane of white hair and fluffy beard, he's the sort of iconic villain that fans of the series love to hate.
It's not the sort of role I expected Sutherland to be playing as he hits 80, but at least it gets him away from the annoying label that has been stuck to him for the past 30 years. You know, the one about him being Kiefer's dad. For those of us familiar with Donald Sutherland's career, there's a lot more to him than his famous young'un.
Born in Saint John, New Brunswick on July 17, 1935, Sutherland was a sickly but brainy child. He studied engineering and drama at Victoria College, University of Toronto, with his interest in drama taking him briefly to the London Academy of Music and Dramatic Art in 1957.
While in England, Sutherland found steady work in movies. He appeared in everything from horror films to kitschy (but cool) TV shows like "The Avengers." He usually played maniacs and killers, and was once told by a casting agent that he'd never get the "guy next door" roles because, "You don't look as if you've ever lived next door to anyone." Nice.
His first big break came in Robert Aldrich's "The Dirty Dozen" (1967). Sutherland often pointed to his 12th place billing and joked that he was the last to join. Still, critics and directors noted how Sutherland held his own in a large, colorful cast. He was on his way.
By the 1970s, Hollywood was favoring offbeat types, and Sutherland established himself as one of the top leading men of this quirky new era. Tall and rangy with a sleepy, masculine voice, Sutherland had the sort of instantly recognizable demeanor and charisma that spells "star." He was versatile enough to play a hippie or a stuffy intellectual. He could be reserved or goofy, menacing or maudlin. Whatever it was, you'd believe him.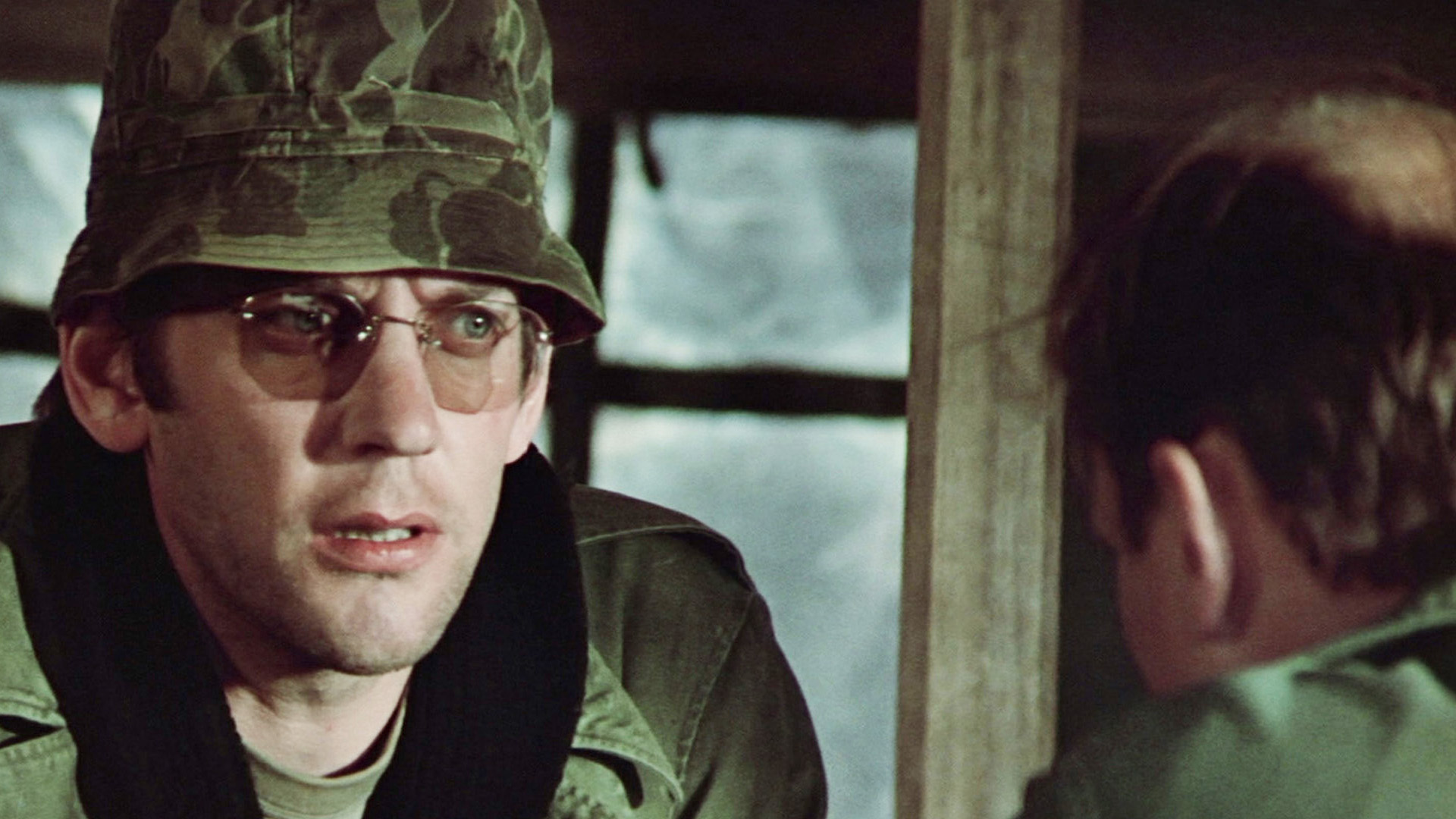 Sutherland's work in this period included some of the most revered movies of the time. He began the decade as the original Hawkeye Pierce in Robert Altman's "M*A*S*H" (1970), and ended it in Robert Redford's Oscar winning family drama, "Ordinary People" (1980). In between were such titles as "Klute" (1971), in which he plays a determined detective on the trail of a killer, and "The Great Train Robbery" (1978), where he partners with Sean Connery on the crime of the (nineteenth) century.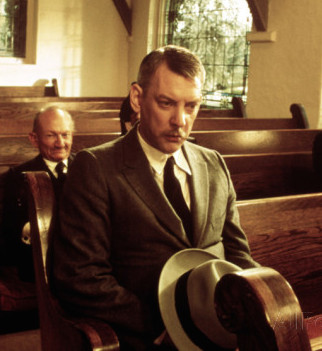 Also, in 1975 he treated audiences to one of his most bizarre performances, that of the melancholy Homer Simpson in John Schlesinger's "The Day of the Locust." I should warn you that Sutherland's Homer bears absolutely no resemblance to his namesake on the famous Fox cartoon. (I'm sure Sutherland appreciated the irony when he eventually played a character on a 1996 episode of "The Simpsons." I wonder if the original Homer talked acting technique with the animated Homer?)
Unconventional leading men become less fashionable during the blander '80s and '90s, but Sutherland kept working, He appeared in the woefully underrated Neil Simon comedy, "Max Dugan Returns" (1983), and elevated two other worthy but flawed films, "A Dry White Season" (1989) and "Six Degrees of Separation" (1993). At this point, he'd reverted to what he'd been at the beginning of his career: a character actor, and a damn good one.
Sutherland has shown no traces of slowing down. During the 2000s he was known to appear in five or six movies per year, a pace he still maintains. He's also added voice over work to his resume, lending his mellifluous voice to various animated features and video games. He has two more "Hunger Games" movies in the works, too, plus "Forsaken," an old-fashioned Western where he and Kiefer will appear together for the third time. And yes, they will finally play father and son (about time).
This consummate player has won his share of Golden Globes and Emmy awards for his TV work, and also received a star on the Hollywood Walk of Fame in 2011. Yet, he has never won or even been nominated for an Oscar. This is an injustice, but it wouldn't surprise me if it's rectified someday soon with a Lifetime Achievement Award from the Academy. With a career that spans a half century and over 170 credits, Sutherland has certainly earned this tribute.
I can hear the audience now: "Hey, look! Kiefer's Dad won an Oscar!"