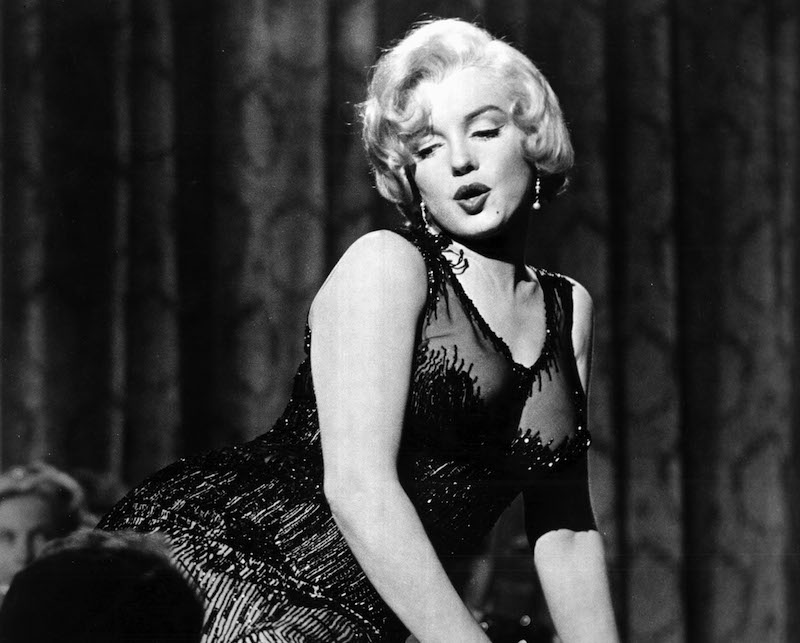 There's an old axiom in the movie business that's been borne out on more than one occasion: happy set, bad movie; unhappy set, great movie.

Don't let these upbeat publicity shots mislead you: shooting the classic "Some Like It Hot" (1959) was a textbook example of the latter scenario. The story of two musicians who witness a fictionalized version of the St. Valentine's Day massacre and cross-dress as women to escape the gangsters in hot pursuit, it is arguably one of the top comedies ever made. However, its production was torturous — largely due to the deteriorating mental state of its female star, Marilyn Monroe.
Granted, Marilyn had always been a notoriously fragile and unreliable actress. "Hot" director Billy Wilder had discovered this several years before in their first collaboration, 1955's "The Seven Year Itch." Still, Wilder was a pragmatist, and he knew Marilyn was a much higher box office draw than his original choice for the part of singer Sugar Kane, Mitzi Gaynor. So he accepted Marilyn, albeit with considerable trepidation.
Over the often-agonizing months that followed, time and again he'd regret his decision. Marilyn, always unstable, was now in a particularly bad way. Her marriage to playwright Arthur Miller was crumbling, and at the same time, she was pregnant with his child. The victim of several miscarriages, she was preoccupied with her condition, aware of the weight it added to her voluptuous frame and terrified of losing the baby. She was also mourning the impending failure of her third marriage. After a childhood marked by neglect and abandonment, her own inability to maintain any permanent sense of home or family ate away at her.
The delays and absences that had always characterized her professional life now became even more frequent, and inevitably the tension on-set became unbearable. Even when Marilyn did show, she was in such a bad state she could not remember even the simplest dialogue; it famously took her over 40 takes to deliver the line "where's the bourbon" correctly. Soon, Wilder was resorting to writing Monroe's lines on cards that she could simply read. As unprofessional as her behavior was, this had to be humiliating for her.
Meanwhile co-stars Jack Lemmon and Tony Curtis had to endure it all, standing around a hot set in corsets and high heels. The gifted Lemmon was more patient, but Curtis was furious, as he knew his performance was suffering from seemingly endless retakes, which ultimately meant less screen time for him. When asked later how he enjoyed doing love scenes with the world's top sex symbol, he bluntly replied that it was "like kissing Hitler."
Still, in the end, all the pain was worth it. What ended up on the screen was superb, and miraculously, Marilyn was luminous and magical; her vague, vulnerable quality felt just right for the character. As always, we loved her, and couldn't take our eyes off her.
The film received six Oscar nods, winning for costume design. Within a year, Marilyn's marriage would be over. Less than two years after that, she was gone, the victim of a drug overdose. Her death was ruled a probable suicide.
Though Marilyn Monroe rarely found happiness in her own life, she brought her public (if not always her colleagues) lots of it… particularly in the role of Sugar in "Some Like It Hot."
More: 20 Amazing Pictures of Marilyn Monroe You've Never Seen