Best remembered as Federico Fellini's male protagonist and muse in the early sixties, Marcello Mastroianni was so much more than your standard issue leading man.

In 1960, when the internationally renowned Fellini hired Mastroianni for the role of a jaded journalist floating through a debauched Rome in a film to be called "La Dolce Vita," the director said he chose his old friend for his "terribly ordinary face." What the public saw was anything but ordinary, and this signature title would catapult Mastroianni to worldwide fame.

He was, of course, an extremely good-looking man, with an air of careless, quirky charm that women found irresistible. He wore his attractiveness lightly, if at all. Mastroianni never liked to think of himself as a sex symbol and matinee idol to his countless female fans; he was too serious an actor for that.

His slightly offbeat persona told audiences to expect the unexpected. They were not just dealing with a pretty face, but a real human being, with all the attendant foibles and neuroses.

His ability to translate an authentic humanity to the screen yielded big dividends over time: he was the only foreign language actor to be nominated for an Oscar three times, and along with Jack Lemmon, the only actor to be honored twice at the Cannes Film Festival.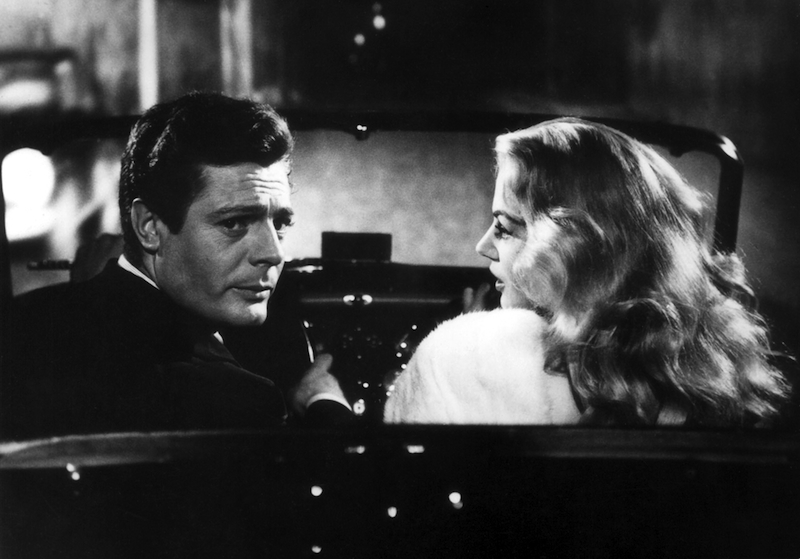 Before his fame and success came challenges. Born the son of a carpenter in a small Italian village, his family would move first to Turin, then Rome. With the Nazis' rude arrival, young Marcello was actually arrested and sent to a prison camp, but miraculously managed to escape. He spent the rest of the war in poverty, hiding in Venice.

At the end of hostilities in 1945, Mastroianni got the acting bug and joined a dramatic society. He was soon discovered by a talented director named Luchino Visconti, who cast him in a local stage production of "A Streetcar Named Desire." His first official film appearance followed, with a small role in "I Miserabli" (1947).

It would take six years of small or featured parts on-screen before Marcello's star began to rise: in 1953, Luciano Emmer's "Three Girls from Rome" would give the actor his first international exposure. Then over the next two years, he'd work as second male lead to director/star Vittorio De Sica in "Too Bad She's Bad" and "The Miller's Beautiful Wife." Both these latter productions also starred a stunning young actress who would go on to play opposite Mastroianni in eight more films: Sophia Loren.

The actor married Flora Carabella in 1948, and they had a daughter, Barbara. Though the couple would stay together in name until his death, Mastroianni struck up a passionate relationship with actress Catherine Deneuve in the early seventies, and she bore him a daughter (actress Chiara) as well.

If by now you're really intrigued and crave a more vivid sense of the man, I recommend the 1997 documentary "I Remember," in which the 72 year old actor looks back with affection on his eventful life and career.

Marcello passed away shortly after completing this film, reportedly surrounded by most all the women in his life, past and present. This seems particularly fitting, along with another touching gesture that quickly followed: to honor his film legacy, the Trevi Fountain, where Mastroianni filmed his most famous scene in "La Dolce Vita," was (temporarily) turned off and covered in black.

I have a feeling Mastroianni would have appreciated this as much as the many awards and tributes he received over his lifetime. Ciao, Marcello!



More: Five Best Films from Fellini