It's fitting to celebrate Julie Andrews any day, any time. Consider first the joy and wonder she brought to millions of viewers, young and old, in her portrayals of Mary Poppins and Maria Von Trapp.
"Mary Poppins" and "The Sound Of Music" were among the first movies I ever saw in a theater, and I was instantly smitten with the lovely, kind, graceful soul at the center of both. A young boy then, I remember sensing that Julie Andrews was the epitome of virtuous womanhood and hoping there were a lot more like her out in the world.
Julie was born into a show business family in Surrey, England. Her mother and stepfather were both vaudevillians, and as soon as they realized Julie was blessed with an astounding four-octave voice and perfect pitch, they put her on the stage.

She'd perform in theaters and musical halls well into her teens, and her prodigious talent was such that she'd cross the pond and step on a Broadway stage at the tender age of 19, appearing in "The Boyfriend." Two years later, she would star opposite Rex Harrison in the smash hit, "My Fair Lady," and become an overnight star. In 1960, she'd score again in another Lerner and Loewe outing, co-starring with Richard Burton and Robert Goulet in "Camelot."
A film career seemed inevitable at this point. It would be the immortal Walt Disney who'd approach Julie to play the title role in his musical adaptation of P.L. Travers's "Mary Poppins." Julie accepted, on the condition that she be allowed to withdraw should she get the part of Eliza Doolittle in the screen version of "My Fair Lady." Sadly, she'd lose out on that to Audrey Hepburn, but would experience a sort of sweet revenge when she won the Best Actress Oscar for 1964, triumphing over the more established Miss Hepburn.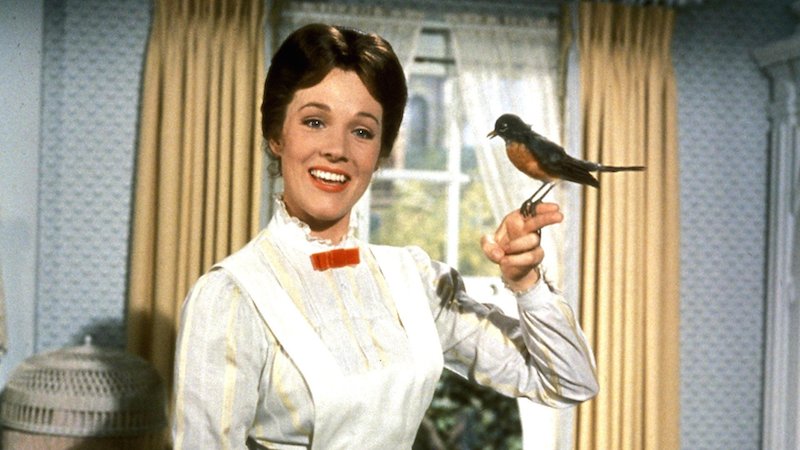 Her biggest hit came the following year, with Robert Wise's "The Sound Of Music," featuring a sterling Rodgers and Hammerstein score. This enduringly delightful film would become one of the biggest moneymakers of all time. (Co-star Christopher Plummer got so tired of people raving about it that he re-named the film "The Sound Of Mucus.") The film was nominated for a whopping ten Oscars, including another nod for Julie, and won five, including Best Picture.
As the sixties closed, Julie's star began to fade as audiences tired of traditional film musicals. Though quite a gifted actress, her non-singing roles had never scored big at the box office Still she kept busy performing in live venues during this period. Later, her career got a boost from a series of collaborations with her second husband, director Blake Edwards, the most notable of which was the wildly entertaining romp from 1982, "Victor/Victoria."

Even after a botched throat operation that compromised her singing voice in 1997, Julie maintained her film career, appearing in 2004's "The Princess Diaries 2" and lending her talents to animated outings like "Shrek 2 (2004), and more recently, "Despicable Me" (2010).
To her credit, Julie Andrews has always tried to counter her wholesome image; she once asserted that Mary Poppins actually went to the bathroom and even experienced sexual pleasure. Yet to me and I'm sure countless others, she will always be Mary Poppins and Maria Von Trapp. And that's really not so bad.



More: Need Nostalgia? 10 Movies That Will Take You Into the Past