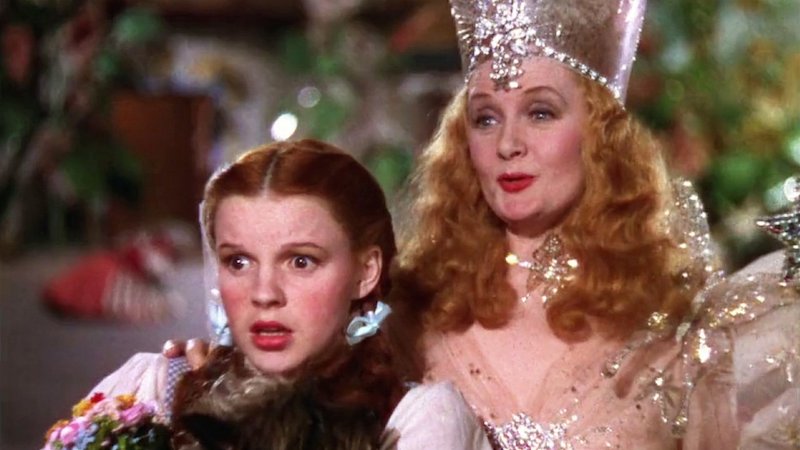 When MGM head Louis B. Mayer authorized the then-princely sum of $75,000 to purchase the film rights to L. Frank Baum's "Oz" children's books in 1938, he knew he was in for a challenge.
A couple of attempts had already been made to adapt the stories to the silent screen, and had fallen flat. Still, Mayer had been impressed with the unexpected success of Walt Disney's "Snow White and the Seven Dwarfs" the prior year, and wanted to match it.
If any studio could bring it off, he believed, it was MGM. Fortunately, Mayer's confidence was well-founded, but not even he could have anticipated all the twists-and- turns of the incredible production that followed. By the time the movie wrapped, no less than five directors and fourteen writers had contributed to the final result.
But that's not the whole story. Just consider the casting for a start. Knowing this would be an expensive movie to make, to ensure solid box office the top brass first lobbied hard for Shirley Temple to play Dorothy. At the time, Temple was the biggest juvenile star in Hollywood. The only factor that eventually sunk her was that this would be a musical, and adorable as she was, Shirley wasn't much of a singer.
Arthur Freed, a former lyricist who'd go on to have his own unit at MGM and oversee some of the best musicals ever made, was working with visionary producer Mervyn Leroy early in the project, and came up with the idea of casting contract player Judy Garland.
Freed had discovered her three years before when she came in to audition at the studio. MGM had already showcased her amazing voice in several films, but she had yet to break through. Freed pushed hard for her now, and Judy won out over Temple and Deanna Durbin (who could sing!).
At first, song-and-dance man Ray Bolger was set to play the Tin Man, and Buddy Ebsen the Scarecrow. (Ebsen is best remembered for TV's "The Beverly Hillbillies" and "Barnaby Jones"). Bolger felt his loose-limbed style was much better-suited for the Scarecrow, and the mellow Ebsen didn't object, so they switched parts. Then, days into the shoot, Ebsen collapsed and nearly died from inhaling the aluminum powder in his silver make-up. Jack Haley was hastily brought in to replace him.
For the Wizard, the studio wanted W.C. Fields, but got tired of haggling with his agent over price. They cast veteran Frank Morgan instead. As to the Wicked Witch of the West, the first idea was to make her beautiful, like the wicked Queen in "Snow White." The strikingly exotic Gale Sondergaard was cast. When the decision came down to make the character's appearance more frightening, Sondergaard dropped out. Margaret Hamilton then got the part.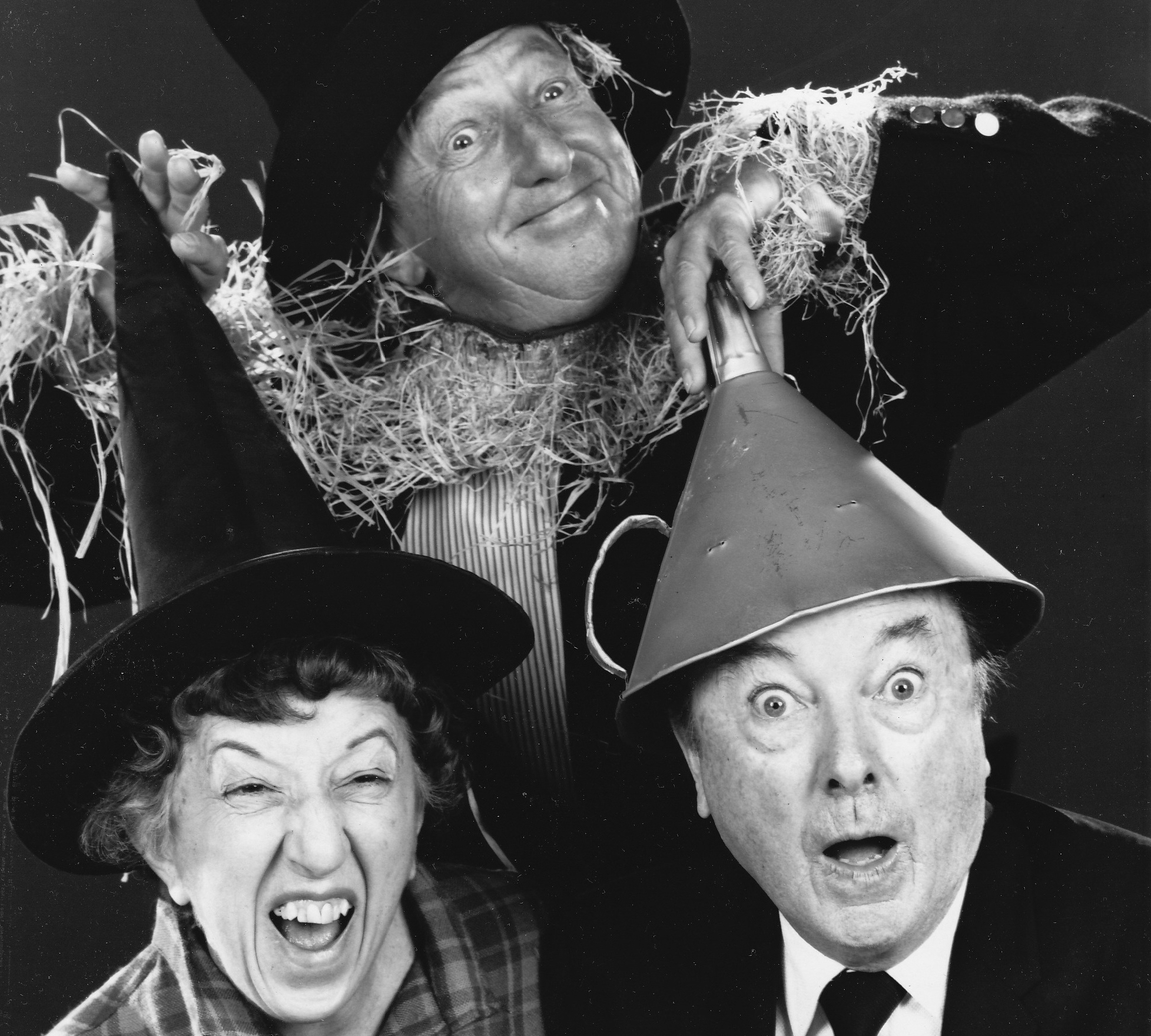 As to the succession of directors, Norman Taurog, highly regarded for his direction of juvenile performers, was first brought in to do test shots. For the permanent assignment, the studio designated Richard Thorpe, a workman-like director who knew how to move productions along.
Producer Leroy (who was also a director) screened Thorpe's rushes over the first couple of weeks and became increasingly concerned. Seemingly ill-suited to fantasy, Thorpe was simply not capturing the spirit of the story on-screen. George Cukor, one of the most respected directors at the studio, was then brought on to consult. Since he was slated to start "Gone with the Wind" soon, Cukor did little if any shooting, but provided some invaluable guidance.
Thorpe's footage showed Dorothy heavily made-up and in a blonde wig. Perhaps as a result, Garland was overplaying the part. Cukor quickly disposed of the wig and the make-up, quietly took Judy aside, and told her to relax and "play yourself." This may have been the most crucial direction in the whole production.
Victor Fleming was then assigned to the project. Fleming had directed burly adventure tales like "Treasure's Island" (1934), "Captains Courageous" (1937), and "Test Pilot" (1938). Whereas the gay Cukor was considered a woman's director, most male stars preferred working with "man's man" Fleming. Fundamentally though, he was an excellent craftsman and perfectly suited to helming this complex and arduous shoot.
He quickly took charge. At one point, Judy was giggling at Lahr's antics and ruining takes. Finally, Fleming took her off alone, and after telling her this was serious business, slapped her face. Shocked and chastened, she went back and nailed the scene. Just after, Fleming said, "She should sock me on the nose for that." Overhearing, Garland went up to Fleming and rather than socking him, kissed him on the nose. She'd understood the lesson. (She also had a secret crush on the ruggedly handsome Fleming.)
No one was having much fun on the set. Most of the cast had to arrive in the wee hours for up to two hours of make-up, then go on set to shoot till well into the evening. In their heavy costumes, Bolger, Haley, and Lahr all suffered under the incredibly bright, hot lights then required for three-strip technicolor. (Lahr's costume reportedly weighed 90 pounds). While the sixteen-year old Judy avoided the heavy make-up, to play the pre-pubescent Dorothy she had to wear a tight, highly uncomfortable corset to conceal her developing curves.
In addition, there were hazards and accidents on the set. The worst incident happened to Margaret Hamilton in one scene where the Wicked Witch disappears in a cloud of smoke and fire. Hamilton was supposed to descend into the floor via a hydraulic step before the flame was released, but the technician set it off prematurely, and Hamilton was badly burned. She would need six weeks to recover. In addition, even though the make-up artists had found an alternative to the aluminum dust that almost killed Buddy Ebsen, Jack Haley still got a nasty eye infection from the silver paint.
The Munchkins, most of whom came from a troupe in Europe, posed yet another challenge. There were over a hundred of them, and each had their own unique costume and make-up, which had to remain consistent throughout the shoot. (Contrary to popular rumor, they were not all given to wild partying, though there were several confirmed alcoholics among "the little people" who made some mischief after hours.)
The various craftsmen behind the scenes were inspired to do some of their best, most painstaking work. The Munchkinland sets were all meticulously designed by hand, and had to be refined several times to look their best in technicolor. Amazing shots we take for granted in this age of digital special effects were ingeniously created back then, as in that justly famous tornado scene early in the picture. That effect was achieved by blowing air and dirt through a large muslin stocking. Seen today, it's still astonishingly realistic.
Having relieved Cukor on "Oz," Fleming was then asked to replace Cukor once again on "Gone with the Wind." Reportedly, star Clark Gable could not stand working with Cukor, and demanded Fleming, with whom he'd collaborated before. This would lead to the selection of King Vidor to shoot the rest of the film, specifically the opening Kansas scenes in black and white.
Incredibly, the most memorable moment in that part of the movie, Judy's beautiful rendition of "Over the Rainbow," almost didn't make the cut. A number of executives felt the ballad slowed the movie down, that the lyrics would go over the heads of children, and that it was somehow inappropriate to have young Judy singing in a barnyard. Sensing the song would be a big hit, composers Harold Arlen and E.Y. "Yip" Harburg were panic-stricken, and complained loudly to Freed and producer Leroy. Thankfully, the songwriters prevailed.
After some trimming of the first preview version which ran close to two hours, the movie opened on August 15, 1939 to mostly rave reviews. Long lines formed around the block from many theaters. Yet the film barely broke even on its initial release.
"Oz" had cost nearly $3 million to produce, an astronomical figure at the time, and that didn't even include extensive marketing costs. Also, in those far-off days when major studios owned theaters, MGM could not hold over a film doing strong business indefinitely, since they had other titles in their pipeline awaiting release. Finally, several weeks after the premiere, war in Europe broke out which closed some overseas markets.
But of course, the film would become highly profitable in the long-run via re-releases, television, and home video. Annual CBS broadcasts starting in 1956 became a special event for the whole country; for the first broadcast alone, over 40 million people tuned in. It may just be the most watched movie of all time.
Though at the 1940 Oscars, "Oz" lost out to "GWTW" for Best Picture, it won for Best Song ("Over the Rainbow") and Original Scoring, with that first victory particularly sweet for the Arlen-Harburg team. Judy Garland would also receive a special award from the Academy, which she promptly dubbed her "Munchkin Oscar."
Close to eighty years ago, Louis B. Mayer set out to make the finest live-action fantasy film ever. He and his studio did just that. "Oz" is a film that still speaks powerfully to the child within us all. It teaches us those eternal verities, primarily that life is a journey of adventure and struggle that you can navigate if you have integrity — and friends. And throughout, there's that one essential, comforting fact: there really is no place like home.
More: On the Set of "Rebel Without a Cause" with James Dean and Nicholas Ray