Lauren Bacall will be remembered as a larger than life Hollywood figure, but film lovers might be surprised to learn that she appeared in less than 50 features. In a business where one dreads being forgotten, Bacall took her time when it came to taking roles, confident that the public would still be there when she returned.
During her heyday, Bacall rarely worked more than once a year. Later, she was known to take long breaks in between projects, something few actresses did in those days. The result is a filmography that is more tastefully cultivated than most, with very few bombs or stinkers. Even a movie like "The Fan" (1981), a gaudy thriller which some felt was beneath her, has endured as a kind of cult object. When that one wrapped, Bacall did another of her disappearing acts, this time for seven years.
Of course, the dismantling of the old studio system may have had something to do with her dwindling appearances; she always preferred that more orderly way of making pictures.
Still, the biggest obstacle to her performing more often was her personal life. Bacall admitted that her stormy relationships dampened some of her ambition.
"I put my career in second place throughout both my marriages and it suffered," Bacall said. "I don't regret it. You make choices. If you want a good marriage, you must pay attention to that. If you want to be independent, go ahead. You can't have it all."
Yet, the fact that Bacall took those long sabbaticals from the big screen actually added to her already considerable mystique. Like all of the great ones, Bacall left you wanting more. You know what? Even though she lived to the ripe old age of 89, we're still wanting a little more.
Here are some of Lauren Bacall's best, spanning six decades.
"TO HAVE AND HAVE NOT" (1944)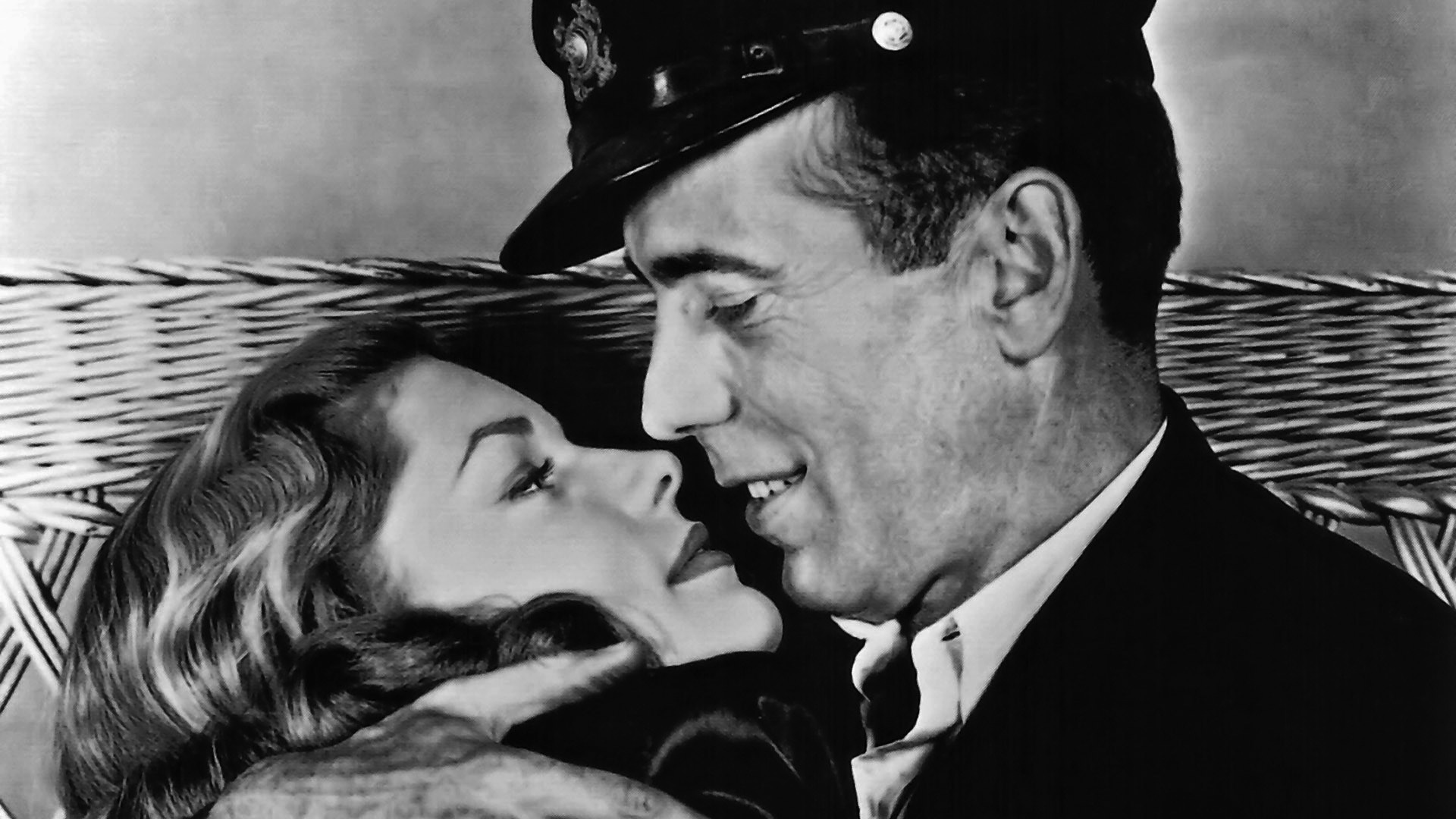 Director Howard Hawks's film version of Ernest Hemingway's novel features the first pairing of Bogart and Bacall. Bogey played Harry Morgan, a weary fishing boat skipper who helps smuggle French resistance fighters during World War II. In one of the all-time great screen debuts, Bacall plays Slim, a zesty nightclub singer who falls hard for Harry. According to legend she didn't do her own singing, but Bacall's inability to carry a tune was more than compensated for by her smoldering sexuality.
Bacall was nervous during her scenes with Bogart, so to calm herself she lowered her chin against her chest and tilted her eyes upward. This became known as "The Look," Bacall's trademark.
"THE BIG SLEEP" (1946)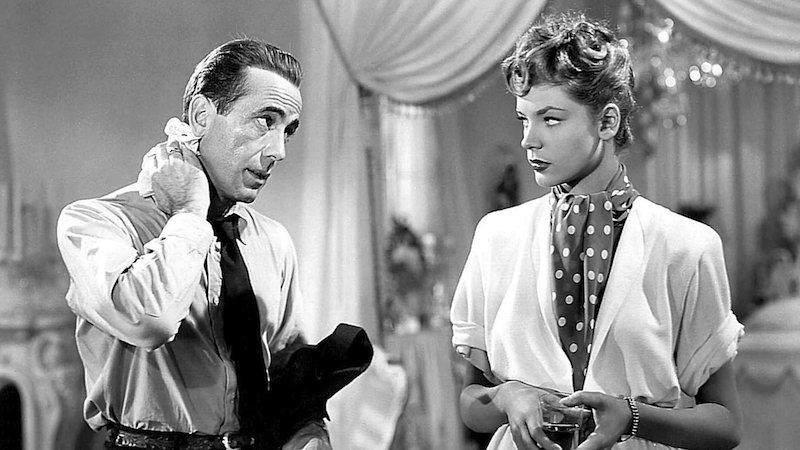 Bogart and Bacall were teamed up again for Hawks's film of Raymond Chandler's novel. L.A. private eye Philip Marlowe (Bogart) is hired by General Sternwood, a wealthy invalid who wants to clear up his daughter's gambling debts. Bacall plays Sternwood's other daughter who, not surprisingly, becomes Marlowe's ally. Even if you have trouble following the movie's confusing plot, you can enjoy it for the magnetic presences of its two stars, especially when they start slinging the double entendres. Example: Bogart asks how far she can go. Bacall replies, "A lot depends on who's in the saddle."
The film was completed in 1945, but held up for several months while Warner Bros. released a backlog of war films to coincide with the end of World War II. In the meantime, Hawks added more scenes of Bogart and Bacall to capitalize on the couple's growing popularity.
"DARK PASSAGE" (1947)
Bogart and Bacall, together again. This time Bogie plays Vincent Parry, a man accused of killing his wife. He goes into hiding with the help of Irene (Bacall), who believes he's innocent. The film is an excellent noir thriller based on a novel by David Goodis, with plenty of plot twists, and great San Francisco location shots.
Director Delmer Daves uses a "subjective camera" technique, in which the viewer sees the action through the protagonist's eyes. Since Bogie is the protagonist, this camera style allows the viewer to take in the beauty of Bacall that much more.
"KEY LARGO" (1948)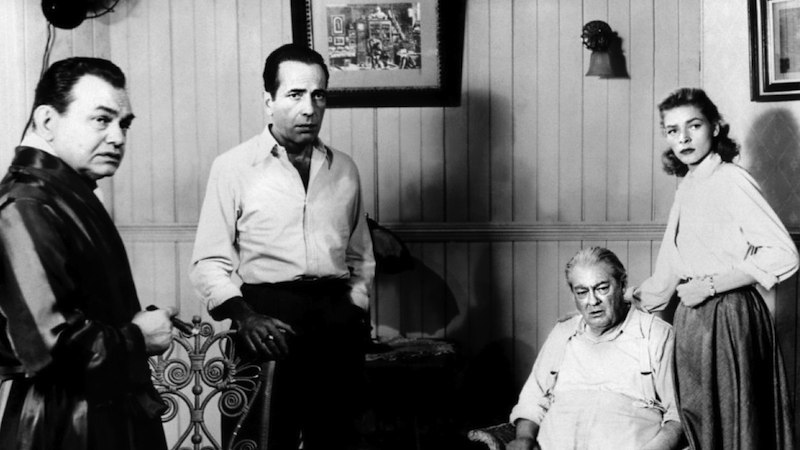 Frank McCloud (Bogart) travels to Key Largo to visit an old army buddy, only to find that his friend's hotel has become a gangster's hideout. Add to this an approaching hurricane, and you have a good formula for intense drama. John Huston's celluloid version of Maxwell Anderson's stage play paired Bacall and Bogart for the final time, but they went out on top. Of their four films together, "Key Largo" was the biggest hit at the box office and resonated for decades. In 1981, Bertie Higgins's popular radio hit "Key Largo" featured the lyric, "We had it all / Just like Bogie and Bacall."
Although they didn't appear together again on the big screen, Bogart and Bacall worked together in a 1955 TV version of "The Petrified Forest," with Bacall taking the role originally played by Bette Davis.

"WRITTEN ON THE WIND" (1956)
Douglas Sirk's lush melodrama about infidelity, nymphomania and alcoholism turned trashy soap opera into an art form. Bogart suggested Bacall make this film because he felt she needed something to do while he struggled with cancer. The film was a hit, which Bacall needed at the time.
German director Rainer Werner Fassbinder often cited "Written on The Wind" as one of his favorite films and a major influence on his own work.
"HARPER" (1966)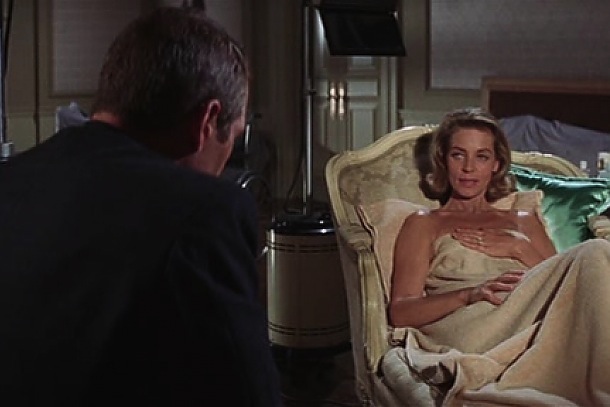 Bacall was back in crime film territory as Elaine Sampson, a jaded, wealthy California matron who hires P.I. Lew Harper (Paul Newman) to find her kidnapped husband. The story, based on a novel by Ross MacDonald, featured as many dizzying plot turns as "The Big Sleep" from 20 years earlier. Snazzy music by Johnny Mandel, and a strong cast featuring Janet Leigh, Robert Wagner, and Shelley Winters, combined to make "Harper" one of the year's most successful pictures.
Bacall would not appear in another big screen movie for eight years.
"MURDER ON THE ORIENT EXPRESS" (1974)
Director Sidney Lumet turned Agatha Christie's 1934 novel into a 1970s star-studded blockbuster. The film garnered six Oscar nominations, including a win for Ingrid Bergman as Best Supporting Actress. Bacall joined the illustrious cast as the fussy Mrs. Harriet Belinda Hubbard, one of many passengers on a snowbound train suspected of murder.
This film reunited Bacall with Richard Widmark. They'd previously worked together in a suspense film called "The Cobweb" (1955), directed by Vincente Minnelli.
"THE SHOOTIST" (1976)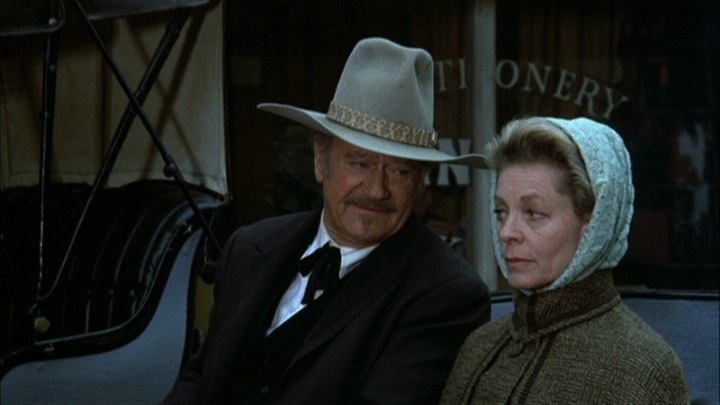 This Western tearjerker follows the final days of John Book (John Wayne), a dying gunfighter who wants to go out with dignity. Wayne, who had worked with Bacall in "Blood Alley" (1955), specifically requested Bacall be cast as the widow Bond Rogers, the owner of the rooming house where Book stays. The casting of Wayne and Bacall works beautifully; their scenes together convey a genuine warmth and sympathy.
Despite their friendship and mutual respect, Bacall often complained to director Don Siegel that Wayne spit on her when he spoke.
"DOGVILLE" (2003)
Grace Mulligan (Nicole Kidman) is running from mobsters when she arrives in the small mountain town of Dogville, Colorado. There she's provided shelter in return for physical labor. Bacall is on-hand as Ma Ginger, owner of Dogville's general store. The film is dark and violent, and some suspected Danish director Lars Von Trier of making an anti-American statement. (God forbid!) Still, it was one of the best reviewed films of the year and proof that Bacall, nearly 80 at the time, could work effectively with cutting-edge, contemporary filmmakers.
Rumor has it that Von Trier would occasionally strip and direct scenes semi-naked in order to agitate the cast. We'll bet the brassy Bacall had some choice comments about his technique.
For More: Lauren Bacall, 1924 — 2014: The Sultriest Voice in Cinema