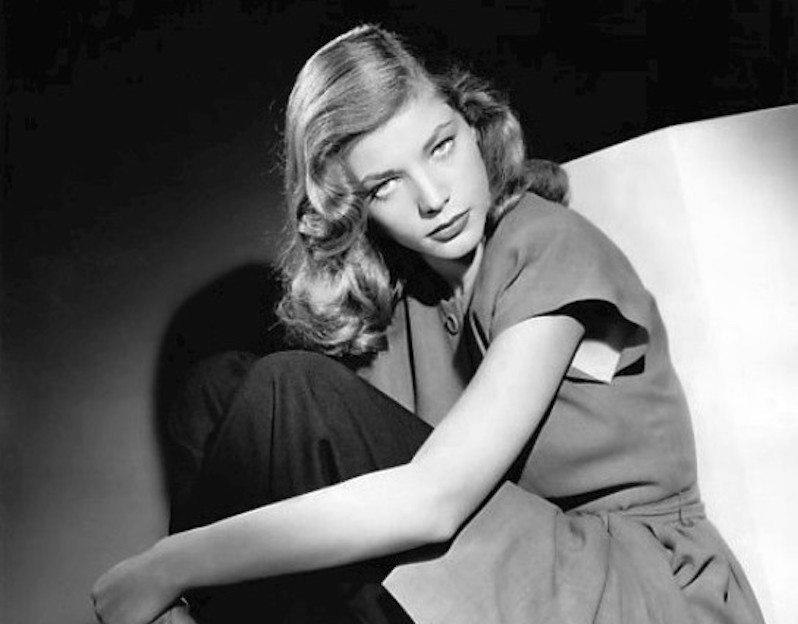 Lauren Bacall, one of the most alluring leading ladies ever to come out of Hollywood, passed away Tuesday at the age of 89. Though she was best known for playing opposite husband Humphrey Bogart in such classics as "The Big Sleep" (1946) and "Key Largo" (1948), her film career sustained itself long after Bogart was gone. "Written on The Wind" (1956), "Harper" (1966), "Murder on the Orient Express" (1974), and dozens of other films benefited from her uniquely feline presence and husky voice. She was class, sass, humor, and chutzpah all rolled up into one glamorous package.
Bacall, a New Yorker born Betty Joan Perske on September 16, 1924, was only nineteen when she made her screen debut opposite Bogie in "To Have and Have Not." Despite her youth, she held her own opposite an established star more than twice her age. Still, during her first few days on-set, she was so nervous she prayed the camera wouldn't pick up her hands shaking. It didn't.
And of course, she created that film's most indelible moment when she purred to Bogart, "You know how to whistle, don't you, Steve? You just put your lips together and... blow." Audiences indeed were blown away. So was Bogie; he and Bacall were married within a year. Their relationship was one of the more storied romances in Hollywood, lasting until Bogart's death from cancer in 1957.
Beyond an active, ongoing career in film and television (where she racked up three Emmy nominations), she also conquered Broadway, winning two Tony Awards for "Applause" (1970) and "Woman Of The Year" (1981). In addition, she penned a pair of best-selling memoirs, "By Myself" and "By Myself And Then Some."
Bacall's determination to work kept her busy right up to her death. Though outspoken about the lack of quality in contemporary movies, she was still employed fairly regularly for a woman in her 80s. (You can hear her distinctive voice in 2012's charming animated feature, "Ernest and Celestine," and just this year, in an episode of "Family Guy"!)
It's sad to say farewell to Lauren Bacall. She was one of the last links to a golden era. You'll find some of her best movies listed below. They only confirm that this talented woman deserved every accolade that came her way, including an Honorary Academy Award. Beyond all that, she earned the love of movie fans everywhere.
One comforting thought: she's back with Bogie now.
For More: 8 Unmissable Film Noir Classics You've Likely Missed