During the Second World War, there was no bigger female star in Hollywood than Greer Garson. She was nominated for a Best Actress Oscar five consecutive times over that period, from 1941-1945. (Only Bette Davis matched Garson's record, between 1939-1943).
Looking back, she was perfectly suited to the time: calm and dignified during a period of chaos and uncertainty. Her nickname was "The Duchess."
Yet she had no airs. Unfailingly kind and gracious, Garson was blessed with a beautiful speaking voice and a killer smile. She was the epitome of a fair English rose just as we and Great Britain were locked in a desperate struggle against fascism.
That said, I think we would have fallen in love with her most anytime. The term "star quality" was meant for this fiery-haired beauty, and her rise in Hollywood was swift but somehow seemed inevitable. In a word, she was exquisite.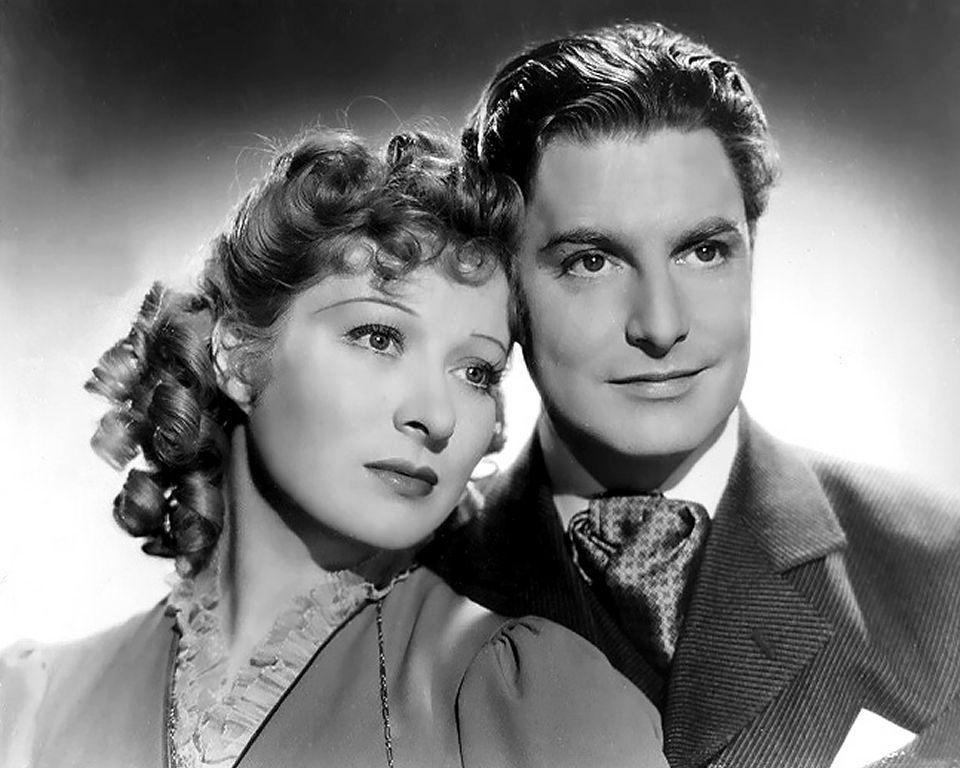 Born Eileen Evelyn Greer Garson, she had an uneventful childhood, and acting was never her ambition growing up. Attending the University of London, she first had plans to become a teacher, but on graduating was hired instead by an advertising agency.
Over this period, Greer started acting in amateur theatricals, and excelled on stage. By the early thirties, she'd decided to pursue a theatrical career and was hired by the Birmingham Repertory Theatre. Several years of training and seasoning followed.
In 1937, she appeared in an early TV production of Shakespeare's "Twelfth Night." That same year, studio boss Louis B. Mayer was in London looking for new talent, and happened to see Greer in a play. By the end of the year, she had an MGM contract.
Years later, Mayer observed that beyond her beauty, Garson "had the motherhood that Garbo lacked, the propriety [Joan] Crawford lacked, and the acting skills [Norma] Shearer lacked."
In her first year at MGM, Greer wisely refused the small parts that came her way, as she wanted to make an impact with her first screen appearance. Her chance came the following year, when she played Katherine Ellis, a beautiful, vibrant English woman who transforms the life of a middle-aged boarding school teacher (Robert Donat) in "Goodbye Mr. Chips."
For this, Garson won her first Academy Award nomination, losing out in a highly competitive year to Vivien Leigh in "Gone with the Wind." The good news: she was now really and truly launched in Hollywood
She'd cement her standing the following year by starring opposite Leigh's new husband Laurence Olivier in "Pride and Prejudice," a critical and commercial hit. Though she was inexplicably snubbed at the Oscars for her superb portrayal of heroine Elizabeth Bennet, her performance was singled out for praise by the National Board of Review.
The following year, Garson starred in "Blossoms in the Dust," a technicolor biopic about Edna Gladney, a woman who campaigned for the fair and humane treatment of orphans. This sentimental picture started Greer off on her five year Oscar run.
It also paired her with the man who'd become her ideal on-screen partner, a tall, handsome Canadian actor named Walter Pidgeon. Like Powell and Loy or Tracy and Hepburn, Pidgeon and Garson seemed perfectly matched on-screen. They'd make a total of eight movies together in the coming years.
About his frequent co-star, Pidgeon simply said: "A great lady, I think. We never had a bad word between us."
Their most indelible film together was their second: William Wyler's "Mrs. Miniver," which brought Americans a sense of what their British cousins had been living through for a couple of years. Pidgeon and Garson play Clem and Kay Miniver, whose harmonious life and family are upended with the coming of World War 2.
The movie was a smash, garnering twelve Oscar nods, and winning six, including Best Picture, Director, Screenplay, and a Best Actress statuette for Greer. At five and a half minutes her gracious acceptance speech at the ceremony was the longest on-record.
Garson had long been separated from her first husband by this point, and she'd fallen in love with actor Richard Ney on the "Miniver" set. Their 1943 marriage caused quite a stir, as Ney was a full decade younger than Greer and had played her son in the film. The union lasted just four years.
All the while she kept busy at MGM, starring in movies like "Madame Curie" (1943), "Mrs. Parkington" (1944), "Valley of Decision" (1945), "That Forsyte Woman" (1949), "The Miniver Story" (1950) and "Julius Caesar" (1953).
When her contract finally lapsed in 1954, she was turning 50 (though official studio publicity listed her as several years younger). Having found happiness in marriage to Texas oilman Buddy Fogelson several years before, the actress could now pick and choose the roles that interested her. She did some TV, and to much acclaim, replaced Rosalind Russell in the Broadway production of "Auntie Mame" in 1958.
In 1968, Greer narrated the perennial animated classic, "The Little Drummer Boy," so we can all still hear her soothing, distinctive voice each Christmas. She was officially retired at this point and dividing her time between homes in Santa Fe, Dallas and Los Angeles, focusing on horse breeding and philanthropy.
In donating millions to fund the Greer Garson Theater at the College of Santa Fe, she had only three conditions: she specified a circular stage; "A Midsummer Night's Dream" would have to be the first production; and the ladies' rooms would need to be large.
Greer Garson outlived her last husband by nearly a decade, finally succumbing to heart failure in 1996. Three years earlier, Queen Elizabeth II had invested her as Commander of the Order of the British Empire (CBE).
As her career progressed, some critics complained about Garson's lack of range. Though reportedly she regretted not appearing in more comedies, she consciously avoided doing depressing movies or playing dark, deranged characters that might have added breadth and variety to her legacy.
In her words: "I think producers felt that after playing a long series of noble and admirable characters there would be quite a lot of shock value in seeing me play something altogether different. But I prefer upbeat stories that send people out of the theater feeling better than they did coming in. It's my cup of tea."
Miss Garson, you're our cup of tea, and always will be.



More: Robert Donat — The Forgotten Man Who Stole Clark Gable's Oscar