It hardly needs to be said, but we love driving home the obvious: hostage movies are natural thrillers. You've got the innocent victim, the evil kidnapper, and (most often) the rescuer.
Based on a real-life incident, "Captain Phillips," starring Tom Hanks and directed by Paul Greengrass, is one such film. And it's a real humdinger, fully meriting its 6 Oscar nods, including one for Best Picture.
Despite handing out those six Oscar noms, the Academy still managed to sit on their keys, metaphorically. In the ever-mysterious, vaguely arcane and often inane ways of the Oscars and its voters, Tom Hanks was passed over. It's not the first time, nor the last, that a much deserving actor will get the shaft due to Academy politics, ageism, or sheer "Let's give 'Crash' Best Picture"-idiocy. It boggles the mind.
Back to "Phillips": the stolid Captain Phillips (Hanks), his cargo ship, and his crew are taken hostage by a group of desperate Somali pirates. Team Scallywag is led by the young and ambitious Muse (newcomer Barkhad Abdi). They want money, of course, but we can tell that Muse and his motley band are in way over their heads. Phillips is their only leverage, so his life hangs by a tether. Will the floating cavalry arrive in time to save his neck?
"Phillips" is a hit with critics, audiences, and the BMBF team (it reached our 2013 "best of" list). It also inspired us to comb our database for some other superb hostage/kidnapping themed films.
Here are two oldies-but-greaties, and one excellent '80s action flick:
The Desperate Hours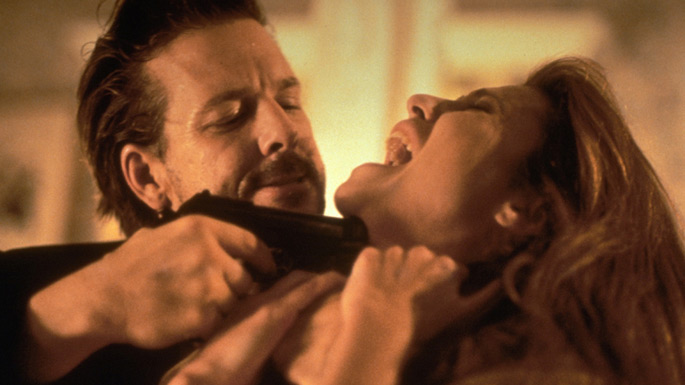 "The Desperate Hours" (1955) is another story based on actual events. Three escaped convicts, led by a desperate Glenn Griffin (Humphrey Bogart), hold a suburban family hostage. Bogie is at his best as the growling malevolent presence, keeping his team focused (despite the distraction of Ellie – played by the lovely Martha Scott – a suburban wife every man would be happy to return home to) in the face of increased risk and pressure. Fredric March, playing the family's patriarch, holds his own as a proud man who must nevertheless play along to prevent harm to his family. Directed by the legendary William Wyler, this tense ride is a showcase for two of the biggest and most talented stars from Hollywood's Golden Age.
Seance on a Wet Afternoon
1964's "Seance on a Wet Afternoon" is a creepy psychological thriller about a woman's descent into madness, and her meek, adoring husband's refusal to acknowledge it. (You probably have neighbors or friends like this.) Richard Attenborough and Kim Stanley play the troubled couple who kidnap and ransom a young girl, then rely on the wife's "psychic abilities" to cover their tracks. The eerie mood prevails throughout despite a somewhat deliberate pace, and Stanley wows in her Oscar-nominated portrayal of the addled mystic. This creepy little number is vastly under-exposed.
Die Hard
The wildly popular "Die Hard" (1988) is proof that you don't necessarily need to think too hard to make a great hostage movie. In a star-making turn, Bruce Willis plays detective John McClane, an off-duty NYC cop who by total coincidence stumbles into a Christmastime siege of an entire Los Angeles skyscraper. The mastermind behind this bold caper is Hans Gruber (Alan Rickman) a sneering, leering baddie who throws waves of well-coiffed, well-armed Germans after McClane. But either McClane is really clever, or he's having one hell of a lucky day. "Do you really think you have a chance against us, Mr. Cowboy?" asks Hans. It hardly matters, because you'll be wildly entertained, and that's the whole point. "Yippee-ki-yay," indeed.