Roughly eight years ago, I had the honor of dining with Angela Lansbury. It was at a private event in New York City, where we screened "The Manchurian Candidate" (1962). That film features perhaps her most indelible performance , as the diabolically wicked mother of a would-be Presidential assassin.

Rarely have I met a more grounded, down-to-earth lady. She had no airs whatever. She might have been the British granny of anyone's happiest dreams: smart, sensible, with a ready laugh and the confidence to listen.

We talked about her family, and the past. Coincidentally, when she'd arrived in New York with her mother and two younger brothers in 1940, having escaped the London Blitz, she'd stayed for a time with my wife's great aunt. (Angela then went by her middle name, Brigid). She told me her most thrilling moments happened when she was taken by her to see shows on Broadway.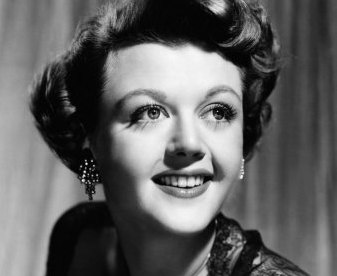 It seems she'd always known she wanted to act. At age nine, she'd been traumatized by the death of her father from stomach cancer, and had coped by submerging herself in other characters, playing for an audience of one. Later, she'd started acting lessons in England. Now stateside, she quickly won a scholarship for further study at the American Theatre Wing.

Eventually her mother, Moyna Macgill, also an actress, decided to move the family to Hollywood, where at first her determined daughter had to support the whole family working as a salesgirl at a department store.

Still, they were running in the right circles. One night, noted writer John van Druten, who'd just authored a screenplay for a film called "Gaslight," spotted the aspiring actress at a party hosted by Moyna. There was a part for a Cockney maid he felt she might be perfect for.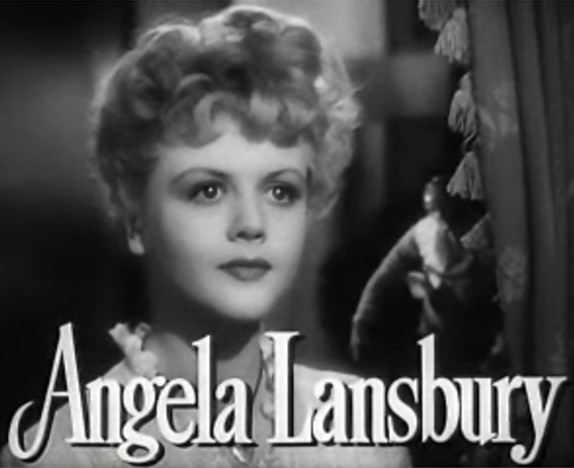 After that, everything happened very quickly, but the upshot was that at age 18, Angela Lansbury had a long-term contract at MGM, and was making her debut in an A-list film. MGM tried to convince her to change her name to Angela Marlowe, but she refused. It was enough that she'd use her first name from here on in.

Watching her performance in "Gaslight," you'd have hardly guessed she was a beginner. The evil and contempt emanating from those large, round eyes made viewers quiver. Critics and audiences alike were impressed, and Angela won her first Oscar nod for Best Supporting Actress.

Over the next year, she'd play Elizabeth Taylor's older sister in "National Velvet" (1944) and a music hall girl in "The Picture of Dorian Gray" (1945), for which she'd receive her second consecutive Oscar nomination.

After this, it seemed like suddenly MGM didn't know what to do with her. Angela was not being groomed for stardom, but instead cast as characters significantly older than herself, and too often for her taste, villainesses. Perhaps her best outing over this period is Frank Capra's "State of the Union" (1948), where Angela plays a wealthy newspaper publisher having an affair with the presidential candidate she's supporting (Spencer Tracy).

After a brief, failed early marriage, Angela wed fellow actor (and Brit) Peter Shaw in 1949, and this union would endure until his death over half a century later, producing two children, Anthony and Deirdre. Shaw also had a son, David, from a previous marriage. In what seemed like the low point of her career, she terminated her MGM contract in 1952 and for a time chose to raise her young family in Malibu.

When periodically she went back to films, she was again cast in older parts. (Angela once quipped: "Hollywood made me old before my time.") One notable exception was Danny Kaye's classic "The Court Jester" (1956), where she looks young and radiant as the Princess.

Angela made her Broadway debut in 1957, and though the production was short-lived, it reignited her passion for acting, and reminded her how much she loved acting in the theatre. She would go on to win five Tony Awards over the next six decades, and become a musical star. (Angela always had some singing talent, though her range was limited).

In 1962, Director John Frankenheimer came calling for her to play the cold and deadly Eleanor Iselin in "The Manchurian Candidate." Once again, she was utterly convincing playing Laurence Harvey's mother, though she was actually just three years his senior. For this, she'd receive her third and final Oscar nomination in competition, though a richly deserved Honorary Oscar would come much later, in 2014.

Angela would do her "rich bitch" routine once more in George Roy Hill's charming, underexposed comedy, "The World of Henry Orient" (1964), before turning to the theatre again. She lobbied hard to win the role of Mame Dennis in Jerry Herman's musical adaptation of 1958's "Auntie Mame" (starring Rosalind Russell). Critics were surprised by the casting choice, and even more surprised at Lansbury's infectious, exuberant performance, the result of hard work and intensive preparation. (Her later musical Tony Awards came from such beloved productions as "Gypsy" and "Sweeney Todd.")

Her blazing success in "Mame" helped broaden her exposure on television; she appeared in several specials and performed a musical number at the 1968 Oscars. Family issues intruded about this time, as both her kids developed drug problems, and daughter Deirdre got briefly acquainted with the Manson family. Peter and Angela stepped in, got them the proper distance and treatment, and both kids eventually rebounded.
Several years later, Warner Brothers was casting the film version of "Mame" (1974). Angela should have been a shoo-in for the lead, but the aging, out-of-touch Jack Warner picked Lucille Ball instead. Angela never forgave him, nor his studio. One consolation: the movie was a flop

During the '70s, after appearing in Disney's "Bedknobs and Broomsticks" (1971), Lansbury turned down several film parts, most notably Nurse Ratched in "One Flew Over the Cuckoo's Nest" (1975). She was basically done playing villains, and could not see herself bringing off that role. More of her time now was spent at her home in County Cork, Ireland and performing on-stage, mainly in London's West End.

Still she'd do the occasional film and television guest spot. In 1980, she took her turn as Agatha Christie's female sleuth Miss Marple in "The Mirror Crack'd." It wouldn't be long before she'd play another sleuth on television, a sort of American Miss Marple. When she agreed to do it, she could not have suspected that this particular role would make her a household name around the world.

The series was, of course, "Murder, She Wrote," and it would make television history, running from 1984-1996, with Angela appearing in all 246 episodes. She'd earn twelve of her astonishing eighteen Emmy nominations for her portrayal of Jessica Fletcher.

Though over seventy when the series finally ended, Angela had no desire to retire — quite the opposite. She remained remarkably active, mostly in the theater, until just last year when she turned 90. Now she's taking a well-deserved break.

Her undying love for her chosen profession was summed up as follows: "Providing I can put one foot in front of the other, I will continue to act."

Keep going, Angela Lansbury. Keep going!
More: How Katharine Hepburn Almost Lost Her Film Career

The 7 Greatest Films from Elizabeth Taylor