Back in 1988, The Film Society of Lincoln Center held a gala tribute for Yves Montand, one of France's biggest movie stars, whose own story would rival any of his films for interest and color.
As recounted at the time by People Magazine, he emerged from his limo, tall, craggy faced, but still strikingly handsome at 66, and surveyed the crowd. Feeling the excitement, he then burst into a wide grin, at which point a female reporter blurted out to her neighbor, "My God! If I told you what just happened inside my body."
This reaction was hardly surprising. Whatever star quality is, however you choose to define it, Yves Montand had it. Buckets of it. As the People article described it, for his countrymen he was Frank Sinatra and Jack Nicholson rolled into one.
A versatile talent, he could sing and act with equal skill. His leading man looks were slightly unconventional; he had a prominent nose and a slightly regretful, world weary expression in his eyes. This was a big part of his appeal, and he knew it.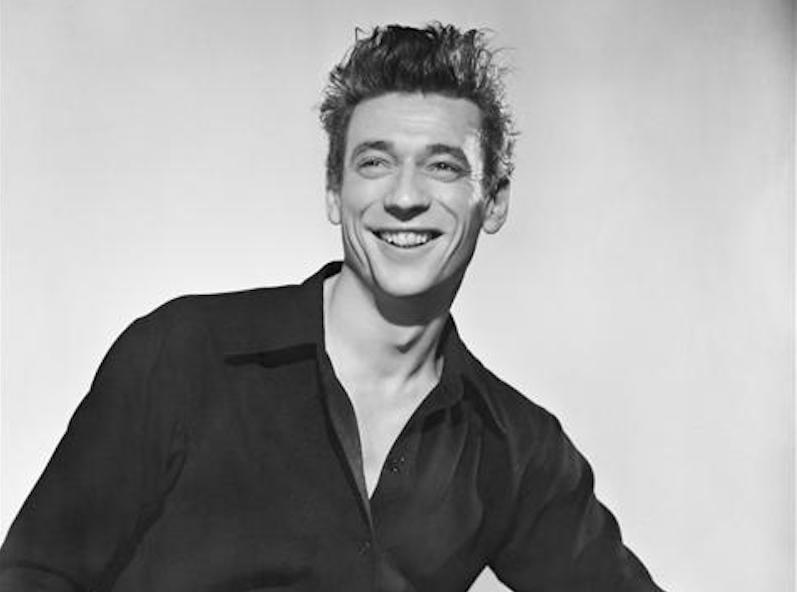 Unmistakably French, to the ladies he exuded the tingling possibility of romance and seduction. For men, his rugged features and noble bearing signaled someone to be reckoned with and respected.
For Yves Montand, it was a long, arduous, and eventful journey to the top. In 1921, he was born Ivo Livi in Tuscany. Active in Italy's Communist party, his father was forced to move his family to France two years after Ivo's birth when Mussolini came into power.
The family settled in Marseilles, where Ivo grew up in poverty. He quit school at age 11 to help support the family, working in a succession of menial jobs — in factories, on the docks, and later in his sister's hair salon.
In his late teens he got into amateur theatrics, and quickly discovered he loved playing in front of an audience. He took voice lessons in his spare time, and ultimately set his sights on a show business career.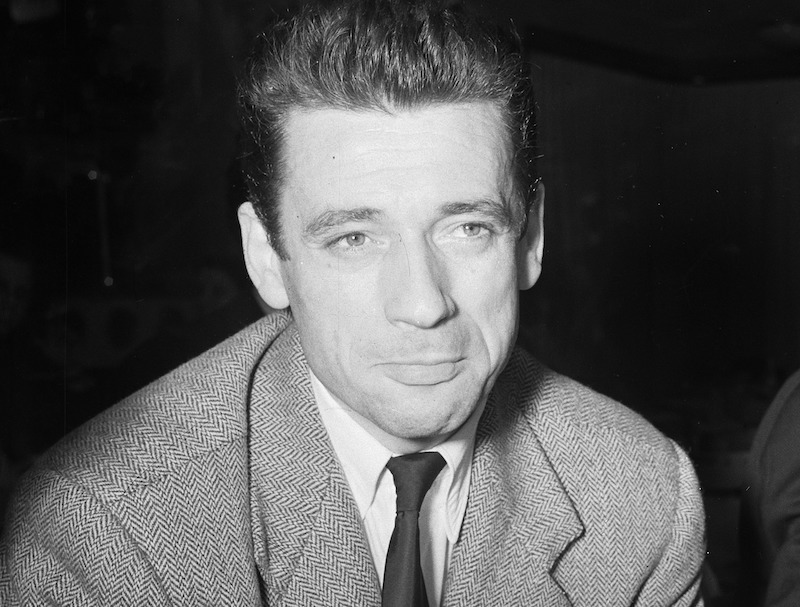 Soon after Ivo renamed himself Yves Montand, adapting it from his mother's familiar call to him as a child: "Ivo! Monta!", meaning "Ivo! Come up!"
In 1944, he met Edith Piaf, the top female singer in France. It would change his life. Five years his senior, Piaf saw something special in this aspiring, rough around the edges performer. Both of them had come up from nothing, and both hungered for fame. They became lovers, and she resolved to launch his career in earnest.
He received his first screen credit in a film starring Piaf called "Star Without Light" (1946), where the two perform a duet on screen. Piaf also wrote the lyrics for his first big hit: "Mais Qu'est-ce Que J'ai?", which he recorded in 1947. By this time, he and Piaf were no longer romantically linked. The following year, he recorded another massive hit, "C'est Si Bon." Yves was on his way.
Over the next several years, Montand kept angling for film roles. Specifically, he wanted a dramatic part that would not require him to sing. In 1951 he got his big break when director Henri-Georges Clouzot cast him as the lead in "The Wages of Fear," the story of several desperate men forced to drive trucks filled with nitroglycerine over bumpy terrain to escape a remote South American hellhole.
Though the shoot was plagued with problems, the finished film was an international smash. Virtually overnight, Montand would become known as both a top-flight singer and actor.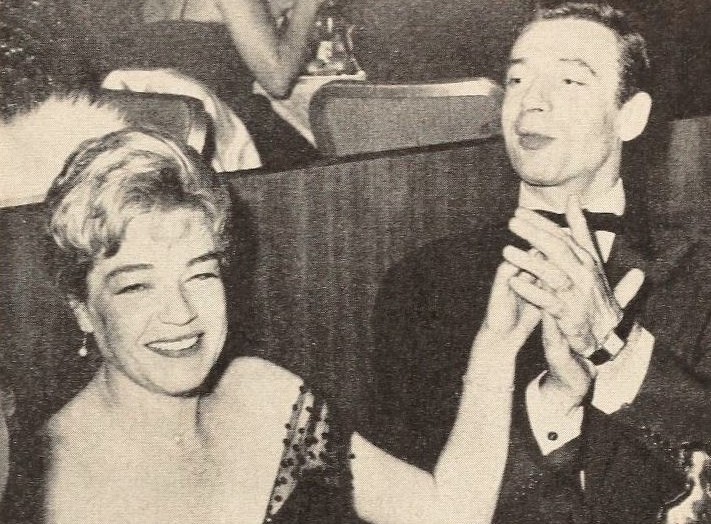 By this time, he had met and married the love of his life: actress Simone Signoret. Equally gorgeous and talented as her new husband, Signoret would build a successful career of her own, co-starring in Clouzot's "Diabolique" (1955) and winning an Oscar for her performance in "Room at the Top" (1959).
Importantly, she understood Montand's drive and appreciated his talent. Signoret was also an intellectual with extreme left-wing political leanings, which Montand shared. (He had inherited his father's Communist sympathies).
Their marriage would endure through many ups-and downs, including Montand's serial philandering.
During the fifties, Montand would make roughly a dozen pictures, while continuing to sing, often on tour. He now had a list of standards he could call his own, including the original version of "Autumn Leaves," which he'd first recorded in 1950.
Eventually, the siren song of America beckoned, and he embarked on a singing tour of the U.S. in 1959. Backstage in New York one night, he encountered Marilyn Monroe and her then-husband, Arthur Miller.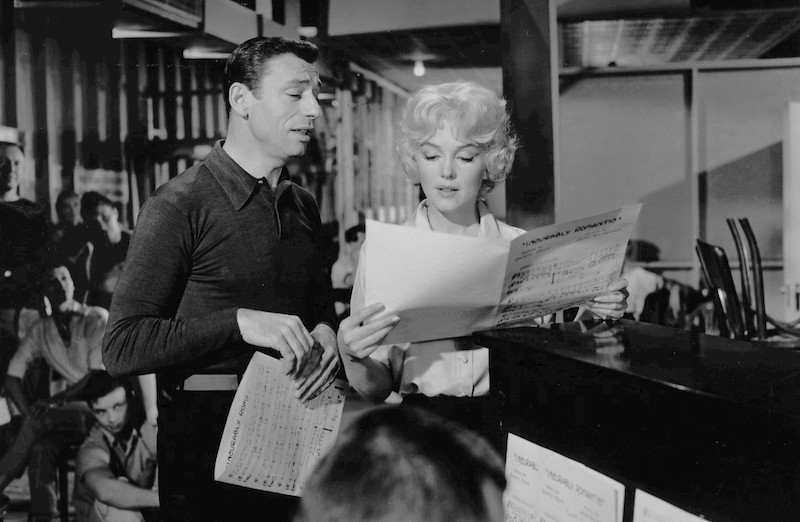 He and Miller shared the same politics, and he and Marilyn shared something else. She was quoted as follows: "Right after my husband and alongside Marlon Brando, Yves Montand is the most seductive man I've ever known."
The actor was promptly offered a starring role opposite Marilyn in her next film, "Let's Make Love," directed by veteran George Cukor. Once on set with their respective spouses far away, a torrid affair began, which ultimately went public. Very public.
Miller's marriage to Monroe was already crumbling, but Signoret still adored Montand and was privately devastated. Still she put a brave spin on the situation when she asked one pushy reporter. "You know many men, do you, who would have stayed indifferent while having Marilyn Monroe in their arms?"
Though the couple would stay together, this affair marked a sea change in the marriage. Signoret started to drink more and care less about her appearance, while Montand, in response, accelerated his extramarital activity.
Meanwhile, his political sympathies were evolving. Having considered himself a Stalinist for years, he finally rejected communism when the Soviets invaded Czechoslovakia in 1968.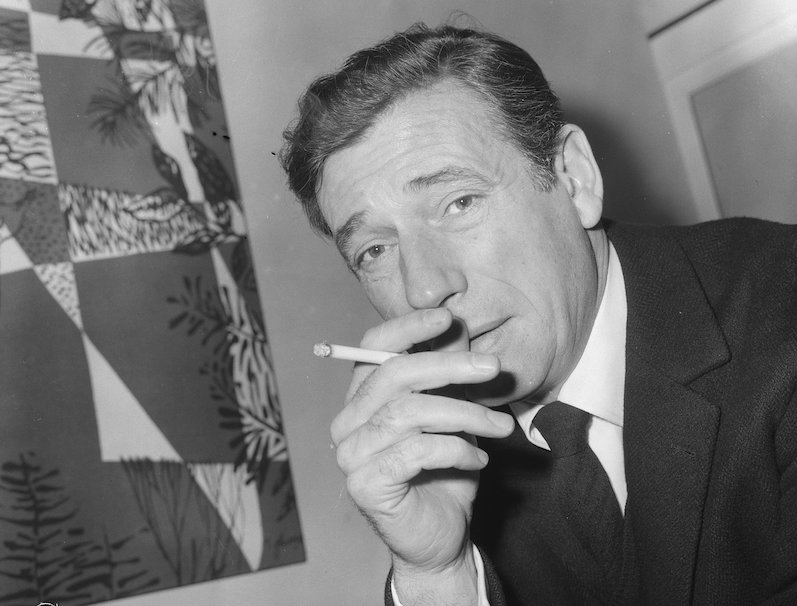 Montand would never fully conquer America, but continued working steadily in Europe. His career was boosted when he did three political thrillers with director Costa-Gavras: "Z" (1969), "The Confession" (1970) and "State of Siege" (1972).
Going forward, the actor would make approximately twenty movies in as many years, including brilliant turns as a duplicitous farmer in two back-to-back films made by Claude Berri in 1986: "Jean de Florette" and "Manon of the Spring."
These two films were valuable therapy for Montand, who was grieving the death of Signoret from cancer the year before. He then found a close companion in his assistant Carole Amiel, nearly forty years his junior. Together, they had a son, Valentin, in 1988.
Around this time, there was brief speculation that Montand, who'd swung way to the right in recent years, might run for President of France. After all, if former actor Ronald Reagan could make it in America, why not him? Though he always remained politically engaged, he ultimately decided not to pursue this prize.
Montand was shooting a film called "IP5: The Island of Pachyderms" in 1991. Days after shooting a scene where his character suffers a fatal heart attack, life imitated art. En route to the hospital, he supposedly said, "I know I'm a goner, but it's not serious. I've had a terrific life."
That much is clear. And he made some terrific films too. Through them, we can appreciate the legacy of this remarkable performer, who, while he was among us, made us all want to be French.