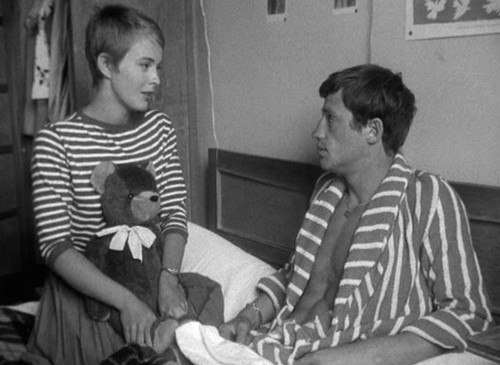 Part of the thrill of film is the costumes that dress up the screen. But there's a clear distinction between standard costume pictures where clothes simply help evoke a period, and those indelible outings in which great clothes not only draw our eye to their design, but also inform character.
It is, in fact, more accurate to say "wardrobe" than costumes, and, as with our own wardrobes, there are standouts that we return to again and again. These are pieces that are stars in their own right: Edith Head's dresses for Grace Kelly in "Rear Window"; Cecil Beaton's black and white dress for Audrey Hepburn, worn to Ascot in "My Fair Lady"; Lauren Bacall's check suit in "The Big Sleep"; and countless bias-cut crepe gowns, Technicolor satins, wide hats, snug corsets, and acres of rhinestones, beads, and feathers. When paired with crackling dialogue, powerful stories, and flattering cinematography, these signature looks create the models for our own evolution in style.
Why not slip into our own look at some of the movies' most memorable fashion moments...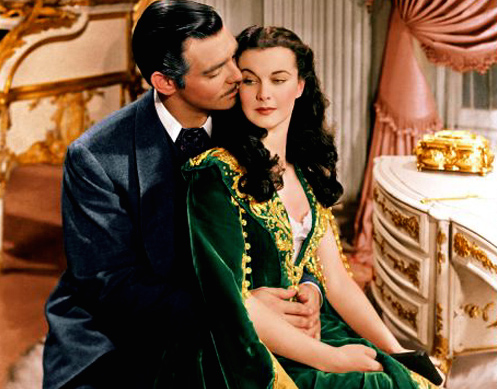 Designer: Walter Plunkett
Fashion Plate: Crafty Southern belle, Scarlett O'Hara (Vivien Leigh)
Who Is She Dressing For? Ashley Wilkes, Rhett Butler, and to mark her turf.
Signature Piece: The green velvet number made from Mrs. O'Hara's curtains.
Impact: The "drapes" dress has become a powerful symbol of resilience and inventiveness. The canny move of a real survivor.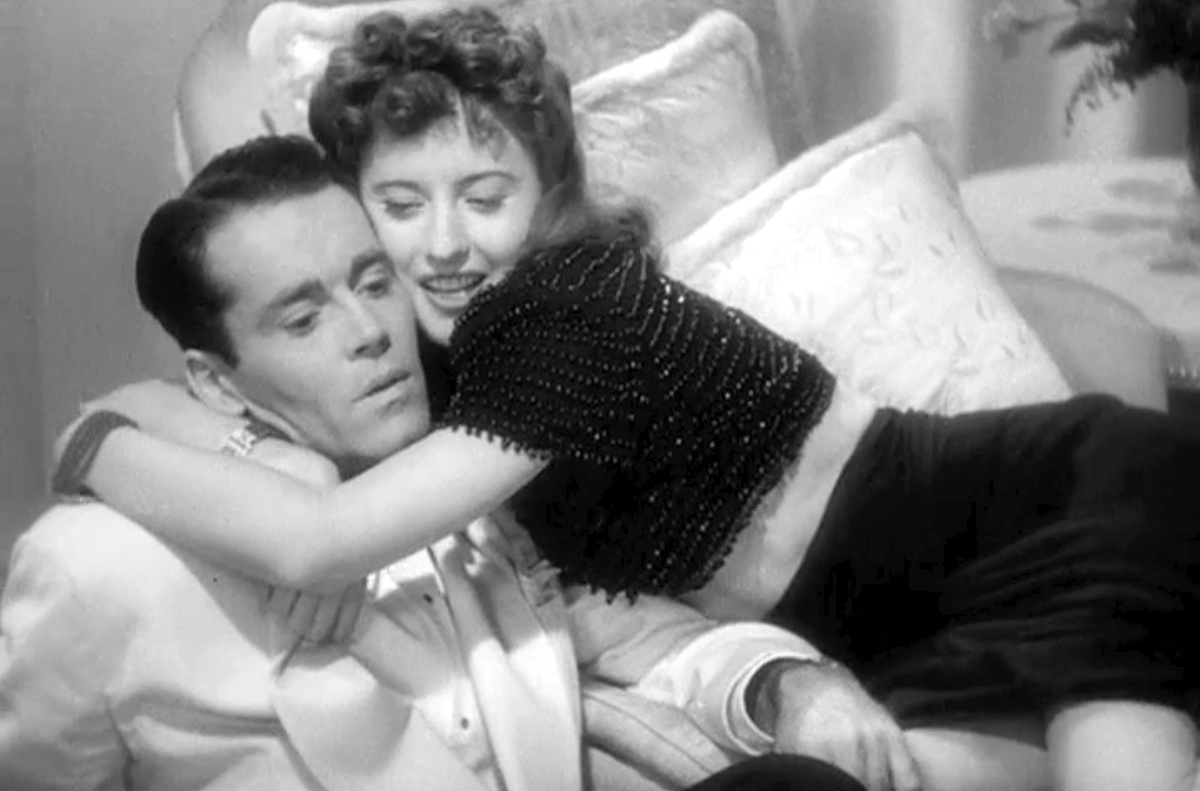 Fashion Plate: Quick-witted con artist, Jean Harrington (Barbara Stanwyck); alter ego persona, Lady Eve Sidwich.
Designer: Edith Head
Who Is She Dressing For? Socially challenged ale heir Charles Pike (Henry Fonda)
Signature Piece: Jean's black two-piece with crop top and high-slit skirt; Eve's bedazzling evening gown and tiara.
Impact: Charles falls for Jean and Eve like he's falling down a flight of stairs.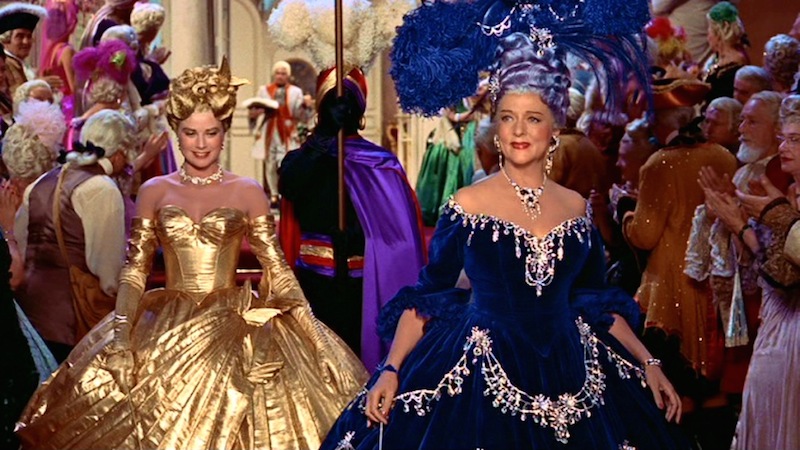 Fashion Plate: Frances Stevens (Grace Kelly)
Designer: Edith Head
Who Is She Dressing For? John Robie (Cary Grant)
Signature Piece: Gold lamé "Marie Antoinette" ball gown.
Impact: Kelly becomes a real member of royalty when she meets Prince Rainer of Monaco while filming in his rarefied principality. Director Alfred Hitchcock shot the climactic ball scene solely to show off that regal dress. It was worth the effort.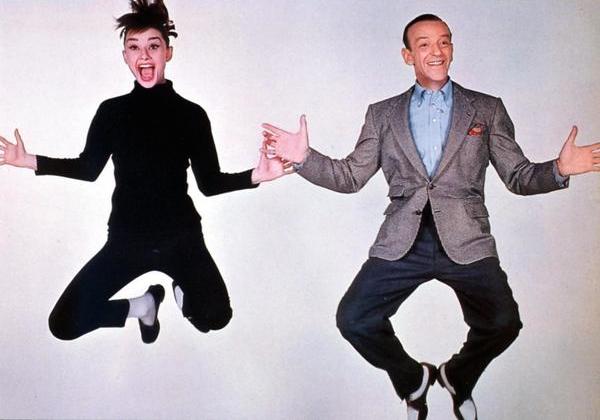 Fashion Plate: Shy Greenwich Village resident and reluctant fashion model, Jo Stockton (Audrey Hepburn)
Designers: Edith Head and Hubert Givenchy
Who Is She Dressing For? Pre-makeover Jo, no one, thank you very much! Post-makeover Jo, fashion editor Maggie Prescott (Kay Thompson), and eventually, photographer and love interest Dick Avery (Fred Astaire).
Signature Pieces: Greenwich Village Jo, beatnik uniform of black pants and turtleneck. Paris Jo, red satin strapless evening gown. And let's not overlook editor Prescott's battle cry to "Think pink!", and that chorus line of pink dresses.
Impact: Fashion layouts, dolls, knock-offs, and makeover fantasies that continue to inspire new generations of fashion — and movie — fans. Hepburn is utterly charming as drab bookshop wallflower transformed into haute couture princess.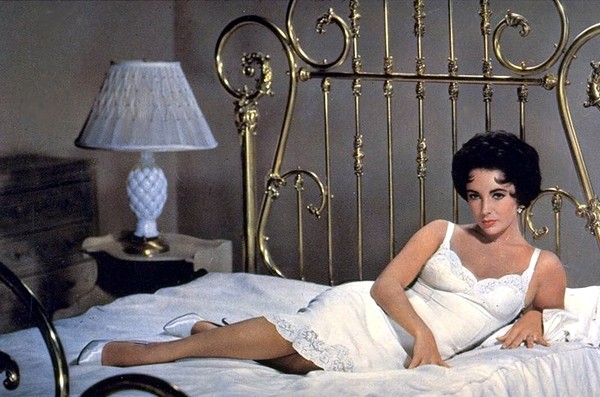 Fashion Plate: Maggie "the Cat" Pollit (Elizabeth Taylor)
Designer: Helen Rose
Who Is She Dressing For? Or in this case, undressing: for husband Brick Pollit (Paul Newman).
Signature Piece: The white slip Taylor wears in the pivotal confrontation between Maggie and Brick. Three years later, Taylor would wear another white slip, again under the costume guidance of Helen Rose, for "Butterfield 8."
Impact: Not nearly enough on the hard-drinking, sexually ambiguous Brick.
Fashion Plate: American in Paris, and crook's moll, Patricia (Jean Seberg)
Designer: None credited.
Who Is She Dressing For? Boyfriend Michel (Jean-Paul Belmondo); gamines everywhere for the rest of time.
Signature Piece: Striped Breton shirt; New York Herald Tribune newsy uniform.
Impact: Seberg's pixie haircut, black pants, and striped top created one of fashion's chicest and most timeless looks. That top: French designer Jean-Paul Gaultier's trademark.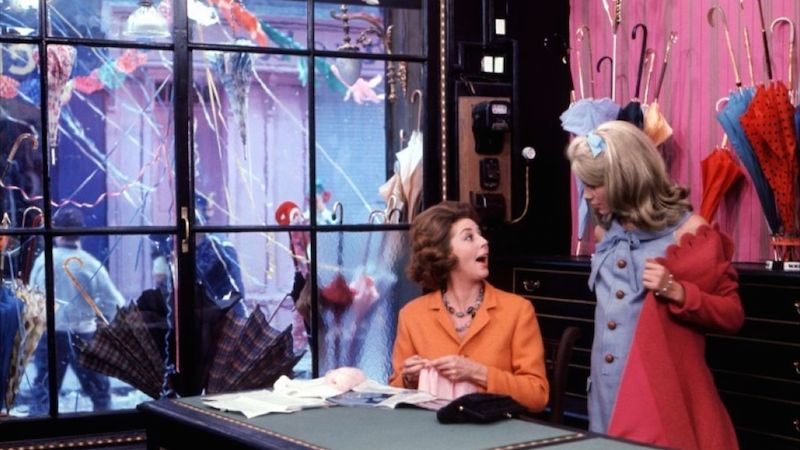 Fashion Plate: Genevieve Emery (Catherine Deneuve)
Designer: Jacqueline Moreau
Who Is She Dressing For? Guy Foucher (Nino Castelnuovo), then Roland Cassard (Marc Michel).
Signature Piece: Darling little coats, cardigans and dresses in gumdrop colors.
Impact: Innocence and sweetness personified.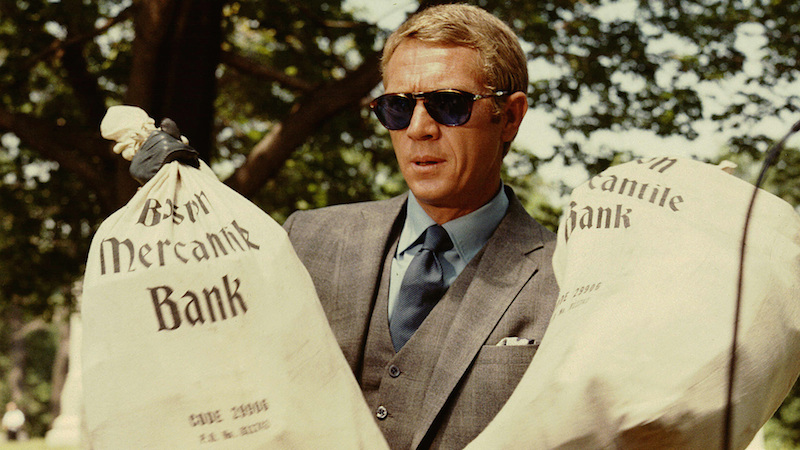 Fashion Plates: Bored millionaire sportsman-turned-thief Thomas Crown (Steve McQueen) and insurance investigator, Vicki Anderson (Faye Dunaway)
Designers: Ron Postal and Theadora van Runkle
Who Are They Dressing For? Each other, and us. Not to mention editors of coffee table books on style, fashion editors, and designers looking to crack the code of cool.
Signature Piece: The whole movie is a signature piece, but marvel, please, at Thomas's three-piece suits and sportswear, as well as Vicki's coats and hats.
Impact: The style template of an era is set. McQueen's windbreaker alone is still informing the look of a fashionable man who is never a dandy.
Fashion Plate: 1970's career woman, TV producer Diana Christensen (Faye Dunaway)
Designer: Theoni V. Aldridge
Who Is She Dressing For? Colleague Max Schumacher (William Holden), and to fulfill her own ambitious agenda.
Signature Piece: Brown bow-neck blouse and brown pencil skirt.
Impact: Diana's slim skirts and soft tops play against her hard-edged professional demeanor in the feminist zone of the 1970s. Dunaway's incredible ability to wear all clothes makes her a fashion icon for every era. Also catch her in "Bonnie and Clyde," which made the 1930s all the rage in the 1960s.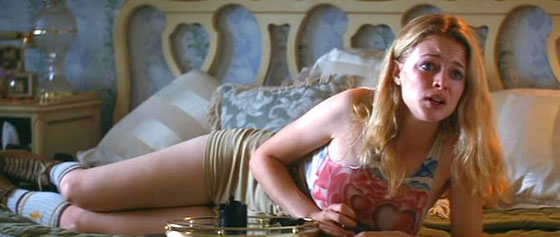 Fashion Plates: San Fernando Valley porn stars Dirk Diggler (Mark Wahlberg) and Rollergirl (Heather Graham).
Designer: Mark Bridges
Who Are They Dressing For? Their extended family of adult movie actors and crew, and to amp up their legends.
Signature Pieces: Dirk's tight T-shirt, deluxe polyester flares and slinky shirts. Rollergirl's hot pants, knee socks, and of course, roller skates.
Impact: The kitsch bounty of the 1970s and '80s finds its home in a story that distills the paradoxical innocence of those coke-fueled times. The young are always wide-eyed, even when they are naked with a stranger and the film is rolling.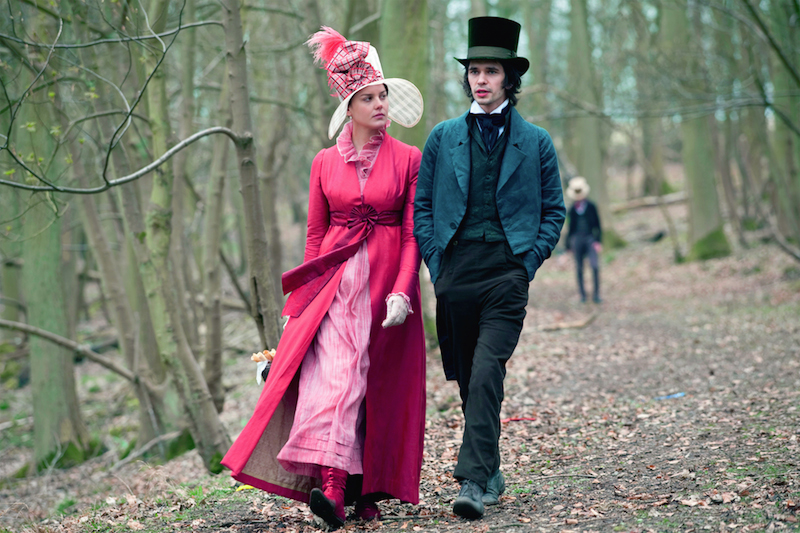 Fashion Plate: Fanny Brawne (Abbie Cornish)
Designer: Janet Patterson
Who Is She Dressing For? English Romantic poet, John Keats (Ben Wishaw)
Signature Piece: The red dress and coat, plus hat, which Brawne, a style-setter, designed and stitched with her own nimble fingers.
Impact: Brawne is wearing this ensemble when she and Keats are caught in the rain. The dress deteriorates as conflict between the two lovers escalates, breaking down Brawne's reserve and opening up their shared passion.
More: Ultimate Role Models: 7 Transitions From Model to Actor