More than forty years after its release, "Chinatown" (1974) endures as a stunningly effective tribute to the Bogart private eye classics and the best noir entries of the '40s and '50s. Directed by the gifted Roman Polanski, an iconic performance by Jack Nicholson as private eye J.J. "Jake" Gittes beats at the heart of this film. The rest of the cast is equally stellar, however, with Faye Dunaway as twitchy, mysterious femme fatale Evelyn Mulwray, and powerhouse director John Huston playing her domineering, power hungry (and worse) father, Noah Cross. Even Polanski makes a cameo as a knife-wielding thug.
And let's not forget Robert Towne's sterling screenplay, peppered with smart, snappy dialogue that gives even Raymond Chandler a run for his money. In fact, out of eleven Oscar nods for the movie (including Best Picture, Actor, Actress, Director), only Towne went home with a statuette for his stinging, perfectly structured script.
So I suppose, after forty years, you think you know everything about this tale of water theft and sisters, I mean daughters! No, sisters!… but I'll just let vile water baron Noah Cross tell you… "You may think you know what you're dealing with, but believe me, you don't."
Here are a few surprising facts that you probably needed a private investigator (like me) to clue you in on.
The Truth Will Out:
Even the inquisitive Jake Gittes stifles a deep yawn when listening to all the ins and outs of water rights, irrigation, and discussions of "permeable shale." This aspect of the story may seem a bit murky, but if you know something of Los Angeles history, the reason Towne used this plot device becomes clear as a mountain spring. It's all based on true events.
In the 1920s, self-taught engineer William Mulholland (yes, as in Mulholland Drive) conspired with political cronies to commandeer the nearest fresh water source, the Owens River, so that the ever-expanding city of Angels could continue quenching its considerable thirst. Twirling his moustache (yes, he had one!), Mulholland came up with a devious plan: to construct the longest aqueduct ever built, then drain millions of gallons of the river into a huge reservoir just outside L.A. — thus bringing all the water to town, and away from farmers near the Owens, who'd previously used it to irrigate their land. Naughty, naughty.
After 200 miles of water pipeline were built, all Mulholland needed was a dam to keep the water inside a natural canyon that he intended to turn into a lake. He then appointed himself (that was easy) to build what became the St. Francis Dam. When cracks began appearing in its foundations, he shrugged them off. Bad decision. On March 13, 1928 the damn dam gave way, leading to one of the biggest disasters in California history. Over 400 people were killed, and bodies were flung as far as Mexico in the deluge. Mulholland was thoroughly disgraced — yet perversely he'd still achieve immortality through the Drive (and the David Lynch film) that bear his name.
In "Chinatown," Towne simply fictionalizes this occurrence - referring to it as the "Van der Lip Dam disaster," and the characters of Noah Cross and Hollis Mulwray are both partial composites of the real Mulholland. Now, doesn't that knowledge help everything flow in the right direction?
I'll Be In My Trailer:
Actors can be tough to wrangle, and great ones sometimes cause more trouble, just because they know they can. It's little secret that Jack Nicholson is an avid Lakers fan; for years, we've all spotted him courtside looking like he's about to take a bite of Kobe's beef. Well, apparently, during the shooting of "Chinatown", he would take breaks to watch the Lakers do their own shooting, slowing production and stirring up a Napoleonic fury in the 5'5" Polanski.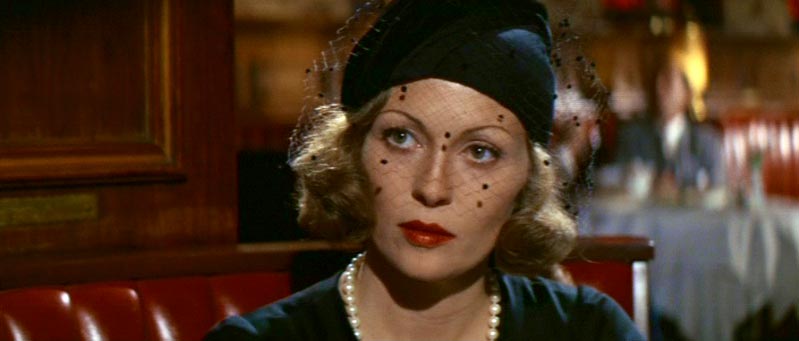 Though not the first choice for Evelyn Mulwray (the part was originally intended for Ali MacGraw- yikes!), Faye Dunaway was also rumored to have been quite the diva — it's said she required her assistants on the set to flush the toilet for her (well, it could have been even worse.)
Daddy Issues:
As it happens, during filming Nicholson was dating John Huston's daughter, actress Anjelica. This made the scene where Noah Cross asks Gittes "Are you sleeping with my daughter" extra awkward. Not only that, Jack claims that Anjelica was visiting the set on the fateful day they filmed that exchange. Good timing, Anj! Let's hope Jack promised to get her home before curfew.
Return of the Gittes - Chinatown Was Supposed to be a Trilogy: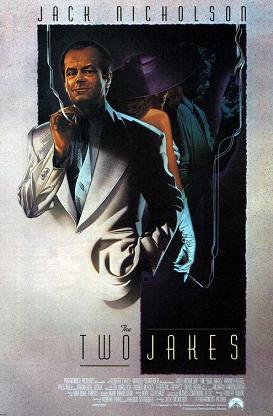 Nicholson himself ended up helming a sequel to "Chinatown" called "The Two Jakes" (1990), which had a troubled production, received a cool reception from critics, and worst of all, lost money. Perhaps that's why the intended third film was never made - Paramount just got gumshoe-shy.
According to Nicholson, he and Towne discussed how the three films would tie into the essential elements, with "Chinatown" as (anyone?) water — yes, good, you were paying attention. "The Two Jakes" would represent fire (via oil and gas), and the third film, to be titled "Gittes vs Gittes," would tie into air (as in air pollution). Ingenious, no?
The plotline of the closing chapter was to have related to Gittes' divorce, as well as intrigue involving wealthy magnate Howard Hughes. Wonder who'd have played him.
In 2007, Jack was quoted as saying that if Paramount wanted to go ahead, he thought the time was "just about right" for the last Gittes chapter. Apparently the studio didn't agree — seventeen years after the last outing, Jack (at 70) was getting a little long in the tooth to be a credible sleuth. (Wearing out several pairs of shoes a month, those guys need stamina!).
So, I hope you've enjoyed these little-known tidbits. Of course, with a movie like "Chinatown," there's always more to discover, lurking just below the surface. This classic wears its 40 years well.
Love detective films? Let us know your favorite ones on Facebook.
Previously: How a Dinner Party Knife Fight Launched Jack Nicholson's Career