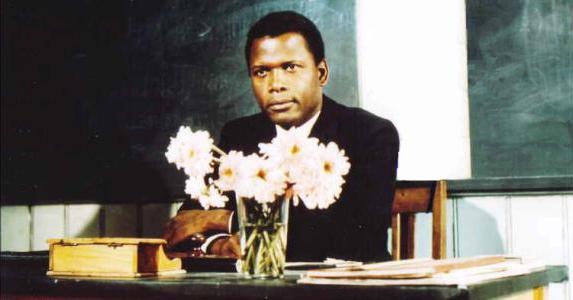 This year, what do you say we switch things up and not dread the whole back-to-school business? No prodding the kids to plow through the summer-reading-list books they haven't yet cracked. No bracing yourself for the logistical nightmare of getting your brood up, fed, dressed and off to their classrooms.
Instead, we're going to distract ourselves with some superb movies that showcase just how fascinating schools can be — thanks to the quirky, sometimes intimidating, often heroic teachers that make them run.
Here are ten esteemed members of our on-screen faculty.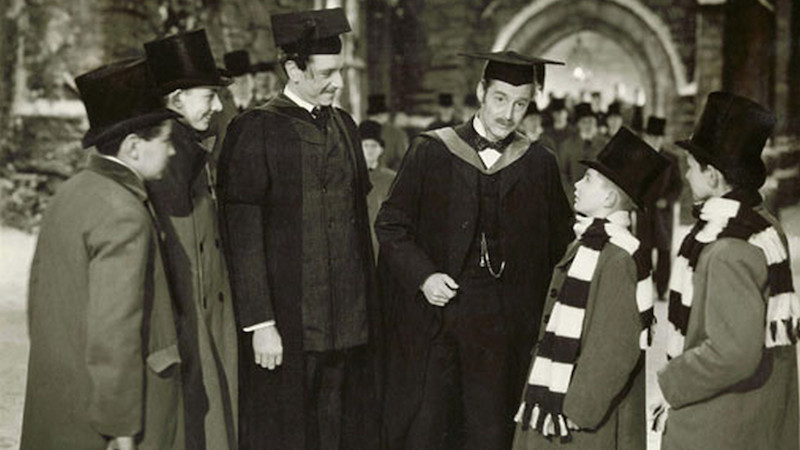 The undisputed granddaddy of all school movies, "Chips" concerns a "master" at an English public school (Robert Donat) who spends his entire adult life devoted to teaching his students how to learn and how to live — preparing them for the challenging world of University, and the adult life beyond. Having given up hope of marrying, Chips encounters his beautiful wife-to-be (Greer Garson) on a fog-shrouded hike, and she gives him years of happiness. Meanwhile, he is teaching and guiding successive generations of young boys, many of whom will become the future leaders of England. Donat inhabited his role so completely — seemingly aging over half a century — that he won the Best Actor Oscar in the year everyone thought Clark Gable's Rhett Butler was a shoo-in. Hello, Mr. Chips! More.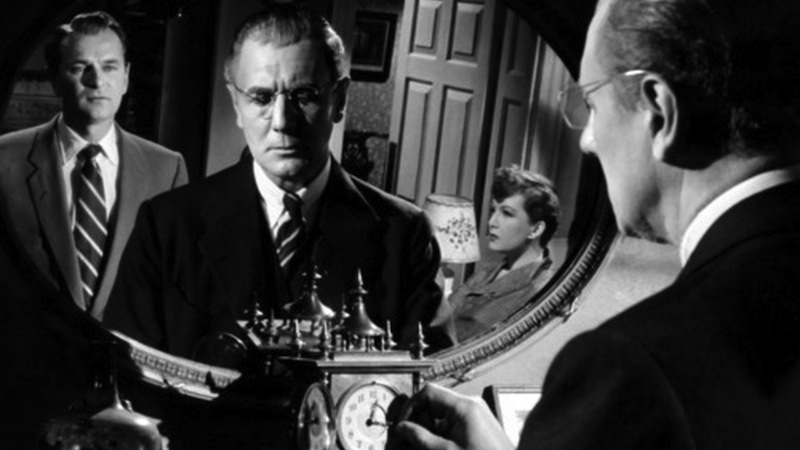 In this criminally under-exposed, BAFTA nominated drama, Michael Redgrave gives the performance of his career as Andrew Crocker-Harris, a universally disliked classics professor at a public school. Crocker-Harris is brilliant, but cold and withdrawn toward his students. We get the sense of early promise squandered, and instinctively feel a measure of sympathy for him since he has much to be unhappy about. His vivacious wife (Jean Kent) is having an affair with another teacher, and the headmaster ends up refusing him a proper pension after nearly twenty years of service. Then the kindness of one student named Taplow (Brian Smith) inspires Crocker-Harris to re-examine his life and regain a measure of his lost humanity. More.
Set in the rough East End section of London, "To Sir, With Love" relates the miraculous story of one black teacher (a veritable fish out of water) using all his skills and patience to win over his surly, disruptive, lackadaisical high-school students. As Mark Thackeray, Sidney Poitier delivers one of his best performances, infusing his character with both humility and a steadfast sense of right and wrong. Although Thackeray is pushed to the limit by his initially defiant, ungrateful class, he perseveres (and ultimately succeeds) in teaching them how to behave as thoughtful, responsible young adults. The transformation is quite astounding, but to the film's credit, you believe it. A fetching Judy Geeson stands out as one of the students, as does Lulu, who also sings the hit title tune. Sadly, today the song may be better remembered than the movie — let's fix that! More.
Striking a blow for both teachers and feminism, "Prime" lets the Oscar-winning Maggie Smith shine as the titular Scottish teacher who's as determined to be true to herself as she is to making sure her students get a proper education. That means she feels perfectly free to reveal her political leanings in the classroom, and she's also not against expanding the concept of education to include things like treating her kids to an afternoon picnic or a field trip to the theater. Naturally, Brodie's non-conformist approach gets her into trouble with her superiors, but that never deters her from the business at hand. As she says in the movie, "Little girls! I am in the business of putting old heads on young shoulders, and all my pupils are the crème de la crème. Give me a girl at an impressionable age, and she is mine for life." Don't you wish we had more teachers like that? More.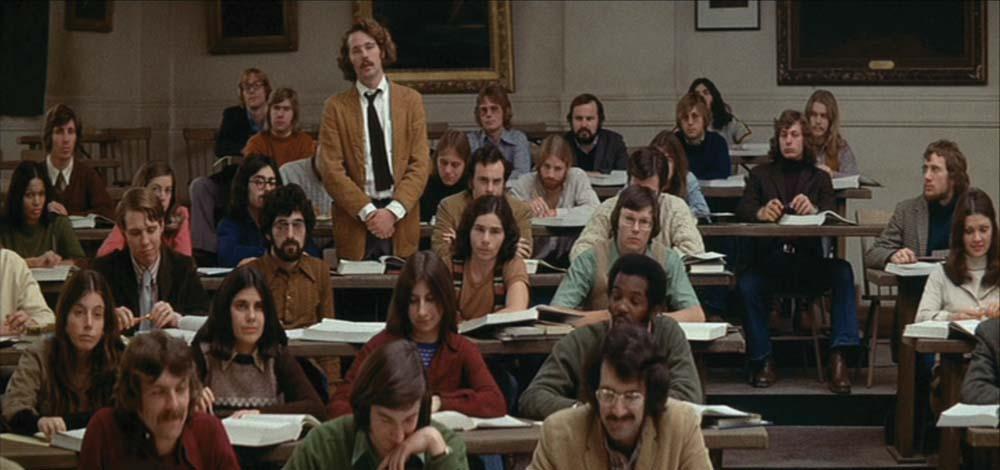 No matter how tough your teachers were, they will never compare to Professor Kingsfield of Harvard Law School. Played by theater veteran and Orson Welles collaborator John Houseman, the deliciously dry, haughty and demanding Kingsfield thrives on putting his students on the spot and daring them to keep up with his towering intellect. When his pupil James Hart (Timothy Bottoms) doesn't live up to his standards, he calls him down to the front of the large lecture room and says, "Mr. Hart, here's a dime, call your mother and tell her there's serious doubt about you becoming a lawyer." Ouch. Although Bottoms does a great job portraying a student who may be out of his depth, "The Paper Chase" (1973) really soars thanks to Houseman's audacious and Oscar-winning performance. More.
Louis Malle's semi-autobiographical tale tells of a Catholic French boarding school during the Nazi occupation. Young Julien (Gaspard Manesse) is peeved to be sent away to this cloistered place so far from the bustle of Paris, even though he knows it's dangerous there and may soon become more so. A refreshing break from routine occurs when new student Jean Bonnet (Rafael Fejito) arrives. A buzz goes round the place because so little is known about the new student, and Jean himself seems guarded. Regardless, after a period of mutual wariness, he and Julien become close friends and allies. Then the war intervenes on the school, and the lives of both boys are turned upside down. A powerful statement on how innocents get victimized in armed conflict, the film was nominated for Best Foreign Language Film, and director Malle for his original screenplay. Don't say "Au Revoir" to this. More.
Based on the life of Jaime Escalante, a math teacher from East L.A., "Stand and Deliver" (1988) follows a class of unruly and unmotivated high schoolers as they slowly fall under Escalante's spell. Oscar-nominee Edward James Olmos undergoes a full-body transformation to tackle the leading role—he walks with a stilted gait, talks in a mumbly speaking voice, sports a serious comb-over and wears a pair of coke-bottle glasses. The way he delivers Escalante's tough-love approach to education —shaming hardened juveniles into hitting the books, and making the students' success into a mini civil rights crusade — can't help but get you rooting for him. The end result? Watching a group of kids learning how to excel at calculus has never been so riveting. Here's one forgotten movie worth standing up for. More.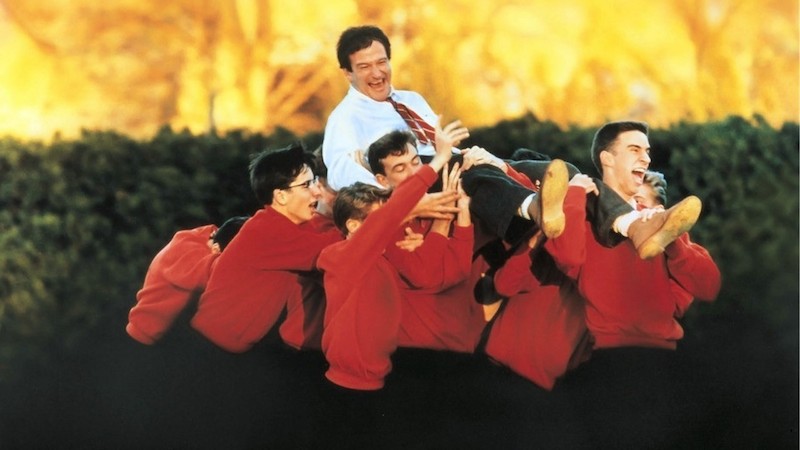 Energetic, idealistic English teacher John Keating (Robin Williams) arrives at the stuffy Welton Academy ready to instill in his charges a true love of poetry. His students are at first astonished, then captivated by their new teacher's unconventional approach to learning. Unfortunately, the school's stodgy headmaster (Norman Lloyd) doesn't share their enthusiasm, and Keating is watched closely. Neil Perry (Robert Sean Leonard), a gifted student hampered by an overly controlling father, is inspired by Keating to seize the day ("Carpe Diem!"). He decides to pursue his love of theatre, and re-introduce "The Dead Poets Society," a secret group that Keating had joined as a Welton student years before. But can this new sense of liberation and possibility survive in this highly traditional school? See this one again for Robin. More.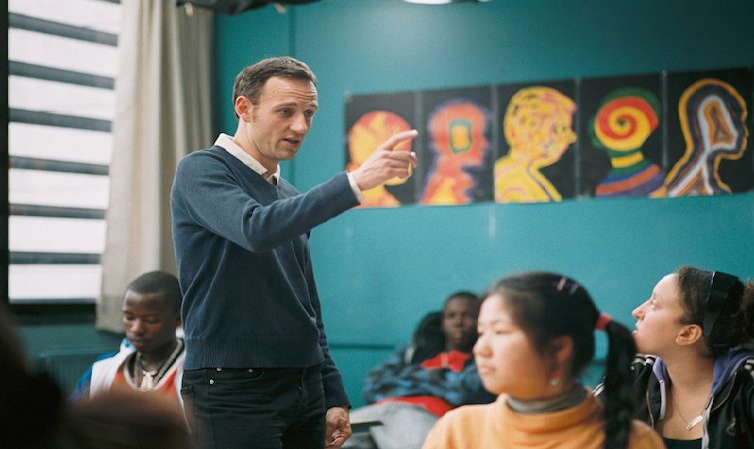 Real-life teacher Francois Begaudeau (who wrote a book about his teaching experiences) stars in this French classroom drama that also uses real students to depict the struggles that inevitably find their way into a modern-day high school. The film isn't a pure documentary — some fictional elements have been added for dramatic effect — but it has a great improvisational feel, and the performances from Begaudeau and his class of kids are all first-rate. As Roger Ebert put it in his glowing review, "The movie is bursting with life, energy, fears, frustrations and the quick laughter of a classroom hungry for relief." This fascinating picture was Oscar-nominated for Best Foreign Language Film; student or adult, it has a little something to teach us all. More.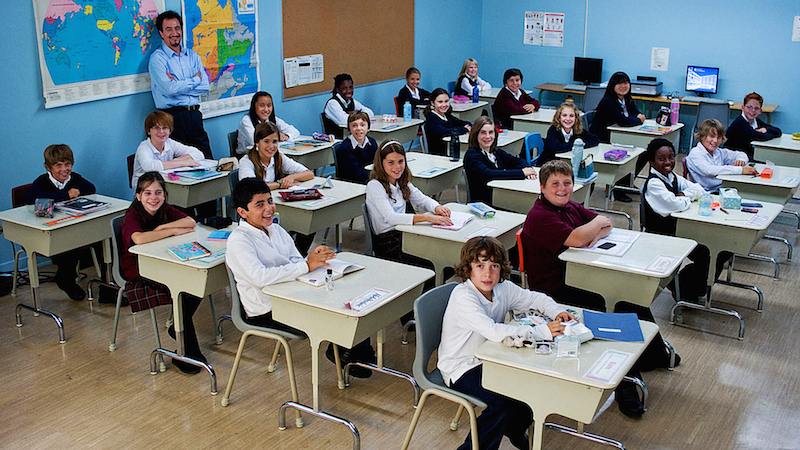 After a popular teacher at a Montreal elementary school hangs herself in her classroom, a replacement is hastily found. An Algerian immigrant, his name is Monsieur Lazhar (Mohamed Fellag). The new teacher faces significant hurdles as he confronts his class, as the students are still grieving, particularly the two kids who discovered the hanging: Simon (Emilien Neron) and Alice (Sophie Nelisse). Monsieur Lazhar is also not totally up-to-speed on Canadian teaching pedagogy, which causes some initial bumps. Finally, he's dealing with a past tragedy in his own life, and an exhaustive, frustrating process to gain Canadian residency. Will he succeed, both in and out of the classroom? And will the children heal? See the superb, Oscar-nominated "Monsieur Lazhar," and find out.