I've always had a soft spot for Rosalind Russell. Watch her in most anything, and you can tell she's different from all the other glamorous female stars of the day. She was a beautiful lady who did not trade on her looks but instead her brain, talent and spirit.
She did this consciously, knowing it might lose her parts. She didn't feel she was right for many roles, specifically those that mainly involved sashaying around in beautiful gowns. She wanted to play independent women. She wanted parts that challenged her, and that portrayed women as strong, multi-dimensional characters.
Early on she was outspoken on this score: "Being typed as a lady is the greatest misfortune possible to a motion picture actress. It limits your characterizations, confines you to play feminine sops and menaces and the public never highly approves of either…I earnestly want to get away from this."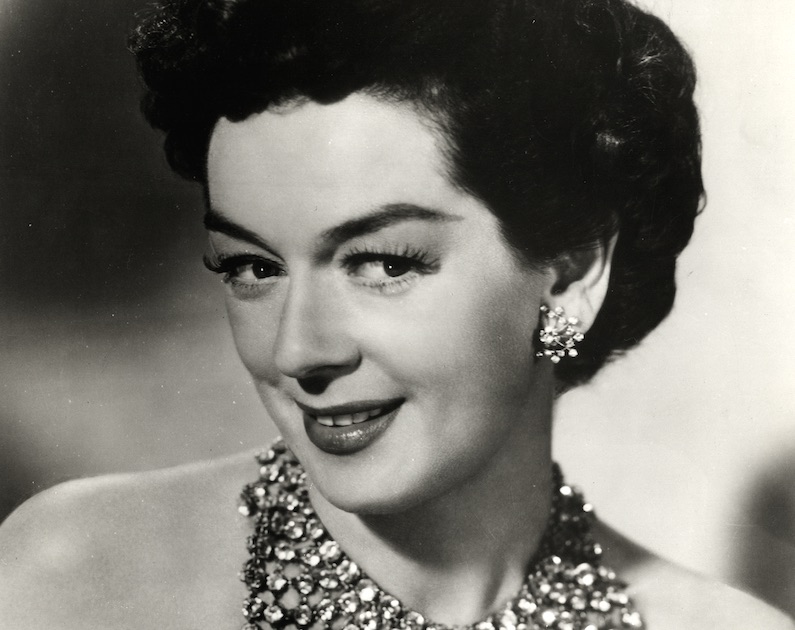 This was a risky point of view for a young actress craving stardom within Hollywood's old studio system. It prevented Roz from being in the first rank of stars during that period, but she wouldn't have had it any other way.
In the end, though, she was able to emerge as a peerless performer whose career spanned four decades. She thrived on film and the stage, earning four Oscar nods and two Tony nominations, winning once for her 1953 Broadway smash, "Wonderful Town."
From the outset, it was not an easy road. She grew up in in Connecticut, part of an upper middle class, staunchly Catholic family, and incurred her parents' displeasure when she announced her desire to act professionally.
Nevertheless, she was determined and enrolled in the American Academy of Dramatic Arts in New York. She also did summer stock and worked at various rep companies on the East Coast.
By her mid-twenties she had arrived in Hollywood, and after a disastrous stint at Universal, landed at MGM, then "the Tiffany of studios." There her star rose slowly, largely through taking parts that Myrna Loy turned down.
Though she loved her profession, she also understood its challenges and pitfalls. Once asked to describe acting, she replied: "Acting is standing up naked and turning around very slowly."
After doing no less than five screen tests for director George Cukor, she finally got the chance to shine in Clare Boothe Luce's all-female comedy/drama "The Women" (1939). Playing a motor-mouthed, compulsive gossip, she gets most of the laughs and practically steals the movie from established stars Norma Shearer and Joan Crawford.
Next, after virtually every other comedienne in town had turned it down, she won perhaps the best part of her career playing Hildy Johnson, a dedicated, wisecracking reporter who decides to get married, much to the consternation of her former husband and editor, Walter Burns (Cary Grant).
Previously filmed as "The Front Page" in 1931, the role of Hildy was originally a male part. It was director Howard Hawks' inspired idea to add a romantic element to the remake by making Hildy female. It worked beautifully, largely thanks to Russell, and her chemistry with Grant.
She and Cary would not work together again, but remained close friends. In fact, she owed her long, happy marriage to him. A young Danish producer named Frederick Brisson was staying with Grant during the "Friday" shoot. He'd watched "The Women" countless times on the ship coming over from Europe and fallen hard for Roz.
Cary decided to play matchmaker, greeting Russell every day with the question: "Have you met Freddie Brisson yet?" Ultimately, he made sure they did. When they married soon after, Grant was best man. The couple remained together till Roz's death, and had one son, Carl Lance Brisson.
Over the next quarter century, Roz stayed busy, appearing in comedies and dramas alike, including "My Sister Eileen" (1942), "Sister Kenny" (1946), "Mourning Becomes Electra" (1947), "Picnic" (1955), "Auntie Mame" (1958), and "Gypsy" (1962).
Also a talented writer, she wrote the story (under a pen name) for a film called "The Unguarded Moment" (1956), which concerned sexual harassment. Once again, she was way ahead of her time.
While her exuberant Oscar-nominated turn in "Auntie Mame" is justly celebrated, she is also heartbreaking playing spinster schoolteacher Rosemary Sidney in Joshua Logan's "Picnic." She refused to let her name be entered for a Best Supporting Actress nod for that role, since she'd always been nominated for Best Actress. Many feel she might well have won had she done so.
As she reached her sixties, health problems arose, including a bout with cancer and rheumatoid arthritis, and Roz slowed down, completing her last film in 1971. The next year, her close friend Frank Sinatra awarded her the Jean Hersholt Humanitarian Award at the Oscars. No one doubted she'd earned it.
Finally, diagnosed with breast cancer, she underwent a double mastectomy, but it was too late. The disease had spread. Rosalind Russell died in November, 1976. She was 69.
Describing what makes a good movie, she said: "Moments. A couple of moments that people remember, that they can take with them."
Roz Russell, thanks for all those moments.