It seems Peter Lorre was born to be sinister. Though small in stature (just under 5'4"), his oversized, sleepy eyes seemed to pierce right into your soul. His soft, eerie voice, though imitated countless times by comedians, never failed to chill. Lorre sometimes belittled his own talent, describing himself as "a face maker." But what a face! Lorre's creepy presence was surprisingly flexible, allowing him to appear in everything from horror films, to comedies, to film noir.
It's strange to think that this key figure of 1940s cinema might never have been introduced to American audiences had it not been for the Nazis assuming power in Germany.
Born in Hungary as László Löwenstein on June 26, 1904, Lorre was the son of Jewish parents. At the time of the Nazi rise in 1933, Lorre was pursuing an acting career in Berlin. He was already quite famous, in fact, having starred as the child murderer in Fritz Lang's "M" (1931). However, as the storm clouds of Fascism were gathering, Lorre joined many of his Jewish peers in the movie business and departed Germany.
After some months in Paris, Lorre settled in England where he met Alfred Hitchcock. Lorre's command of English was weak, but like one of the master criminals he was known to play, Lorre smiled and nodded his head at the appropriate times, charming the great director out of his socks. He was soon cast as an assassin in Hitchcock's "The Man Who Knew Too Much" (1934).
On the strength of that high-profile performance, Lorre was then off to Hollywood, where he'd earn a living playing stranglers, thieves, evil scientists, and other sordid characters coming from the busy minds of screenwriters. During the late 1930s, Lorre also entertained moviegoers as Mr. Moto, a feisty Japanese detective who casually flipped 300-pound villains through the air. After eight Moto pictures, Lorre moved on to bigger and better things. Did he ever.
By the 1940s, film producers had learned that putting Lorre's haunted visage in a movie was like having a winning lottery ticket in your pocket. He fascinated audiences. Lorre's presence undoubtedly benefited two of the era's towering classics, "The Maltese Falcon" (1941) and "Casablanca" (1942). His scenes with Humphrey Bogart are among the most memorable of either movie. ("Hide me, Rick!")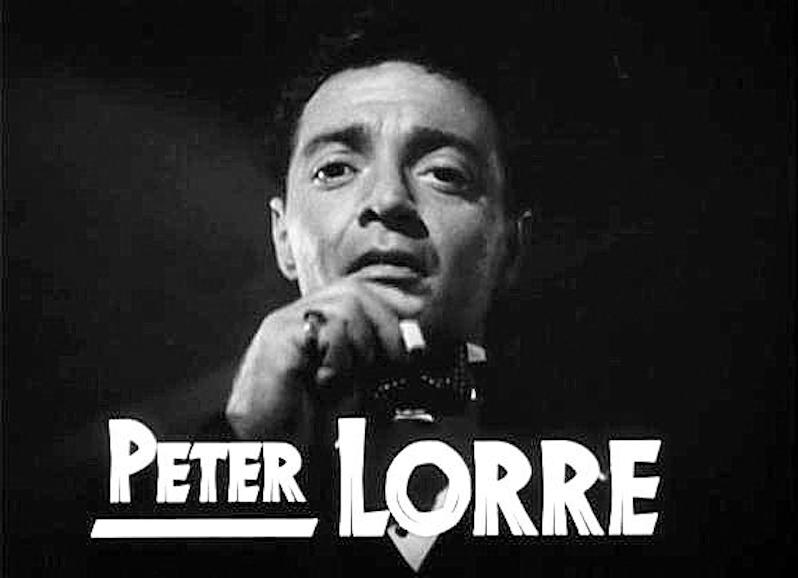 Once the war ended, however, there was less call for movies featuring menacing foreign characters. Lorre found himself filing for bankruptcy and returning to Germany where he wrote and directed 1951's "Der Verlorene" ("The Lost One"). Many film buffs consider this a sadly neglected noir gem, perhaps due to the fact that you can't find it anywhere.
His directing dream fulfilled, Lorre returned to Hollywood hoping to revive his career. The big second act never quite happened, though. Some have speculated that Lorre hurt his reputation when he named names for the House Committee on Un-American Activities. Still, Lorre was occasionally called upon to work his old, offbeat magic. In 1953, he was reunited with "Maltese Falcon" alums Humphrey Bogart and John Huston in the decidedly odd "Beat the Devil," and the following year acquitted himself nicely in Disney's "20,000 Leagues Under The Sea," starring Kirk Douglas and James Mason.
Also in 1954, Lorre was the first actor to play a James Bond villain when he portrayed Le Chiffre in a television adaptation of "Casino Royale." It's tempting to think of Lorre in one of the major Bond films, but alas, it wasn't to be. (He did a lot more television work, however.)
As forbidding as he could be on-camera, reportedly he was a witty, loveable imp off-screen.
Attending Bela Lugosi's funeral in 1956, and seeing the deceased actor laid out in his signature Dracula costume, he turned to his friend Vincent Price and asked, "Do you think we should drive a stake through his heart just in case?"
Troubled throughout his life by ill health, Lorre died of a stroke in 1964. He'd spent his final years acting in Roger Corman films and beach party movies, parodying his old persona. At times, Lorre looked like a bored journeyman actor who no longer expected much from his chosen profession. His face and voice were still marvelous assets, though, allowing him to steal any scene he was in.
In a way, Lorre has never really left us. He pops up in the strangest places, as when he's mentioned in Al Stewart's 1976 hit song, "Year of the Cat." The old Warner Bros. cartoons of the 1940s often used Lorre's likeness, and his image remained a popular fixture in cartoons like "Secret Squirrel." Lorre came in handy again when General Mills used his vocal style and mannerisms to create the ghostly mascot of Boo Berry cereal. In the 1990s, a voice sounding distinctly like Lorre's was used in "The Ren and Stimpy Show."
Of more importance: the years after Lorre's death saw renewed interest in Bogart films, several of which featured Lorre. This introduced a new generation of movie lovers to the odd little man with the peculiar accent.
Lorre wasn't around to see it, but he'd finally made his comeback.