In this relatively enlightened age, it's horrifying to consider how gay people were treated by society just half a century ago. Back then, being closeted was not an option but a necessity. As the 1960s dawned, homosexuality was still deemed an illness and a crime across the globe. Those caught and convicted often went to prison, and then were ostracized, their lives ruined.

Some key moments in the struggle for gay rights are well-documented, including 1969's infamous Stonewall Riots in New York City, where gays rose up angrily to resist police brutality. However, other quieter but no less courageous actions also advanced the cause, in other parts of the world.

Dirk Bogarde, a superb actor and renowned British movie star of the '50s and '60s, performed a little-known act of heroism when he agreed to play a closeted homosexual barrister who's being blackmailed in Basil Dearden's gripping drama, "Victim" (1961). This would be the first feature film to address the topic of homosexuality openly, the first film where the word "homosexual" is even uttered.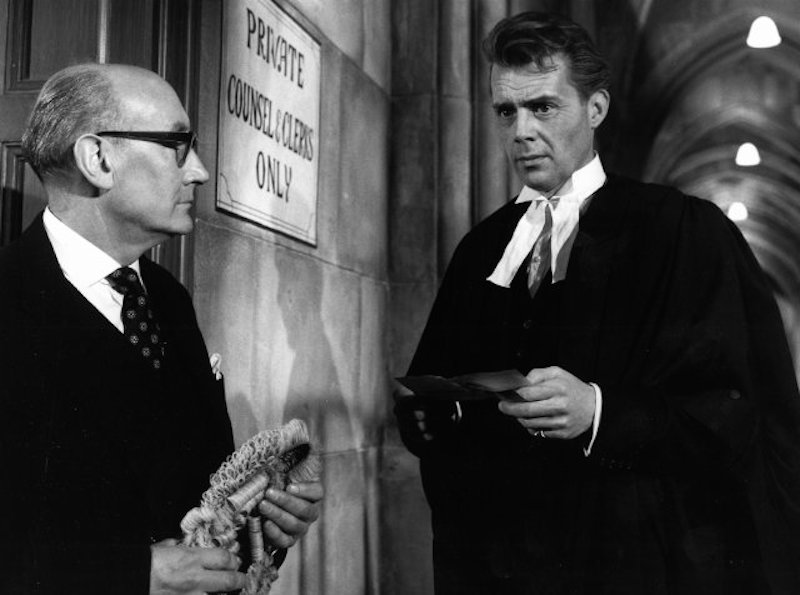 What's more extraordinary about Bogarde's decision was that unlike several other actors who'd turned down the part (James Mason and Stewart Granger among them), he was actually gay, and many in the industry knew it. Thus he was really putting his livelihood and reputation in peril.

Still, the respect this gifted actor had earned over fifteen years in the film business, combined with a gradual softening in attitudes towards the issue, allowed Bogarde to survive the experience with both his career and dignity intact.

That respect was well-earned. Dirk Bogarde was born into an upper-middle class family in 1921. His father was the art critic for The Times. At first intending to pursue the same line of work, young Derek (as he was then known) studied commercial art before switching over to drama.

The Second World War intervened and very soon Derek was in the thick of it as an intelligence officer. Eventually awarded seven medals and attaining the rank of Major, Bogarde was present at the liberation of the Bergen-Belsen death camp, a horrific experience he likened to "peering into Dante's Inferno."

After the war, he returned to acting, and was signed to a long-term contract in 1948 by Britain's J. Arthur Rank studio. Derek (re-christened Dirk) would make pictures there for a dozen years, most memorably starring in three of their wildly popular "Doctor in The House" comedies, about the wacky goings-on in a dysfunctional hospital.

By the time "Victim" came along, Bogarde was at a crossroads. He had just survived an ill-fated foray in Hollywood, where he made two indifferent features and vowed never to return. His contract at Rank was also wrapping up. It was at this juncture that he resolved to focus on serious art house films going forward. (This decision may actually have emboldened him to do "Victim," as the fans most likely to be alienated would not flock to the movies he now wanted to do anyhow.)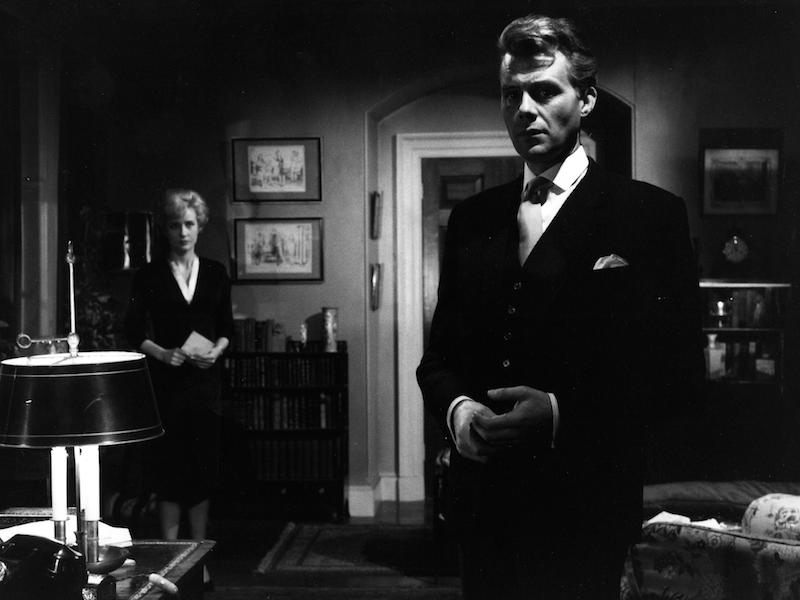 Notably, his taking on the role of Melville Farr in "Victim" was not an occasion for him to come out. It would take another quarter century before Bogarde would acknowledge that his relationship with longtime companion and manager Anthony Forwood was more than platonic.

For Bogarde, his private life was just that. Still, he saw no reason not to do "Victim," because he knew it would make a very good film (he was right), and because it shed light on an injustice that he felt, at long last, needed addressing.

Though its highly controversial subject matter guaranteed a limited release, the film helped spur debate on whether homosexuality should remain a crime in England. It may well have accelerated its decriminalization in 1967.

Dirk Bogarde would make his most memorable and enduring films over the following decade, in collaboration with directors Joseph Losey (1963's "The Servant," 1964's "King and Country"), John Schlesinger (1965's "Darling"), and Luchino Visconti ( 1971's "Death in Venice").

Having dabbled in poetry years before, Bogarde decided to take up writing in the late '70s and became prolific, penning a series of well-received novels, essays and memoirs. On paper, the actor's innate reserve melted away, and this new career reportedly gave him immense satisfaction.

Sir Dirk Bogarde (he'd been knighted in 1992) died at age 78 in 1999, ten years after Anthony Forwood's passing. A heavy smoker, he succumbed to a heart attack after previously enduring two strokes.

He deserves to be remembered as a great actor and writer, and also a gallant, principled man who accepted a part other actors were afraid to play, at great risk to himself. In doing so, he helped change the world for the better.





More: 4 Gay-Themed Movies You May Not Know — But Should