Recently I was asked to name the five movies that most affected me growing up. In identifying them, I was told not to think too hard. This required more of an emotional, instinctual response than a purely rational one.
"The Best Years of Our Lives" (1946) was one of the films I selected. It has always stayed with me. While I cannot claim it's the all-time best war movie, I think it may be our best drama about war. This intensely human film portrays the effects and aftermath of war, but includes no battle scenes.
Years ago, this story of soldiers readjusting to civilian life after World War II gave me insight into my father's own experience coming back after five years of active service in that conflict. At the relatively tender age of 25, he'd been second in command of a destroyer, attaining the rank of Lieutenant Commander. Though he rarely discussed it, I know his re-entry was not easy.
Today, as we increasingly tend to overlook black and white movies — certainly ones considered "heavy," we should not lose sight of this American masterpiece.
Its genesis was a 1944 article in Time Magazine which portrayed how returning servicemen reacted to coming home. It seems the closer they got to seeing their loved ones again, the more subdued they became. At a time before PTSD even had a name, these men would face families and friends who could never fully understand what they had seen, or how they felt about it.
Independent producer Samuel Goldwyn had read the article, and first commissioned novelist MacKinlay Kantor to adapt it. Kantor ended up producing a novella in blank verse titled "Glory for Me." Goldwyn then brought in Robert E. Sherwood to write the actual screenplay.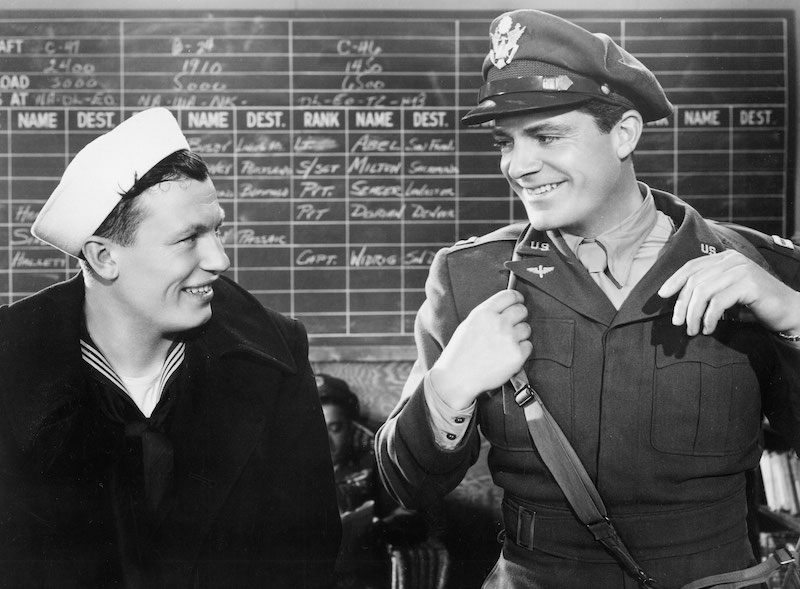 Sherwood was a top playwright who'd already won three Pulitzer Prizes for drama. More important, he was close to this war, having served both as speechwriter for Franklin D. Roosevelt and head of the Office of War Information.
Goldwyn then hired two more key players who'd also been close to the action: director William Wyler and cinematographer Gregg Toland.
Wyler had put himself in harm's way to shoot documentary films that would aid in the propaganda effort at home. His most acclaimed work was 1944's "Memphis Belle," which required the director to board a B-17 bomber with a team of Air Force veterans and shoot their bombing runs over Germany. (Later, the director would finally be sent home after a mission on a noisy B-25 caused permanent hearing loss in his right ear).
Meanwhile, Toland had collaborated with the legendary John Ford to direct "December 7th: The Movie," which won the Oscar for Best Short Subject Documentary in 1943. The staged re-enactments of the Japanese sneak attack were so realistic that audiences were convinced they were watching footage of the actual event.
Sherwood's screenplay would interweave the stories of three veterans who fly back together to Boone City (a fictional town modeled on Cincinnati), each under different circumstances. Infantry platoon Sergeant Al Stephenson (Fredric March) returns to a loving family and a stable banking career, while decorated officer and bombardier Fred Derry (Dana Andrews) confronts a dead-end job and a lousy marriage. Finally, Homer Parrish (Harold Russell) comes home to his apprehensive parents, and the girl he left behind, with both hands replaced by mechanical hooks.
Wyler wanted the same documentary-like realism in this film that he'd achieved in "Memphis Belle." There would be no Hollywood gloss. He insisted the actors wear off-the-rack clothes they'd worn previously. He was also annoyed when Goldwyn sent Russell off to acting lessons, as he wanted a completely genuine, unstudied performance from him.
Sherwood's script originally called for the Parrish character to be afflicted with emotional trauma, but Wyler happened to spot Russell in an Army training film about disabled veterans. Trusting his instincts, he found the young soldier and tested him. Harold turned out to be a natural.
Perhaps the film's most touching scene occurs between Russell and newcomer Cathy O'Donnell, who plays his girlfriend, Wilma. Homer wants to let Wilma go, recognizing all she'd have to sacrifice to stay with him. To make his point, he takes her to his bedroom to demonstrate what's involved in his going to bed each night. He removes his hooks and harness, and awkwardly manages to get his pajama top on.
Homer: I'm lucky. I have my elbows. Some of the boys don't. But I can't button them up.
Wilma: I'll do that, Homer.
Homer: This is when I know I'm helpless. My hands are down there on the bed. I can't put them on again without calling to somebody for help. I can't smoke a cigarette or read a book. If that door should blow shut, I can't open it and get out of this room. I'm as dependent as a baby that doesn't know how to get anything except to cry for it. Well, now you know, Wilma. Now you have an idea of what it is. I guess you don't know what to say. It's all right. Go on home. Go away like your family said.
Wilma [kneeling in front of him]: I know what to say, Homer. I love you and I'm never going to leave you... never.
Other memorable moments abound, including Al's first glimpse of wife Milly (a top-billed Myrna Loy) at the end of a long hallway, and their loving embrace as they meet in the middle, Fred's losing his soda-jerk job when he punches a man who tells Homer his sacrifice was in vain, and Fred's visit to a junkyard of scrapped bombers, a haunting, near-wordless scene in which all his pent-up fear and frustration get released.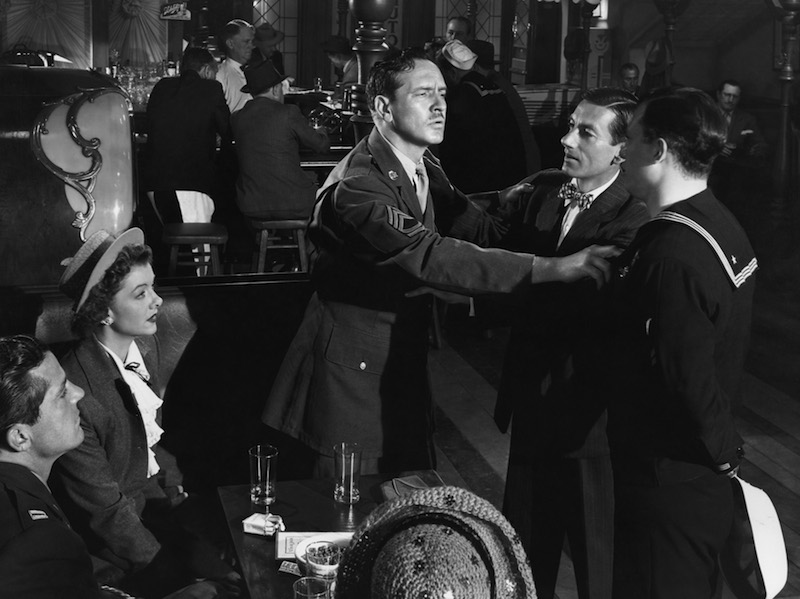 "The Best Years of Our Lives" premiered in New York City on November 21, 1946, to near universal critical acclaim. Bosley Crowther of The New York Times endorsed it "as not only superior entertainment but as food for quiet and humanizing thought."
The film also struck a chord with audiences, becoming the highest-grossing movie in the U.S. and the U.K. since "Gone with the Wind," with a staggering total of 75 million tickets sold in both countries.
It won seven Oscars, including Best Picture, Actor (March), Supporting Actor (Russell), Director and Screenplay. Just in case Russell didn't win, the Academy voted to give him a special award "for bringing hope and courage to his fellow veterans." Thus non-pro Russell became the only actor in Oscar history to win two awards for the same performance.
At a time when history is being increasingly marginalized, this poignant film lets us experience a crucial juncture in our nation's evolution. Having prevailed in two World Wars, our country would be powerful and prosperous as never before.
Yet the price to be paid for this progress — a brutal, bloody war — was still fresh in the minds of the men forced to wage it, begging that silent, looming question: was it really worth it?
More: 11 Outstanding Anti-War Movies That Prove War is Hell