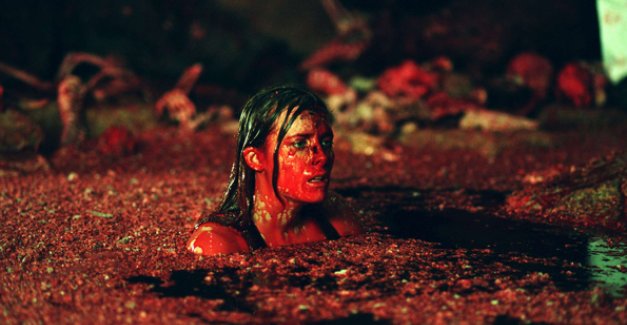 The set-up is straight out of the "classic horror" pagebook: six highly fit, attractive women cave-diving in Appalachia, when something goes wrong. It wouldn't be much of a movie if nothing did. (Although in my own cave-dives, nothing seems to happen. Sigh.)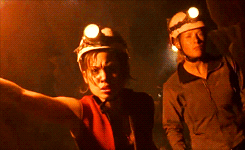 "The Descent" is a British horror/suspense flick from writer/director Neil Marshall, and it's a breath of fresh air blown into a genre littered with overdone, cliche-drenched retreads. Juno (Natalie Mendoza) tries to lead a group of five women through rockfalls, deadfalls, and the perils associated with man-sized, angry bat-creatures attacking you from all sides. Can these intrepid spelunkers survive?
Part of the film's freshness comes from composer David Julyan's moody, eerie soundtrack. Julyan is known for his stand-out scores created for Christopher Nolan's excellent films, "Insomnia" and "Memento," as well as his impressive and relatively unknown first feature, "Following."
Filled with haunting pianos undercut with deep, dark noises, the music is as disquieting as it is beautiful. Alluring and frightening, "The Descent" is scary-good, in both cinematic and aural formats.
If you admire David Julyan's efforts in "The Descent," you might be interested in these excellent albums:
Listen to This:
Boards of Canada
Geogaddi – accessible and generally laid-back, this electronic outfit from Great Britain combines elements of pop, ambient, and electronic.
Song You'll Love: "1969"
childs
Yui – for the most relaxed of the relaxed, this group from Ensenada, Mexico, mixes live instrumentation with electronic staples like synthesizers and "found" musical elements to create a chilled-out, dreamy, post-rock sound.
Song You'll Love: "Yui"
David Julyan
Memento, the Original Motion Picture Soundtack – the score that kicked off Julyan's Hollywood composing career.
Song You'll Love: "Focus on Sight"
Insomnia, the Original Motion Picture Soundtrack – Julyan's second major original project following his success with 2000's "Memento" proved his talent and justified his place amongst the upper echelon of Hollywood composers.
Song You'll Love: "Kay's Theme"