Ever wonder why so many films are set in New York City? In addition to its size, and reputation for being the cultural and financial center of America (if not the world), there are the not-insignificant tax breaks our local government offers to attract penny-pinching studios, City Hall's willingness to accommodate film crews (completely shutting down entire neighborhoods for location shoots), and a nice bonus in that 99% of stars and directors have home-away-from-penthouse spreads in the Big Apple.
But there's so much more to New York than the touristy scrum of Times Square, the hip Chelsea scene, the tony Upper East Side, or the high rise canyons of the Financial District. There are five boroughs that make up New York City, after all, and among them, Brooklyn.
Part of Brooklyn's glory is that it stubbornly defies stereotypes. Even with the current crop of twenty-something "trustafarians" overrunning the borough, the place is too big, too old, and too rich in history to erase the centuries of cultural roots hiding in plain sight.
That's what we love about Brooklyn – (well, that and the delicious, albeit touristy, Grimaldi's Pizza) the cool and the youthful co-existing with the rich traditions and colorful places that go back for hundreds of years.
And who can resist those killer views of the Manhattan skyline?
Today, we're going "on location" to one of our favorite boroughs, Brooklyn. Explore by way of three distinct Oscar-winning or Oscar-nominated films, and along the way, identify some of our favorite restaurants and hangouts.
First, visit Prospect Park in Sidney Lumet's superlative "Dog Day Afternoon" (1975). Based on a real incident about a botched bank robbery, "Dog Day" stars a scruffy Al Pacino alongside the brilliant and much missed character actor, John Cazale. Again, it's a blast furnace of a day, and our inept bad guys are forced to take hostages in the bank, while schlubby cop Charles Durning tries to negotiate with them. Only in New York. Speaking of heat, if you're in the mood to hold your tastebuds hostage, take them to The Islands, a hidden (almost literally) hole-in-the-wall Jamaican restaurant that serves some of the best Jerk Chicken you'll ever taste.
Continue your tour in Park Slope with the sad but superb "Sophie's Choice" (1982), about an emotionally fragile woman forced to live with an appalling wartime memory. Today you can still visit the Victorian manor at 101 Rugby Road where Meryl Streep earned her second Oscar win. Mrs. Streep found that final scene so draining that she did it once and only once. Indeed, the sight of young parents pushing strollers through sprawling parks and tree-lined lanes will seem indecently cheerful after viewing this bittersweet classic. To clear your mind, head over to the Brooklyn Botanical Garden for the stunning Sakura Festival (the cherry blossoms are just starting to bloom!) and reward your palette with the best fish and chips in the neighborhood from the Chip Shop.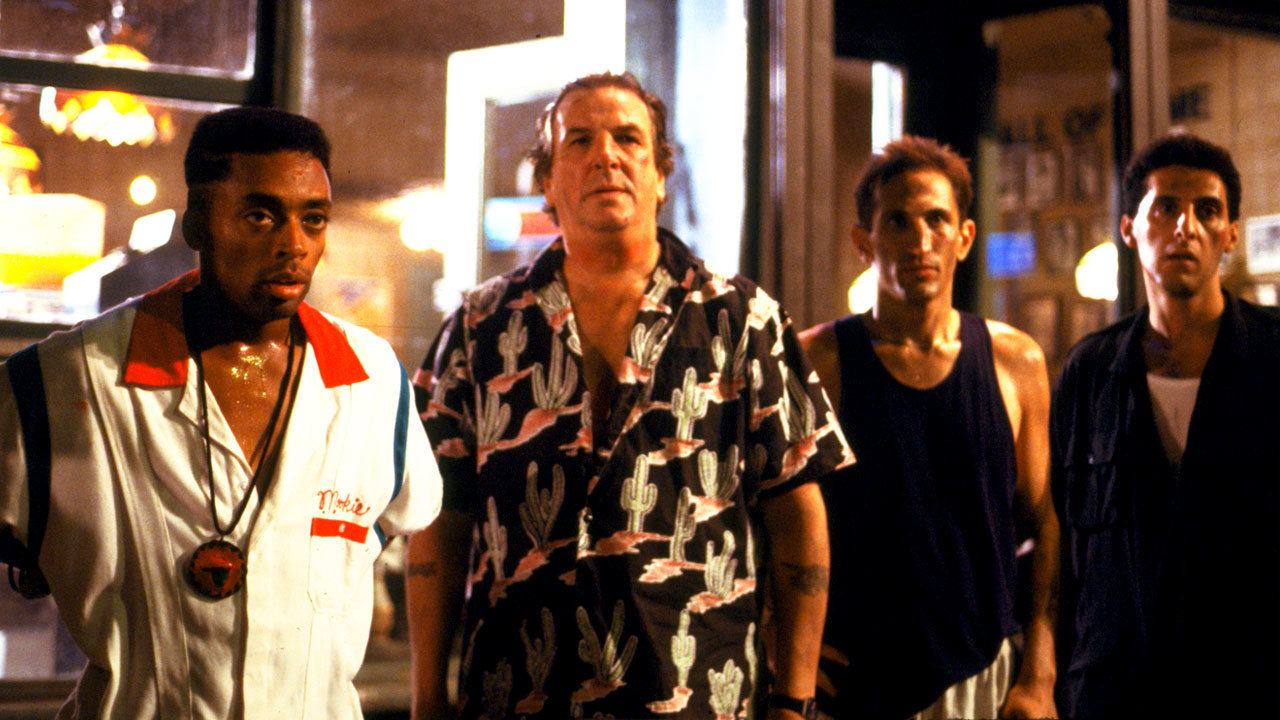 Finally, spend a day in Bed-Stuy with Spike Lee's "Do the Right Thing" (1989), tracing the lead-up to a racial incident on a sweltering summer's day. Though one of America's premier directors, seldom since has Lee replicated the melding of seemingly incompatible cinematic elements: racial tension and humor, ignorance and perspective, or "enjoyable movie" and Rosie Perez. "Right Thing" was nominated for two Oscars, and helped launch Lee's career in earnest. Wrap up your tour of Brooklyn at Peaches, which serves some of the best Southern comfort food you'll find this far north.