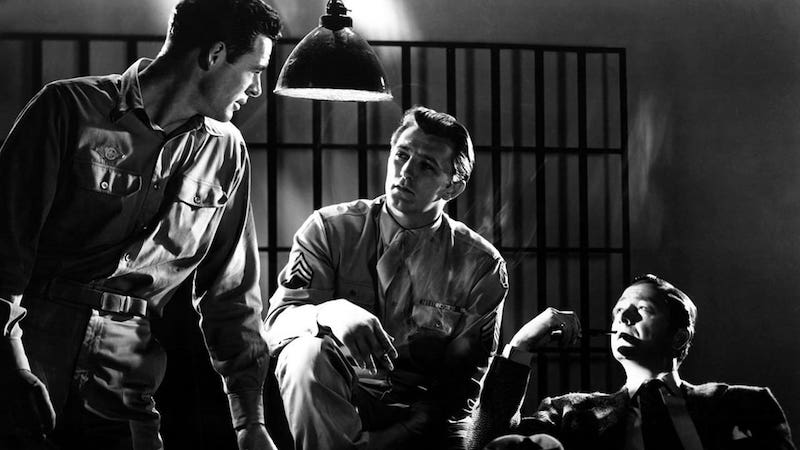 In August 1947, RKO released a tingling film noir entry called "Crossfire." It had been shot in 24 days for just $250,000.
Eclipsed months later by Elia Kazan's "Gentleman's Agreement," a glossier, more sentimental feature that dealt with the same issue, it stands as the first American movie to confront the issue of anti-Semitism at a time when this scourge was even more prevalent in our society.
If you judge the two today, "Crossfire" clearly comes out on top. The years have been much kinder.
By a stroke of luck and fate, this under-appreciated film brought together three superb screen actors, all with the first name "Robert," listed horizontally above the title in the film poster — Robert Young, Ryan, and Mitchum. Terrific as an ensemble, each player was also fascinating on his own.
Young was an established, reliable Hollywood supporting man who'd later achieve stardom in the nascent medium of television, first in 1954 with "Father Knows Best" and later in "Marcus Welby, M.D." (1969). The other two — Ryan and Mitchum — were up-and-comers on the big screen who'd never really leave it.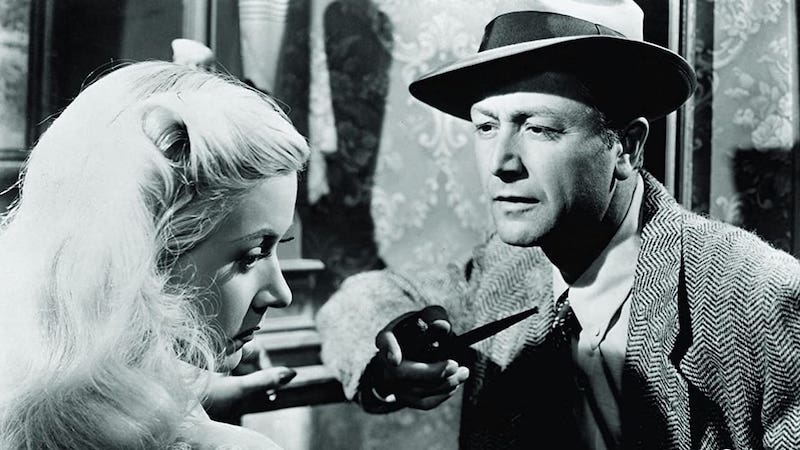 In "Crossfire," Young plays a homicide cop questioning a group of decommissioned GIs about the murder of a Jewish man they'd met in a bar. Ryan is one of the soldiers who may have something to hide, Mitchum his compatriot who also wants to know the truth. We gradually discover more about what happened that night.
Director Edward Dmytryk contrasts the dark, tense interrogation scenes with brightly lit flashbacks that hint at trouble just around the corner. Young is note-perfect as the patient, methodical detective piecing together a crime, but it's Ryan who bursts off the screen as a virulent racist.
In real life, Young was a painfully shy man who battled with depression and alcoholism for decades. Some felt he was a trifle bland on-screen. Though handsome, he lacked sex appeal. That aside, he was a skilled, subtle actor. Just watch him. Female stars of the day always wanted to work with him, since he was always prepared and professional.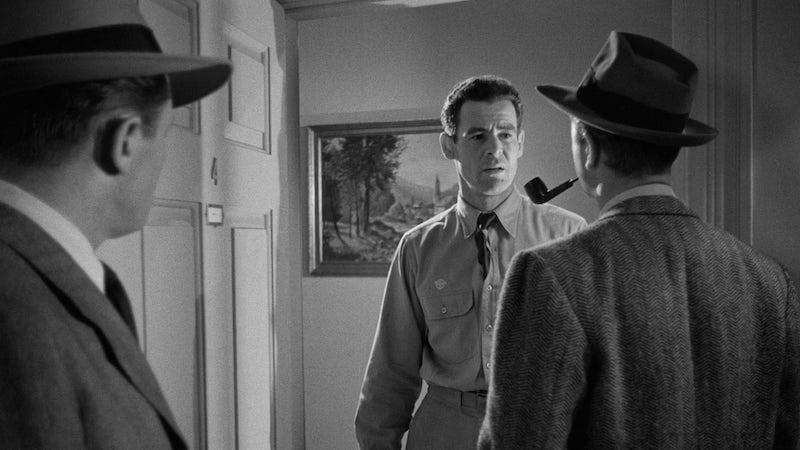 Meanwhile, Ryan had no worries about coming off bland in the villainous role he was given. A lifelong liberal Democrat, he had long opposed the fear, hatred, and intolerance he now had to represent. And the sheer intensity he projects truly sets the film apart. For the rest of his career, he'd often be cast as angry, embittered men.
In "Crossfire," the then thirty-year-old Mitchum, who'd soon become the biggest star of the three, has relatively little to do but look concerned. The young actor knew it, later complaining his part "could have been played by anybody." But here that's enough, and we can sense Mitchum's raw charisma whenever he's on-screen. He'd go on to show audiences a lot more of what he could do that same year in another immortal noir, "Out of the Past."
"Crossfire" has quite the backstory. First, John Paxton adapted "The Brick Foxhole," Richard Brooks's debut novel, changing the central theme from homosexuality, which the all-powerful Production Code would never have tolerated, to anti-Semitism. Brooks was also a screenwriter at the time who'd go on to direct such films as 1958's "Cat on a Hot Tin Roof" and 1967's "In Cold Blood."
On initial release, "Crossfire" was well-received and earned five Oscar nominations, including Best Picture, Best Director for Dmytryk, Best Supporting Actress for young Gloria Grahame (whose fetching character is also at the bar that fateful evening), and Best Supporting Actor for Ryan, astonishingly the only Oscar nomination he'd receive over a busy career spanning thirty-plus years.
Unfortunately, on Oscar night it was "Gentleman's Agreement" that triumphed across those same categories, winning Best Picture, Director (the first of two for Kazan), and Supporting Actress (for Celeste Holm).
It's actually doubtful Edward Dmytryk expected his film to win anything. Two months after their film's release (and several months before the Oscars), both he and "Crossfire" producer Adrian Scott were called before the House Un-American Activities Committee (HUAC).
After refusing to say whether they'd ever been members of the Communist Party, the two became the first members of a group later dubbed "The Hollywood Ten." Dmytryk served time in prison before agreeing to testify again in 1951, thus saving his career. He'd go on to direct some excellent films, most notably "The Caine Mutiny" (1954) and "The Young Lions" (1958).
"Crossfire," his earlier gem, fully merits re-discovery. Not only is it a great movie, but sadly, the intractable issue it raises remains timely and relevant, well over seven decades later.
More: Robert Mitchum — Cooler Than Cool