Recently, someone mentioned a pirate movie, and to my own surprise, I realized I'd never weighed in on them — a serious oversight.
Over a full century of cinema there have been many bad or indifferent pirate-themed films, and really only a few great ones — all the more reason to connect you to the best of what's available.
Pirate movies sprang naturally from literature, with these seafaring villains first referenced in several works by Shakespeare, then expanded on by authors like Daniel Dafoe, Sir Walter Scott, and later, Robert Louis Stevenson, whose wildly popular "Treasure Island" was published in 1883. Set in far-off locations and filled with danger and adventure, it was considered serious literature, but also served as escapist entertainment of the highest order.
Twenty years later, another Scot, J.M Barrie, would launch a play in London's West End that introduced the world to Peter Pan, the eternal boy who ventures to magical Neverland and tangles with ornery pirate Captain Hook. This enchanting story has enriched countless childhoods ever since.
It was inevitable that the pirate tale would get adapted for the new but powerful medium of silent film. Douglas Fairbanks, our first big action movie star, set the template for many swashbucklers to come with "The Black Pirate" (1926), a still rousing entry shot in early two-tone Technicolor. The film was a natural for the highly athletic Fairbanks, with lots of swordplay, acrobatic leaps, and other feats of derring-do.
It's no secret that Hollywood has always chased success and run away from failure. Early in the sound era, after MGM cleaned up with the first full-length version of "Treasure Island" in 1934, Warner Brothers decided to make their own pirate entry: "Captain Blood," with ace screenwriter Casey Robinson adapting the novel by Rafael Sabatini. English actor Robert Donat, who'd just completed "The Count of Monte Cristo," was tapped for the lead, but the actor's chronic ill health forced him to withdraw at the last minute.
The studio had to scramble. With other established stars like Leslie Howard and Fredric March either uninterested or unavailable, Warner's took a chance on an untested, unknown actor from Tasmania named Errol Flynn. The devilish — and devilishly handsome — 26-year-old would achieve instant fame and go on to sail the seven seas again, onscreen and off- (Flynn was an avid sailor in real life).
Most pirate movies are built on a simple but proven formula, including sea battles, sword fights, and of course, the fair damsel badly in need of rescuing. This can be an advantage or a curse, as with repetition formulas tend to get stale. And when a pirate picture is really bad, it's painful. Just ask Renny Harlin, who directed 1995's "Cutthroat Island," a bomb of massive proportions.
True to form, after this expensive, high-profile debacle Hollywood stayed away from pirates for nearly a decade until Disney hit pay dirt in 2003 with the kiddie-friendly "Pirates of the Caribbean: The Curse of the Black Pearl." This cartoony crowd pleaser starring Johnny Depp spawned four sequels with steadily diminishing returns in quality, but not, it seems, popularity. The last installment, 2017's "Dead Men Tell No Tales," grossed roughly $800 million worldwide.
Given these results, it seems clear that we haven't seen the last of this profitable franchise…or this durable sub-genre.
(Final note: while these movies are often set in the distant past, pirates still roam our oceans today. So the list below also includes two outstanding "modern" pirate films).
Craving a bit of color, excitement and invigorating salt air in these confining COVID times? Then here are your movies.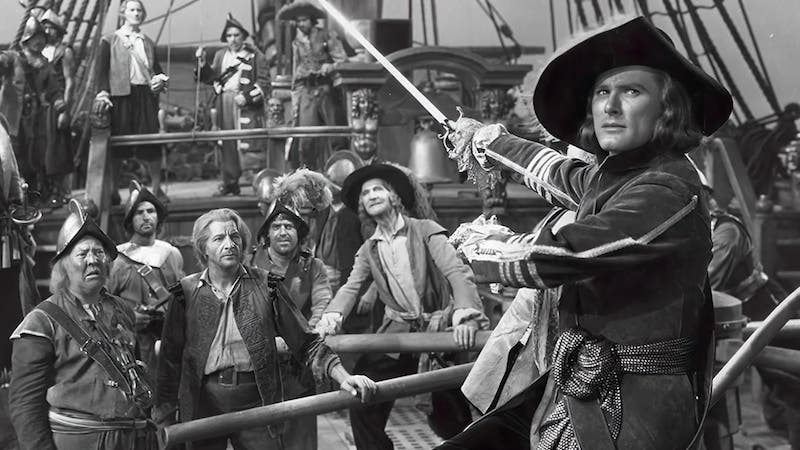 In a Nutshell: Dashing Errol Flynn became an overnight star playing a man unjustly convicted by the Crown who decides a pirate's life's for him. On his adventures, he ends up falling for a beautiful young lady (Olivia de Havilland), who happens to be the daughter of his victimizer. Under these slippery conditions, can true love prevail?
Did You Know: This was the first of eight films co-starring Flynn and de Havilland. Though the then nineteen-year-old De Havilland was initially attracted to Flynn, she was soon scared off by his wild and wicked ways. The two remained good friends, however.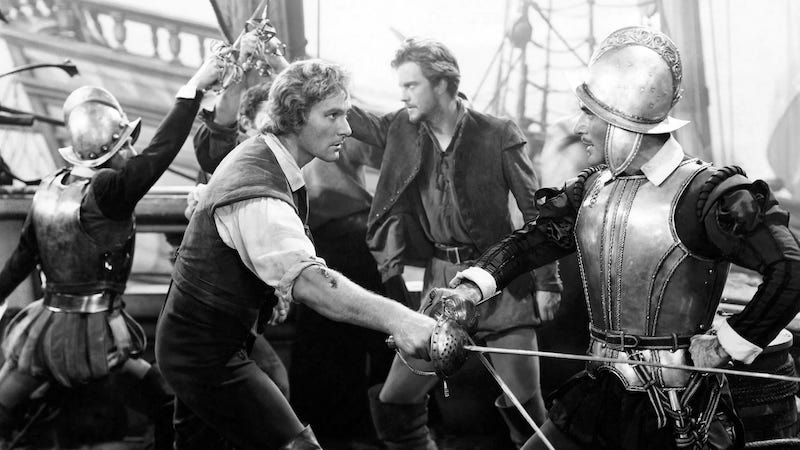 In a Nutshell: Flynn is back as Geoffrey Thorpe, an English pirate in the sixteenth century helping his country thwart possible aggression from Spain by plundering their ships. Later, when war is imminent, Thorpe must reach Queen Elizabeth I (Flora Robson) in time to warn her. Grand adventure, all the way!
Did You Know: The elaborate, expensive period costumes in this film were recycled from a prior Flynn picture, "The Private Lives of Elizabeth and Essex." Warner Brothers saved a fortune by not having to start from scratch on wardrobe.
In a Nutshell: Young Jim Hawkins (Bobby Driscoll) finds a treasure map indicating a spot where gold is buried, and convinces a local squire to outfit a ship with a crew to retrieve it. On board are Long John Silver (Robert Newton) and his cronies. Can they be trusted? Newton steals the show in this picturesque adventure tale.
Did You Know: This was the Disney Studio's very first live action production, so Uncle Walt's attention was also over this, with no expense spared. And the fabulous Newton would go on to reprise his signature role not once, but twice.
In a Nutshell: Set in the eighteenth century, this breathless tale centers on the exuberant Captain Vallo (Burt Lancaster), who steals a cache of ammunition from a Spanish ship and decides to sell it to rebel forces. Then Spain offers him a bundle to betray the rebels. What's a self-respecting pirate to do? Spirited, tongue-in-cheek entry is a superb showcase for the athletic star with the toothy grin.
Did You Know: Lancaster, who had started his career in show business as a trained acrobat, insisted on doing all his own stunts. His training shows. Making some jaw-dropping moves, Burt looks downright graceful!
In a Nutshell: Peter Pan (Jeremy Sumpter), a boy who can never grow up, transports the Darling Children from their London home to the fantasy world of Neverland, where Peter is forced to confront his pirate nemesis Captain Hook (Jason Isaacs). Sumptuous live action version makes effective use of digital effects, injecting vibrancy and wonder to J.M Barrie's beloved tale.
Did You Know: This was the first live action version of "Peter Pan" actually shown in theaters. Prior live action productions (most famously Mary Martin's) were shot on videotape for television. (By the way, we also love Disney's 1953 animated version, with Peter voiced by Bobby Driscoll, who also appeared in 1950's "Treasure Island").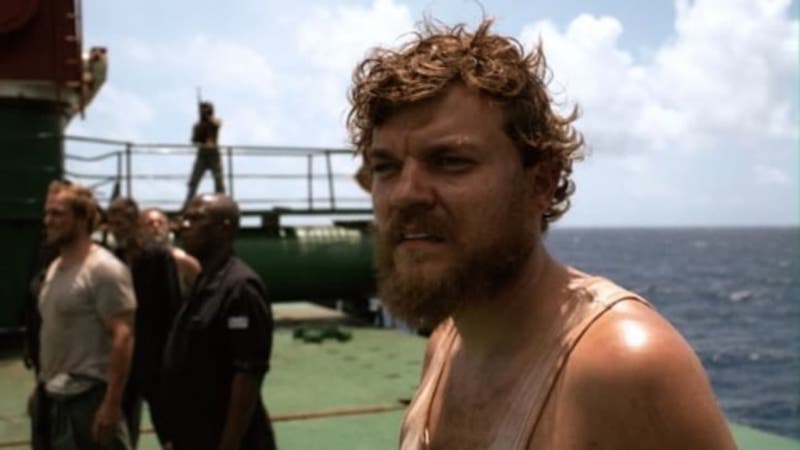 In a Nutshell: On the Indian Ocean, a Danish ship gets boarded by Somali pirates, who take the crew hostage and demand a large ransom from the shipping company. CEO Peter Ludvigsen (Soren Malling) insists on leading the negotiations. But is that a wise move, and will he get his men back alive? This taut, often harrowing thriller, shot in documentary style, will keep you glued to the screen — and not just to read the subtitles.
Did You Know: To heighten authenticity, a non-actor was hired to play the hostage negotiator who advises Peter. This person had actually been one in real life.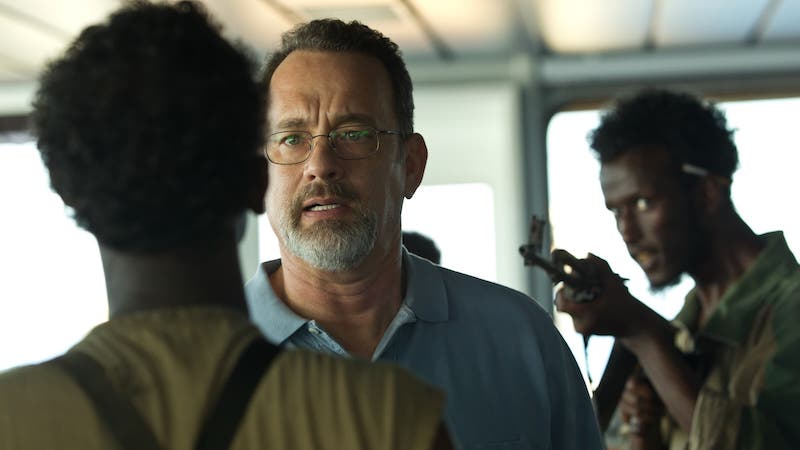 In a Nutshell: Captain Richard Phillips (Tom Hanks) is manning a container ship en route to Kenya when he gets boarded by some desperate Somalis, led by Muse (Barkhad Abdi). He quickly realizes he's in mortal danger unless he meets all their demands. Will he survive? An assured Hanks carries this fact-based film, along with the Oscar-nominated Habdi.
Did You Know: All the Somalis cast in this film were non-professionals, including co-star Abdi. He won the part of Muse because director Paul Greengrass quickly saw he was a natural. Greengrass also decided to keep the Somali players away from the other actors prior to filming to boost the tension onscreen. It worked.