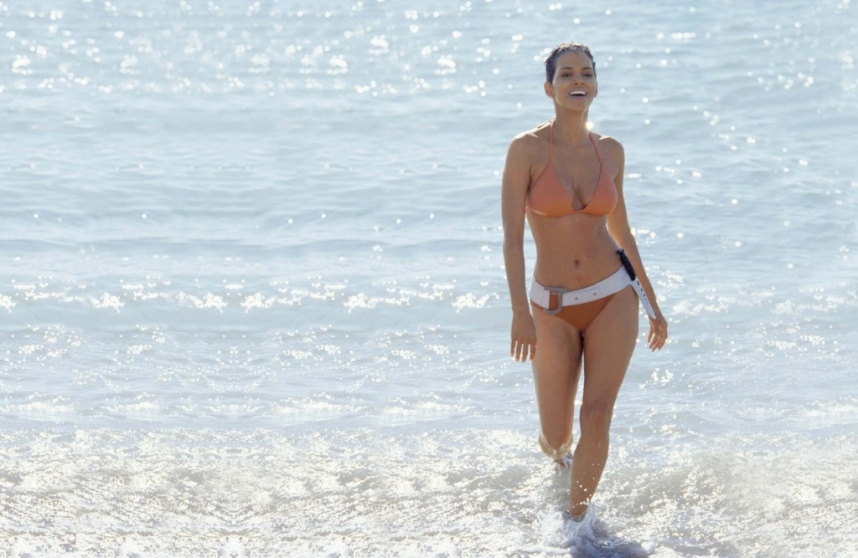 Where yesterday's list highlighted the beauties of yesteryear (Most Dazzling Bond Girls from the '60s and '70s), today's list covers the recent past, present, and near future of Bond Girls. If there's one common thread through all five of these choices – other than awe-inspiring beauty, shapely legs, and handiness with handguns – it's the more modern trend towards depicting women with the self-respect, ingenuity, and smarts to match James Bond himself.
Though filmmakers aren't likely to give up the "Damsel in Distress" plot device anytime soon, it's nice to see "well-rounded" (sorry!) women featured in this series – women who can go toe-to-toe (so to speak) with 007 any day.
With that said, on to the list!
Carey Lowell – Pam Bouvier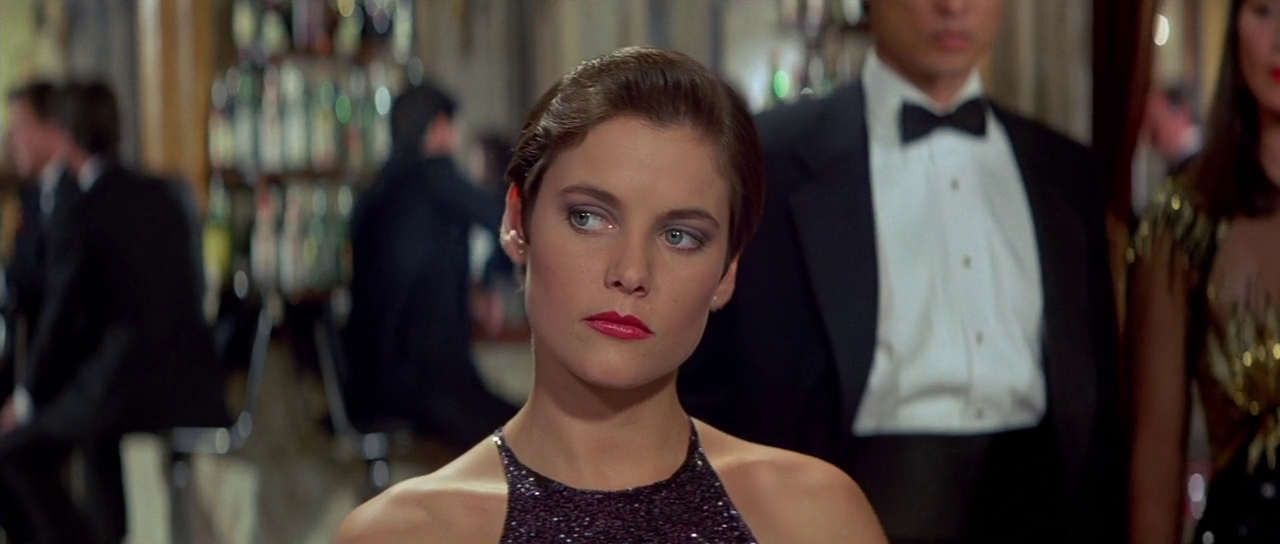 Carey Lowell provided a refreshing break from the parade of exotic femme fatales who tempted previous iterations of 007 (now portrayed by the ill-fitted Timothy Dalton). Lowell plays Pam Bouvier, a CIA operative and capable pilot in the surprisingly violent "License to Kill" (1989). Though she seems more of a "girl next-door" type than a trained killer, Pam's not to be underestimated – she gets multiple opportunities throughout "License" to demonstrate her skill with weapons and proficiency in the martial arts. She's a feminist for sure: for instance, she's disgusted by Bond's insistence that she play his "secretary" when they go undercover. Lowell's portrayal of an empowered, independent woman helped change the depiction of Bond Girls forever. Thus we elect the alluringly All-American Pam Bouvier into our Bond Girl Hall of Fame.
Halle Berry – Jinx Johnson
Remember Ursula Andress's entrance in "Dr. No"? That's what's called a rhetorical question; of course you do. Oscar-winner Halle Berry performed her own oceanic tribute to Honey Rider in the mediocre "Die Another Day" (1992), and as far as imitations go, it was a real crowd-pleaser. This time clad in an orange bikini, Jinx emerges from the ocean a lean and tawny vision. No surprise: Berry's follow-up scenes with Pierce Brosnan's Bond are brimming with sexual tension, as Jinx and 007 take turns saving one another from certain death. True, "Another Day" suffers from being gadget-heavy, where our hero relies more on clever devices from Q to survive, rather than his own wits and fists. (Heck, he barely gets his hair mussed.) But Berry's knife-wielding, cliff-diving Jinx Johnson must go down in Bond history as one of the more sultry "Girls" to trade wits and share beds with the British secret agent.
Eva Green – Vesper Lynd
In the 2006 Daniel Craig-led reboot of the Bond series, "Casino Royale," Eva Green plays Vesper Lynd, a Treasury Fund Agent. Her specific function in Bond-land? To manage the millions of dollars Bond must gamble in a poker game against the film's villain, Le Chiffre (Mads Mikkelsen). Secondarily, she must babysit the young and mercurial Bond himself, a task she initially finds distasteful. In fact, they get along so poorly at first you just know they're going to get it on later. Daring, whip-smart (just take a look at her going toe-to-toe with the man himself, above!), and dangerously beautiful, Vesper slowly allows herself to fall for the secret agent just as Bond tumbles head-over-heels for her. She's the real deal, the woman for whom James would hang up his licence to kill and settle down. And though she ultimately betrays Bond, Vesper redeems herself in the end, forcing Bond to abandon her to a watery death. What a gal. What a waste! Anyhow, it's a moment powerful enough to put the beautiful Eva Green up with the best of them.
Naomie Harris – Eve Moneypenny
The future of Bond Girls is on display in 2012's action-packed "Skyfall," the best of the Craig Bonds and slated for our site. In Naomie Harris's Eve, an MI-6 operative, you've got a modern, capable, and deadly agent who just happens to be a woman. She's an excellent marksman, an even better driver, and she's a lock to reappear in 2015's as-yet unnamed Bond film. Harris plays the girl Bond (and every male in the audience) wants but never quite gets. Their will-they-or-won't-they tension is tantalizing, as when Eve helps Bond shave (closer, please). Though Eve doesn't exactly fit the traditional Bond Girl mold (in that she and James haven't jumped into the sack), it all makes sense when we learn her last name is Moneypenny and that she's finally opted for a desk job. The original Bond never had it off with the old Moneypenny either. And so the cycle begins all over again. It's clear James Bond isn't going anywhere anytime soon.
****
Didn't find what you're looking for? Keep browsing for the right movie to watch tonight on our curated database. Using our search filters, you'll never spend too much time deciding on a movie again. The best movies to stream are just a click away!